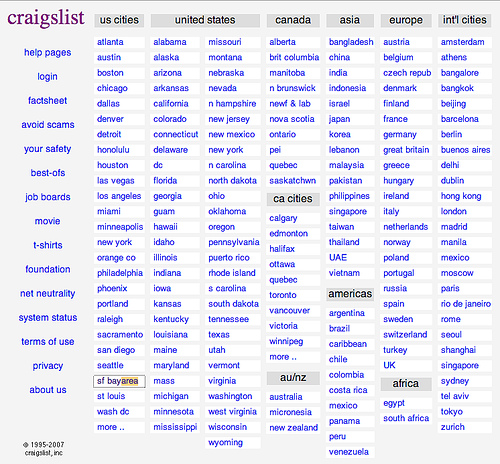 I'm a big fan of Craigslist. I've found lots of goodies like a vintage Formica kitchen table to a fabulous pine dresser that I'm hoping to pick up today. If you're looking to score on a great find, follow these tips before you buy.
Early Bird Catches The Worm
If you're in the market for a particular item – say a nightstand or a great vintage wing chair – search constantly. There's no rhyme or reason to when things are added to Craigslist, often it's about being in the right place at the right time. Try and do a search a few times throughout the day to get the newest updates in your area.
Get A Peek
If a photo isn't posted on the ad, make sure you email the seller and ask to see photos. If they aren't willing to provide, proceed with extreme caution.
Ask Questions
Find out about minor scratches, if the piece has been refinished, where it was originally purchased, measurements – everything you'd know upfront as if you were buying from an actual furniture dealer.

Have Expectations
The perk of buying from Craigslist is getting used goods at a discount. But they are used. Sometimes even a photo and a description might be a let down when you go to pick up the real thing. Luckily, there are few things that a coat of paint or a new set of knobs can't fix.
Be A Good Customer
If you're interested in an item, sometimes adding to their asking price helps. I once offered $20 over the asking price in exchange for having a desk delivered to my door. If a seller is desperate, sometimes they'll make the trip to bring it to you for an added incentive.
Keep Records
If you do fall victim to a scam, make sure you keep any email records between you and the seller in order to report their email address to Craigslist. Though you won't get reimbursed, at least it will help cut down on anyone else getting scammed in the process.
Happy shopping!
Photo: Tastybit
The following two tabs change content below.

Founder/EIC
at
Charles & Hudson
Timothy's background includes stints at This Old House, ELLE DECOR, Metropolitan Home and Woman's Day. His work has been published on Wired Design, Bob Vila, DIY Network, The Family Handyman and Popular Mechanics and he has been featured on the Martha Stewart radio show and as a speaker at the ALT Design Summit, K/BIS and the National Hardware Show.

Latest posts by Timothy Dahl (see all)