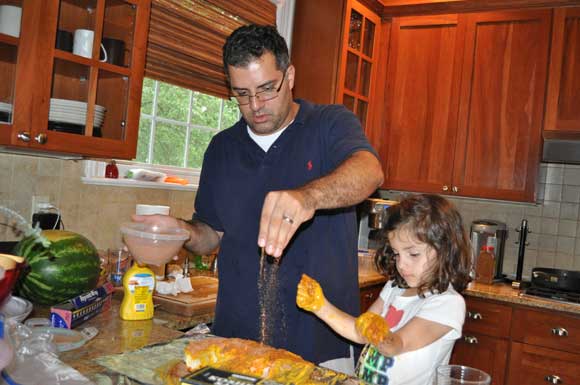 We don't cover recipes but a friend sent over this amazing recipe for smoked pork shoulder (pork butt) and brisket. It seems appropriate to share this as the 4th of July is next week and many of you will be preparing food for your back yard party.
This recipe is courtesy of Mike Nannizzi who comes from a long line of butchers and in his town is called "The Meat Man".
Enjoy!!!!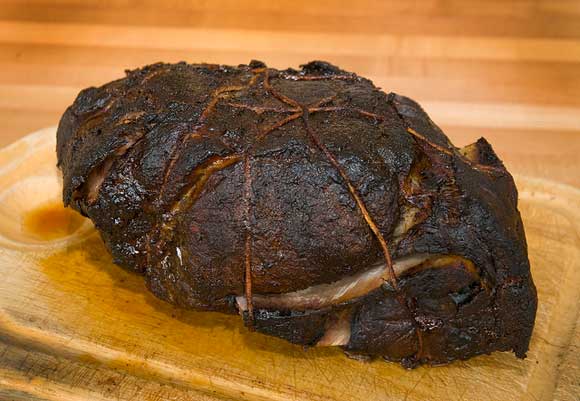 Shoulder
Assume 10 lbs shoulder (each piece)
Day t-2 brine for 24 hours in fridge
Day t-1a pull from brine, wash with warm water, inject solution 4x
Day t-1b coat with yellow mustard, apply dry rub, foil and ziploc 24 hours
Brisket
Assume 10 lbs shoulder (each piece)
Day t-2 or t-1, wet rub and ziploc

Equipment
1 4-gallon bucket
3 meat thermometers
Large heavy duty tin foil
2 gallon Ziploc bags
Injector needle (optional)
Smoker
Chunk apple wood (optional)
Apple wood chips
Charcoal
Brine and solution (shoulder only)
Brine- 1 cup kosher salt per gallon water, peppercorns and bay leaves
Solution- 2 parts apple juice, 1 part each apple cider vinegar and vegetable oil
Inject into shoulder in various spots
Dry shoulder rub
2 10 lbs shoulders
1/4 cup Turbinado sugar
1/4 cup table salt
1/4 cup paprika
1 Tablespoon freshly ground black pepper
1 Tablespoon granulated garlic
1 Tablespoon onion powder
1-1/2 teaspoons cayenne pepper
1/2 teaspoon ground coriander
Preparation
Baste shoulders with yellow mustard
Pat with rub
Ziploc
Keep rub for spice once pork pulled
Re-rub with any extra before smoking
Wet brisket rub
For 1 10 lbs brisket
1 TBSP old bay
3 TBSP dark brown sugar, packed
2 TBSP paprika
1 TBSP table salt
1 TBSP onion powder
1 TBSP freshly ground black pepper
1 TBSP ground cumin
1/2 tsp granulated garlic
4 TBSP Worcestershire sauce
For jalapeño hot
Add 4 minced jalapenos
1 tbsp cayenne
Preparation
Mix dry first and flatten sugar clumps
Add wet stuff
Rub on brisket
Ziploc for 12-24 hrs
Cooking
Best use: coal smoker
Second choice: coal BBQ
Third choice: gas grill indirect heat
For shoulder:
Keep ambient heat between 250-300 degrees. Pork will plateau at 160 degrees for a long time. Cook time about 6-7 hours. For full smoke effect, 1.5 hours per pound. You are done at 205 degrees internal temperature (190 degrees minimum for pull apart pork). Inject with solution every two hours.
Quick cook method: at five hour mark wrap in foil and finish at 300 degrees. Oven OK.
For brisket:
Place on smoker fat cap up. Ambient heat between 225-275 degrees. Should be six-seven hours. At 140 degrees re-rub. For full smoke effect, about 1 hour per pound. You are done at 205 degrees internal temperature.
Quick cook method: At 160 degrees, wrap in foil and finish at 300 degrees. Oven OK
To store (both) for serving, wrap in towels and place in insulated bag or cooler. Can hold for up to three hours.
photo: Tom Kelly
The following two tabs change content below.

Founder/EIC
at
Charles & Hudson
Timothy's background includes stints at This Old House, ELLE DECOR, Metropolitan Home and Woman's Day. His work has been published on Wired Design, Bob Vila, DIY Network, The Family Handyman and Popular Mechanics and he has been featured on the Martha Stewart radio show and as a speaker at the ALT Design Summit, K/BIS and the National Hardware Show.

Latest posts by Timothy Dahl (see all)