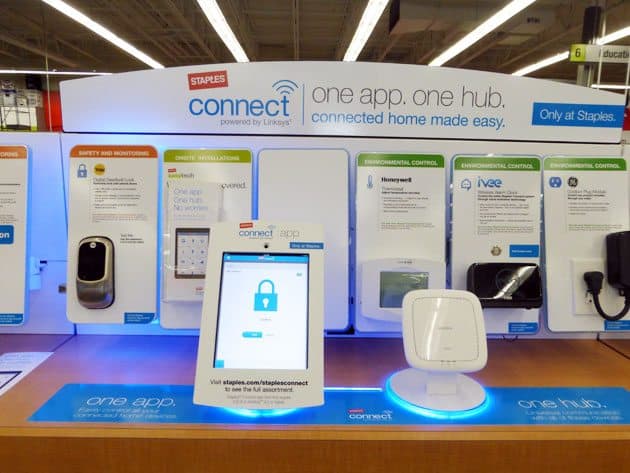 Staples continues to remind us that they are much more than an office supply store. Their depth of product and innovative services offered are always welcome to small business and we love that they aren't afraid to take risks and dive into categories that aren't fully mature, like 3D printing and now home automation with their new Staples Connect system.
We interviewed Peter Gerstburger, who is the Director of Technology Merchandise and New Business Development at Staples. We want to know more about Staples commitment to the smart home market and what trends they've identified that consumers should be aware of.
Home Vroom: What prompted Staples to enter the home automation market?
Peter: At Staples, we're always keeping our finger on the pulse of what our customers need, and investing in new products, services, and even entire new categories to fit those needs. Where we succeed is listening to our core customers and creating products for the everyday user. We knew that connected home technology was finally ripe for our mainstream audience and we had a great partner, Zonoff, ready to power the software within Staples Connect. Together we created a user-friendly, price-efficient option for our customers to build their own smart home or business. We're proud to be one of the first retailers to drive adoption and education of this new market segment.
Home Vroom: Why would a consumer choose Staples Connect over the myriad of other connected home systems available?
Peter: Staples Connect has made home and small office automation "easy." Plus we've partnered with well known brand names to deliver the widest and most reliable selection of devices. At the moment, Staples Connect boasts 38 unique partners and supports a total of 148 devices.
The hub itself is highly intuitive and has very stable device management. You can even control it through a variety of channels, including your web browser, native apps for iPhone and iPad, Android, Microsoft 8, and Jawbone UP. The major differentiator for Staples Connect is the ease of use for the system. You don't need to be a hacker to figure out how to use it in your home or office and we have a "device assistant" feature to help you set everything up.
Historically, price has been the biggest obstacle towards achieving mainstream adoption of the connected home. While there is still somewhat of a connotation of luxury that surrounds the idea of a "smart home", we've worked with Zonoff to create a solution that enables consumers to get started for under $100. For the smart home to enter the mass market and our target audience, it needs to be accessible at a mainstream price and that's what we are offering. Right now, the Linksys Staples Connect hub is retailing at $49.99, and our new D-link hub will retail at $79.99 when it becomes available this fall.
Home Vroom: Staples was one of the first big box retailers to sell a 3D Printer (the Cube), which is very progressive. How does Staples decide which technologies to get behind.
Peter: We're very much in touch with the latest innovations in consumer devices and technology, but we're also in touch with what our customers want and what would best serve them. We are very cognizant of our audience, so we want to make sure that we're earning the trust our consumers have in our brand and in our name. Our customers want to make their lives easier and we want to provide products that do just that. When it comes to technology, we only want to work with products and features which are intuitive and user-friendly, and which stay true to our overall goals to make life easier.
Home Vroom: What smart home trends should consumers be aware of and what features are important to help "future-proof" our homes?
Peter: There are going to be a host of new devices, features, and services coming into play over the next few months and years. We think one of the most popular will be wearables, which is why we've included wearable integration in our Staples Connect platform. It is an exciting way to connect the disparate parts of your life into one, well-designed and easy to use control panel, and we think there is a lot of opportunity for experimentation here.
One of the best ways to future-proof your home is to invest in a system which is committed to staying flexible and evolves in what devices it supports. With home automation, it's all about which devices work on which protocol. The Staples Connect hub, for instance, runs with Z-Wave, Lutron Clear Connect, Wi-Fi, Zigbee and Bluetooth LE, ensuring that any device on those networks can work within our system. It gives us one of the most diverse selections of devices and features on the market. Popular product categories include smart door locks and doorbell systems; door, motion and water sensors; IP cameras; thermostats; plug modules; voice activation systems; lighting products and dimmers; and motorized blinds and shades.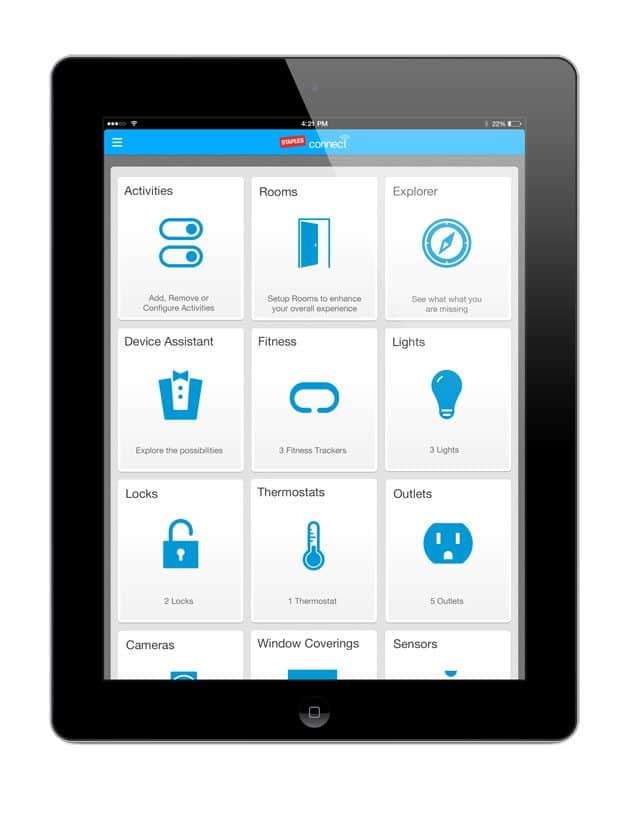 This article was originally published on Home Vroom and re-posted here with their permission.