WD-40 – it really is a magical substance, isn't it? Sure, you probably reach for the familiar blue and yellow can when you need to quiet a squeaky hinge or add a little extra grease to a sticky situation.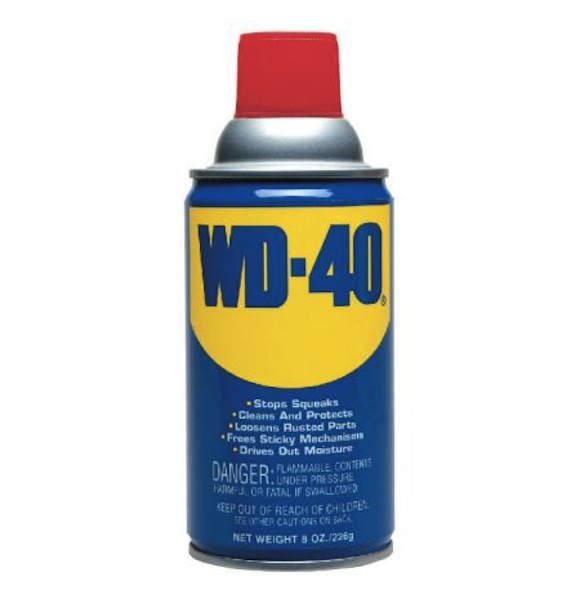 But here's a little secret, friends — there are oh-so-many more uses for WD-40. Two thousand and counting, to be exact. Intrigued? So are we!
The best news is that WD-40 has compiled the 2,000 uses into a free (yes, free) PDF that you can download, print and store away. Plus, the uses are divided by category, too, so it's relatively easy to find a potential solution to your problem.
How about a sampling of WD-40's power?

*Cleans black streaks from hardwood floors
*Removes gum from wallpaper
*Helps clean showers
*Cleans dust from artificial flowers
*Removes calcium deposits from a dehumidifier
*Lubricates rubber insulation around storm doors
*Helps shovel wet, sticky snow
*Keeps snow from sticking to satellite dishes
*Prevents weeds from growing through sidewalk cracks
Too cool, right? And, as you can see, we only covered a fraction of what this powerful substance can do. The best part is that you can submit your own use for WD-40 — it just might be added to the list!
We'd love to hear your favorite unexpected use for WD-40. Ready, set, share!
Photo: Flickr.com/atwj
The following two tabs change content below.

Katy Schamberger is a Kansas City-based freelance writer, editor, blogger and author who weaves experience as a journalist, magazine editor and Chief Content Officer to create compelling, engaging copy that informs, entertains and inspires action. Oh, and she likes to take photos, too, especially of architecture, food and cocktails. Welcome!

Latest posts by Katy Schamberger (see all)