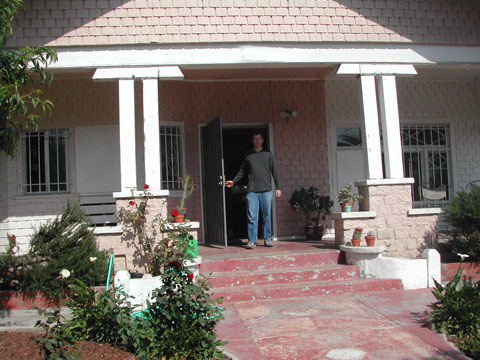 If you've got a beach bungalow that needs work or a craftsman addition planned, now's your chance to have the crew from This Old House take on your project.
Hard to believe but for the first time This Old House will be featuring a House Project in the Los Angeles area and they are seeking candidates. As you can see from this TOH House Project Map they've come close to LA but mainly stick to the NE and SE.
Details below.

TOH is looking for a historic home to renovate in Los Angeles County. The TV crew is hoping to find a dynamic family with a classic old house in need of help, with plenty of things to save and update. However, the project's scope must be "just right"–not a whole house, but more than just a kitchen. The renovation must be able to be completed in about five or six months, with construction potentially beginning as early as August 2010 and finishing by January 2011. The ideal project should already be underway with architectural plans and/or have the ability to be "fast-tracked" to the building phase.
The selected project will be featured on multiple This Old House episodes airing on PBS in early 2011. The deadline for submissions is June 14, 2010.
Please note that the renovations are completely funded by the homeowners and not by This Old House, though the show coordinates product discounts and donations where possible. All donated items are considered gifts, on which the homeowners pay taxes.
This Old House is reviewing proposals now. To be considered, please submit the following:
+ Brief description of the house, including style, location, and year built
+ Low-res digital pictures of the home's interior and exterior
+ Brief description of the current owners
+ Low-res digital pictures of the homeowners
+ Scope of the renovation (what you hope to do)
+ Project budget (ballpark, or not-to-exceed number)
+ Anticipated schedule
Please send proposals to:
pickmyhouse@thisoldhouse.com
or
Project Proposals
This Old House
P.O. Box 130
Concord, MA 01742
The following two tabs change content below.

Founder/EIC
at
Charles & Hudson
Timothy's background includes stints at This Old House, ELLE DECOR, Metropolitan Home and Woman's Day. His work has been published on Wired Design, Bob Vila, DIY Network, The Family Handyman and Popular Mechanics and he has been featured on the Martha Stewart radio show and as a speaker at the ALT Design Summit, K/BIS and the National Hardware Show.

Latest posts by Timothy Dahl (see all)