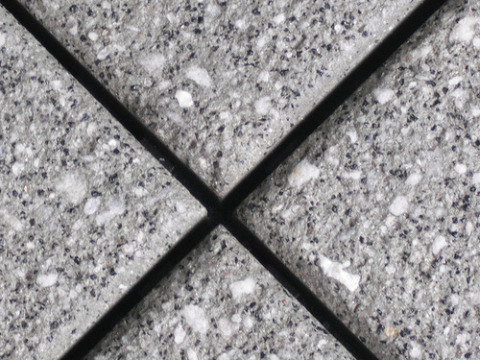 Make your cookie cutter suburban house stand out from the crowd with a unique patio surface. Don't worry if the neighbor goes with paving stone or even flagstone. You can one up the guy with one of these fancy finishes.
1) Exposed Aggregate
What's better than concrete and completely one of a kind? Exposed aggregate, that's what. Basically this finish involves mixing an attractive, smaller stone into your concrete and buffing or blasting the top surface out after the patio has dried a little.
What you get is a beautiful, artsy appearance that shows a mosaic of the small stones mixed within the strength of the concrete.
It's not usually flat (unless you opt for the grinding method that leaves it with a smooth finish much like terrazzo) and requires a sealer to be applied. But the look is incredible and will make you the envy of the neighborhood.

2) Steppable Ground Cover
That's steppable, not stoppable, and this patio is perfect for the gardening enthusiast.
The basic idea is to plant ground cover like wooly thyme, Irish and Scotch moss or Mazus reptans and leave it (or tend it) to create a living, completely traffic friendly patio surface. Greenery will tickle your toes and tantalize your nose. The entire feel of this patio will bring you back to nature.
Bury scattered fieldstone amid the steppables for a random hard surface pattern. Create a pathway with stepping stones or build a border around the live patio with whatever suits your tastes.
Don't opt for a steppable patio if you live in a super dry climate and don't like to water. They are plants after all and will require some TLC to make it through.
3) Crushed Granite
It's rugged, but extremely practical and fairly easy to install. Crushed granite can make you feel like you're out on the ball diamond with that slight crunch under your flip flops. It does look sharp though, with a blue/gray shine and a rough drama.
Combine crushed granite with large scale paving stones in a checkerboard pattern. Or use it as a pathway through your steppable patio.
Rain will easily percolate through the crushed stone and once it settles, this patio is rock solid and will easily hold all of your furniture.
Go beyond the ordinary and choose one of these patios. Unique, gorgeous and a little unexpected, you can look forward to standing out in your yard.
photo courtesy of flickr/local louisville
The following two tabs change content below.

Founder/EIC
at
Charles & Hudson
Timothy's background includes stints at This Old House, ELLE DECOR, Metropolitan Home and Woman's Day. His work has been published on Wired Design, Bob Vila, DIY Network, The Family Handyman and Popular Mechanics and he has been featured on the Martha Stewart radio show and as a speaker at the ALT Design Summit, K/BIS and the National Hardware Show.

Latest posts by Timothy Dahl (see all)