We're heading into a long weekend, and you know what that means–it's a perfect time to tackle what's on your DIY to-do list. Plus, you may find some specials at your area hardware store, which means you'll save a few bucks in the process.
If you're at a loss for what to do, we'd like to suggest a bathroom makeover. Sounds daunting, doesn't it? But we've figured out a way to redo your bathroom in one weekend–talk about a quick transformation!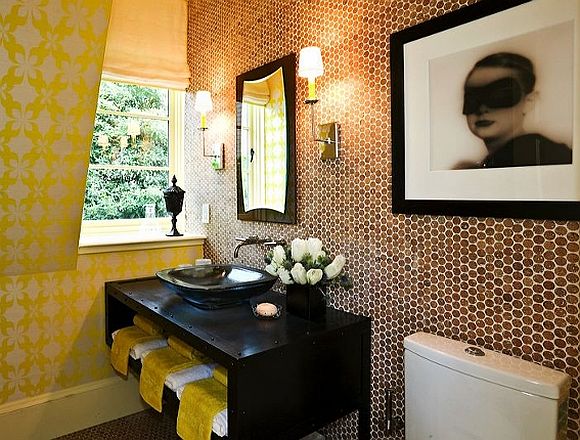 First up? Make a couple simple changes that will dramatically alter the look of your bathroom. Apply a fresh coat of paint in your preferred hue, and swap out your shower curtain (and, if you're so inclined, towels and other accessories) for a fun, patterned fabric that complements the new paint color.
If you feel that your bathroom vanity is outdated, don't worry about swapping it out. A few coats of crisp white paint will give the piece a fresh appearance. Take it a step further by swapping out knobs and hardware and adding a new faucet.

You can also switch out your bathroom's lighting. If you have a wall-mounted lightsource, try upgrading it to a couple of sophisticated wall sconces that will add panache and practicality to the room.
We've got a few other ideas for quick bathroom updates:
*Change the window treatment.
*Swap out a mirror for a medicine cabinet, or vice versa.
*Add open shelves to increase the bathroom's storage capacity. Consider mounting above the toilet, above and beside the sink and anywhere else you may have accessible wall space.
*For a heaping dose of style, install an unexpected accessory like a dramatic overhead light fixture, or try painting the ceiling. And don't be afraid to add art or photos to your bathroom, both of which are easy ways to instantly inject the room with your personal style.
Sure, the bathroom is a functional space, but that's no reason to make it void of your style or taste. Bathrooms are great places to try vibrant patterns and hues due to their smaller size, which makes these bold elements less overwhelming than they'd be in a larger room. Trust me — you're speaking to the girl who, with the help of her roommate, transformed our apartment bathroom into a Tiffany blue jewel box. And we loved every minute of it!
We'd love to know what's on your DIY agenda this Memorial Day weekend. Have a fun and safe holiday!
Photo courtesy of Kohler
The following two tabs change content below.

Katy Schamberger is a Kansas City-based freelance writer, editor, blogger and author who weaves experience as a journalist, magazine editor and Chief Content Officer to create compelling, engaging copy that informs, entertains and inspires action. Oh, and she likes to take photos, too, especially of architecture, food and cocktails. Welcome!

Latest posts by Katy Schamberger (see all)