For look, finish and durability, hardwoods are hard to beat. But what about using hardwoods in rooms that are more suited to other types of materials, such as the bathroom? Thanks to an increasing availability of wood-look tile, you can extend the look of wood throughout your entire home while enjoying the benefits of tile flooring.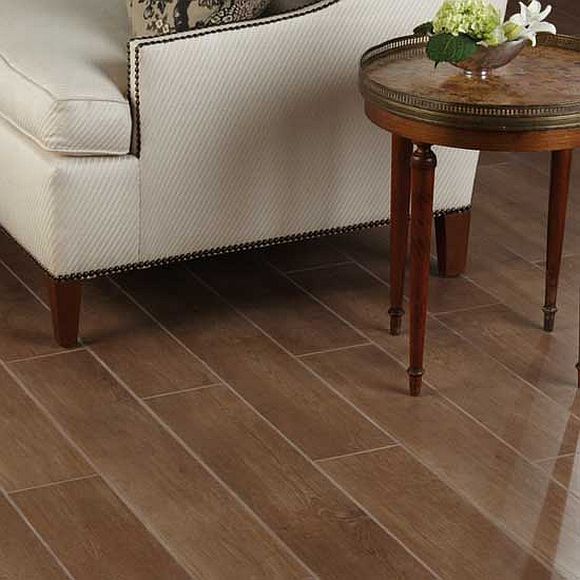 Consumer demand has prompted more tile companies to expand their offerings into designs that mimic the look and texture of wood. And although hardwoods are durable, especially if properly sealed and maintained, tile can stand up to heavy moisture, scratches and stains better than wood, making it ideal for water-prone and high-traffic areas throughout your home.
Companies like Daltile are introducing wood-look tile lines that pay close attention to detail. Daltile's "Terrace" series features wood grain and knots, as well as a tight grout joint to create a realistic and authentic look.

Like other types of tile, DIY installation can be used with wood-look tile. As with any tile, you'll want to properly prepare your floor with adhesive and apply grout between the tile. This can be a little more time-consuming if you opt for tiles like those in Daltile's collection that have a tight grout joint.
In the market for wood-look tile but don't yet see anything you like? Be patient. Experts predict that companies will continue to evolve their wood-look lines, and more varieties and styles will be available to keep pace with consumer demand.
Would you consider wood-look tile in your home?
Photo courtesy of Daltile
The following two tabs change content below.

Katy Schamberger is a Kansas City-based freelance writer, editor, blogger and author who weaves experience as a journalist, magazine editor and Chief Content Officer to create compelling, engaging copy that informs, entertains and inspires action. Oh, and she likes to take photos, too, especially of architecture, food and cocktails. Welcome!

Latest posts by Katy Schamberger (see all)