In a couple of weeks, HGTV will premiere a new series: "HGTV'd." And we love the premise. HGTV hosts will travel around the country (accompanied by a massive HGTV'd 18-wheeler) to surprise unsuspecting viewers with home makeovers!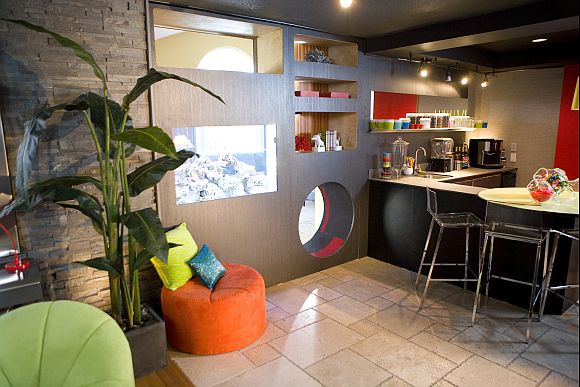 Home makeover shows are certainly not new to the programming line-up, but we love the impromptu nature of these transformations, and the fact that multiple HGTV hosts are involved. That means they can play to their strengths during a particular makeover, and in turn, viewers can get the colors, design and aesthetic they want.
The focus of "HGTV'd" will be on living rooms, basements and boring backyards, which HGTV says will be transformed into "one-of-a-kind spaces."

Oh, and in the premiere episode? The delightful David Bromstad transforms an ordinary living room into a posh party palace, a room that simultaneously invites lounging and entertaining. And after watching the promo, we can already tell that this show will keep us brimming with inspiration on how we can use similar techniques in our own spaces.
"HGTV'd" will premiere at 9p EST on June 6. We'll be back to share our thoughts on the show. We'd love to know what you think, too!
Photo courtesy of HGTV
The following two tabs change content below.

Katy Schamberger is a Kansas City-based freelance writer, editor, blogger and author who weaves experience as a journalist, magazine editor and Chief Content Officer to create compelling, engaging copy that informs, entertains and inspires action. Oh, and she likes to take photos, too, especially of architecture, food and cocktails. Welcome!

Latest posts by Katy Schamberger (see all)