This week we're introducing a 3-part series called Window Wisdom, sponsored by Marvin Windows and Doors, where we will take an in depth look at the world of windows. In our modern day, windows are often taken for granted but when we remember that they were invented for the purpose of letting light and warmth into our living spaces and often times even providing picturesque views to the outside bringing nature closer, windows quickly become one of the most important features of any building.
To kick off the series we'll go through the steps of performing an energy audit that will help you evaluate the current state of your windows to determine if it might be necessary to replace or repair them. We'll follow up next week with a window buying guide and finish the series with tips on how to clean and maintain your windows.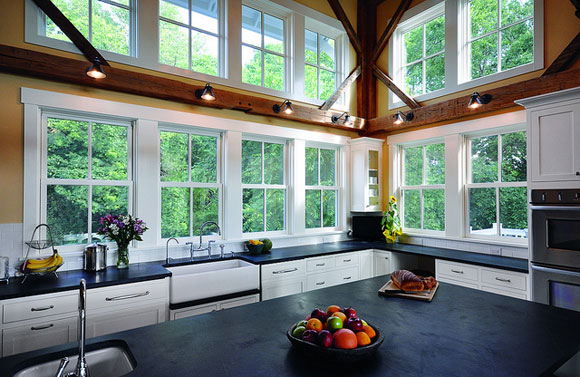 Without windows we'd all be living in dark depressing boxes (like some New York apartments). More than providing natural light, windows today also serve as a design element, literally framing the look and feel of your home's exterior and interior design.
Besides being attractive and providing personality, windows must function well and be able to withstand a lot of wear and tear. Regular opening and closing as well as extreme weather can push a window to its limits.
In order to determine the current state of your windows and their energy efficiency, here are a few easy, but not necessarily obvious, tests you can run.
Watch the Flame
We use this same tip to check for drafts around a door. Hold a lighted candle 2-3 inches from the edge of a closed interior window and slowly move it around the window. If you see the flame flicker in a particular spot you know you've got a draft.
Hot or Cold
On a hot or cold day check for warm or cool spots around the inside of a window. This is a sign of a leak that is costing you money and wasting energy. Many times this can be fixed by simply repairing the weather stripping and other times it can mean you have a more serious problem like cracks in the casement or window surround.
Check the Exterior
Inspect the paint around exterior window frames and if you notice any cracking or peeling you may have a broken seal and damaged window frame that is allowing air to flow outside in and inside out. This type of damage needs to be fixed immediately as any cracks in your wall will eventually lead to water damage which will cost you much more than the cost of replacing a window in the long run.

Weather Beater
If you live in a particularly extreme climate that brings excessive cold, heat or wetness, you should check the condition of your windows more frequently than those who live in moderate weather areas. Water damage is a frequent cause of window failure, and the expansion and contraction of window frames that comes with drastic changes from hot and cold weather can be detrimental. Not to mention, those powerful UV rays can break down untreated or damaged wood causing even further damage.
If you live in a weather zone where hurricanes or tornadoes are prevalent then you should also consider upgrading your current windows to an impact-resistant product like the Marvin StormPlus windows.
Final Easy Window Checkup
Marvin offers up an easy test that anyone can do to check on the health of your window frames. Tap the frame with a flat-blade screwdriver to test the softness of the wood. If the end of the screwdriver can be pushed easily into the wood, it's usually a sign of decay and full-frame replacement windows might be an option your need to consider. Note: To avoid damage to the frame, make sure to use a flat-blade screwdriver or other blunt tool.
If you've evaluated your windows and determined that they are beyond repair, or if you are looking to flex your design skills and upgrade the look of your current windows, you'll want to check out our simple guide to choosing the perfect windows. Window technology and construction has changed dramatically in recent years and the new energy saving features that we'll outline will not only save you money, but can even put cash right into your pocket in the form of a nice tax credit.
We'll see you next week for our window buying guide that will cover options for all different styles, needs and budgets. And, in the meantime, good luck with your window audit!
Part I Perform a Window Audit
Part II Window Buying Guide
Part III Cleaning & Caring for Windows
The following two tabs change content below.

Founder/EIC
at
Charles & Hudson
Timothy's background includes stints at This Old House, ELLE DECOR, Metropolitan Home and Woman's Day. His work has been published on Wired Design, Bob Vila, DIY Network, The Family Handyman and Popular Mechanics and he has been featured on the Martha Stewart radio show and as a speaker at the ALT Design Summit, K/BIS and the National Hardware Show.

Latest posts by Timothy Dahl (see all)