File this one under "simply amazing."
Artist Jonathan Brechignac has undertaken an incredibly ambitious project. He's spent more than a year creating carpet for his home using a Biro pencil.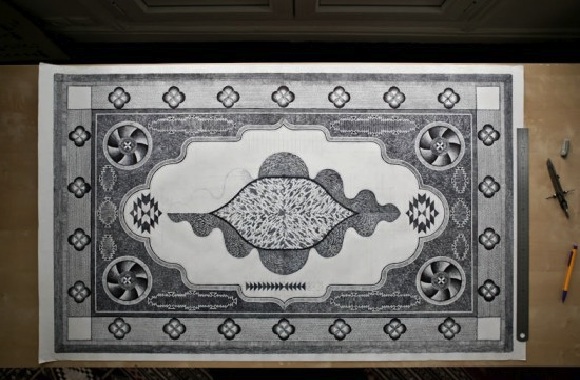 That's right — a pencil!
I learned about the project thanks to a post on Bit Rebels by Richard Darell, who writes, "With just a few (quite a few) Biro pencils he's managed to create one of the most intricate patterns I have ever seen to date. The insane carpet, yes they say it is sort of a prayer carpet, has details that you can't even dream about."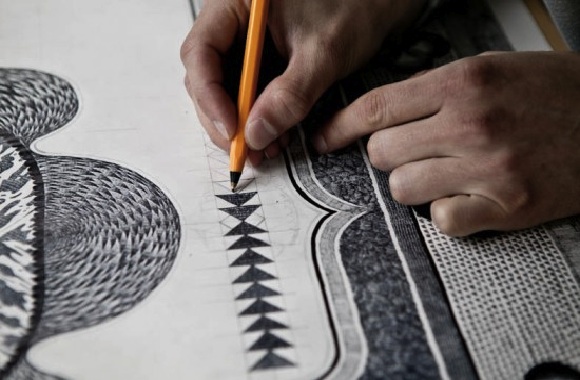 I can only imagine the work and effort that's gone into this project. After reading about an artist who decorated the walls of his basement using Sharpies, my husband decided to create a Sharpie mural of the NYC skyline on our loft wall. It took over three months and I tried to help but, embarrassingly, got bored after working on one building and abandoned the project.
So I have a ton of respect for Jonathan and what he's created – it truly is a work of art.
That leads me to a question for you, readers. What's the most time-consuming thing you've done for your home? And would you do it all over again?
Photos via Bit Rebel
The following two tabs change content below.

Katy Schamberger is a Kansas City-based freelance writer, editor, blogger and author who weaves experience as a journalist, magazine editor and Chief Content Officer to create compelling, engaging copy that informs, entertains and inspires action. Oh, and she likes to take photos, too, especially of architecture, food and cocktails. Welcome!

Latest posts by Katy Schamberger (see all)