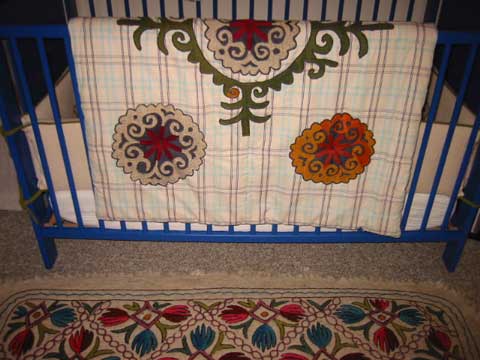 When I was pregnant with my first child in 2004, my husband and I found it difficult to settle on a crib set. Most of the options available to us were gender-specific – soft pink or baby blue – and we didn't know the baby's sex. But even if we had known, we weren't too keen on pastel color schemes or cutesy prints. We wanted something different.
I should have consulted my friend Laura who works in the textile industry. For her own son, she designed original bedding from fabric remnants that she had collected from around the world.
Laura found the intersecting blue and purple striped quilt fabric in India over 15 years ago. At a local craft store, she bought the bumper fabric in a coordinating color. She then cut the appliqués out of a Suzani – a hand-embroidered decorative tribal textile from central Asia – that she found at Portobello Market in London. Laura sewed all the appliqués onto the base fabrics herself and hired a seamstress to complete all the pieces.

The finished set has a graphic quality and profusion of colors that kids love, yet it is still elegant. I'm wondering if Laura can make me something similar in Queen size.