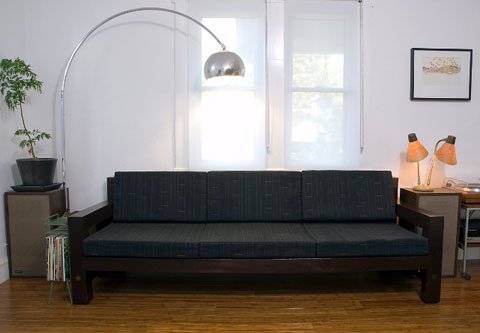 My dad made this sofa when I was just a toddler. It sat in our living room for years, and at eight feet long, it was the centerpiece of everything from family photos to teenage sleepovers. I suspect my dad built it more out of necessity than desire. In the 1970s, sofas were costly items and young families didn't have budget-friendly resources like IKEA.
I never thought of the sofa as an heirloom piece. My siblings and I did not fight over it when we left home and moved into our own places. First of all, the couch, constructed of 4×4 solid redwood lumber, is prohibitively heavy. It was about as easy to remove from its original location as our family's grand piano. Moreover, my parents had covered the sofa in a striped orange and brown fabric that nicely complemented their mustard appliances and shag carpet, but looked worn after years of use.
I guess my brother Zach loves a project just as much as my father, because those hurdles did not deter him from refurbishing the sofa for his new house in Oakland. In fact, he and his wife Erica prefer pieces with a bit of history to mass-produced items, especially when they can derive added satisfaction from hours of hard labor.
Here's what they did to make it their own:
1. Refinished the wood frame and re-stained it a darker hue
2. Restrung the suspension with jute rope

3. Remade the cushions with foam bought at a local Berkeley futon store, slightly changing the forms from soft, rounded shapes to square, clean lines
4. Reupholstered the cushions with fabric from winterbeachmodern.com, a company that sells surplus designer fabrics from manufacturers like Knoll, Herman Miller, and Maharam. The overstock ranges from lump quantity remnants to precut pieces. Zach and Erica purchased 10-yards of Maharam fabric for $90 (that originally sold for $90+ per yard!).