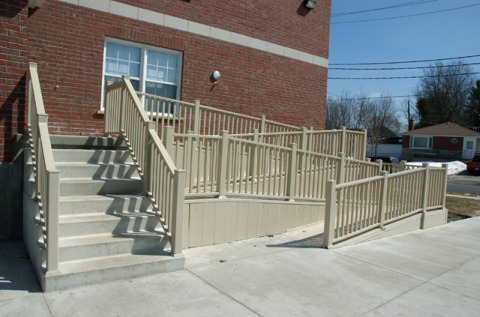 For whatever reason, you may find out that your home needs better accessibility. Stairs are difficult and dangerous when you're in a wheelchair. Tackle the problem yourself by building a simple wooden ramp up to the entrance way.
Wood is much cheaper and more convenient than a poured concrete ramp. A wooden ramp can be removed easily or adapted if the situation changes. The frame, surface and railing on a wooden ramp are also easy to build in no time.

Think Simple
Wooden ramps are just low, angled decks. The framing is essentially the same, with the exception of the dimensional lumber. Since you are bringing it directly to ground level (and will likely have to dig for install), it's a good idea to use 2×6 lumber instead of the standard 2×8 framing.
Follow these steps for the simplest install:
1. Start by marking it off. Dig out any areas you need to and level the soil as best you can. Remember that the width of the ramp is important. You'll want at least a 36″ opening between the posts or across the width. Some areas even have a code to specify this – check yours out before building the ramp.
2. Dig and set the posts as you would a flat deck in the space. Make sure to set long posts so that you can use them for the railing as well as the framing support. If you're installing aluminum or another alternate material, you can always cut them off later.
3. Set your ring joist out beside the posts and along the house (if applicable). Now for the angle. A good rule of thumb is that the slope should drop no more than 1″ over every 12″ of ramp length. Use that as a maximum and angle the ring joists at whatever slope works for your application.
4. Attach the rim joists and the balance of the framing. Screw or nail on the deck boards.
5. Now for the railing. Some codes require a bottom plate attached to the ramp surface for protection. If you're installing a wood railing, just attach the bottom 2×4 right to the deck board and you're covered. If you're going with another material, you may need to attach a 2×4 as a lip along the ramp surface. Check the codes.
6. Otherwise, proceed with railing that is at least 36″ high. A simple handrail may not be enough protection on a ramp, so be sure to put at least a two rail system in. Vertical picket railings work the best.
Now your house is handicap accessible and you've saved the labor and cost of heavy, permanent concrete. Nice job. And nice ramp.
Here are even more resources for building your own ramp.