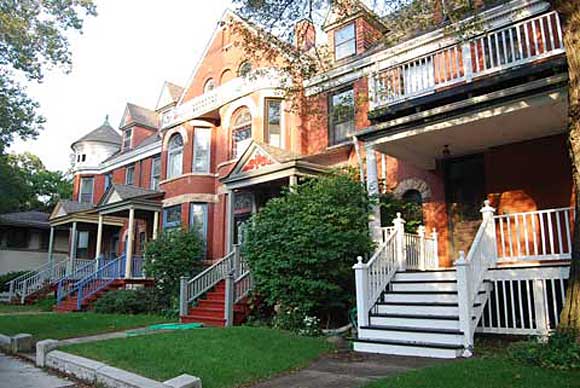 We'd venture to say that Chicago leads the nation in number of housebloggers per capita and their undisputed leaders are Aaron and Jeanne Marie Olson who have been chronicling the renovation of their 1914 bungalow on HouseinProgress.net for the past 6 years. They're also the founders of Houseblogs.net, a community-powered home improvement publication that every houseblogger worth their mud is a member of.
We knew they would be the perfect people to approach for our Chicago DIY City Guide and they didn't disappoint. Through their renovation process they have compiled a list of respected vendors, contractors, and retailers that in their experience have been reliable and knowledgeable in their respective fields.
Note:
+ Some of the contractors on this list are small one-man operations that do great work mostly via referrals and they charge the going rate for their expertise and skill.
+ An often overlooked trait when it comes to contractors is how they treat women and in Jeanne Marie's opinion the contractors listed have all treated her with respect and professionalism.
As with our previous DIY City Guides, this list is not definitive and if you feel we've overlooked a great vendor or craftsman then please let everyone know in the comments.

Hardware Stores
Clark & Devon Hardware
6401 N Clark St., Chicago, IL 60626, 773.764.3575
Home Depot and Lowes quake in shame before them. Old timey hardware and renovation store with tool rental and every single person on staff is an experienced professional who can give excellent advice and recommendations. They often beat the prices of those other stores too. Worth the trip. Parts for old wood windows, parts for radiators, etc. etc. No old home owner could resist them. Yelp reviews
The Faucet Shoppe
3844 N. Elston Ave., Chicago, IL 60618, 773.478.3890
More old timey goodness with experienced pleasant staff who are delightful to work with and happy to help you solve problems. Best retailer of Chicago Faucet products that I've found in the city.
Landscaping
Topiarius
773.944.5400
Along with Kurt Susanke in Woodstock (who serves the suburbs), Topiarius in Chicago is on my list of creative, landscaping and hardscaping designers who can make even the smallest city yard look fabulous.
Lumber
Lee Lumber
Northside: 3250 North Kedzie Avenue, Chicago, IL 60618, 773.509.6700
Southside: 633 West Pershing, Chicago, IL 60609 773.927.8282
Owl Hardwoods
4655 W. Southwest Highway, Oak Lawn, Illinois 60453, 708.422.1300
Foundations and Footings
Great Lakes Builders.
7606 W. Devon, Chicago, IL 60631, 773.631.7676
They are also structural engineering consultants.
Tile
Fine Line Tile
209 W. Illinois St., Chicago, IL 60610, 312.670.0300
Mosiacos
4948 N. Pulaski Rd, Chicago, IL 60630, 773.777.tile
King of Tile
4401 N. Pulaski Road, Chicago, IL 60630, 773.463.1771
If you are looking for something a little more mainstream and inexpensive, don't let the storefront of King of Tile put you off.
Tile Outlet
2434 W Fullerton Ave., Chicago, IL, 60647, 773.276.2662
Full to the brim with deals.
House Inspectors
Tomacor
333 W. North Ave., Ste. 342, Chicago IL 60610, 312.475.0835
They KNOW old AND new houses and they've seen it all.
Best Pest and Animal Removal
Critter Detectives
1294 S. Lloyd, Lombard, IL 60148, 630.916.7678
Lou from Critter Detectives did an excellent job and handled everything with care.
Custom Built Wood Windows
Just Sashes – John Videckis
5952 West Addison Street, Chicago, Illinois 60634, 773.205.1429
Best Tub and Sink Refinishing
Aquarius Limited Tub & Tile Refinishing
Naperville, IL 60540, 708.443.5768
Best Electrician
W P Electrical Co
Wieslaw Pollak – Licensed Electrician
773-481-9465
(only serves the Northside)
Best Heating and Cooling (any system–steam, water or forced air)
Unique Indoor Comfort
910 Riverside Drive #7, Elmhurst, IL 60126, 630.833.4400
Best Insulation Removal
Attic Experts – Superior Insulation & Attic Ventilation Inc.
630.941.3800
Best Wood Stripping and Furniture Refinishing
The Stripp Joynt
Elston Avenue in Irving Park Neighborhood
Chicago, IL, 773.545.6666
Best Sandblasters (for radiators)
Ace Sandblasting
4601 W Roscoe St, Chicago, IL, 773.777.6654
Best general contractor (tile, bathrooms, kitchens, general home improvement projects)
PMc Rehab
2646 N. St. Louis, Chicago, IL 60647, 773-544-3800
[email protected]
Security System
ADT Security Systems
630.458.7649
Although there was already a system installed when we bought our bungalow, it was an older system so we had it upgraded.
Steam Boiler Service
A & M
Heating & Cooling Specialists
Des Plaines, IL
847.803.1333 773.292.1313
Rodding Pipes
TCellar Master Flood Control
815-727-7355
Salvage Shops
All of my favorite salvage shops in Chicago are gone. The few that are left are snobby and pretentious (Salvage One, Architectural Artifacts). In fact, the owner of Architectural Artifacts is the least customer-oriented person I've ever met in my life. The best deals are found on Craigslist, on the Chicago Bungalow Association forum, or in your nearest alley. Otherwise, you have to go pretty far afield to Island Girl Salvage in Elk Grove Village or roadtrip to Indiana/Iowa for decent prices. Jan's Antiques was always a favorite until they started hiking their prices WAY up…without changing anything else. It's still the overcrowded mess it always was, which used to be delightful when it was affordable.