This month Yankee Barn Homes is celebrating their 50th anniversary. And to celebrate this milestone we are sharing one of our favorite homes of theirs, the Mad River Modern.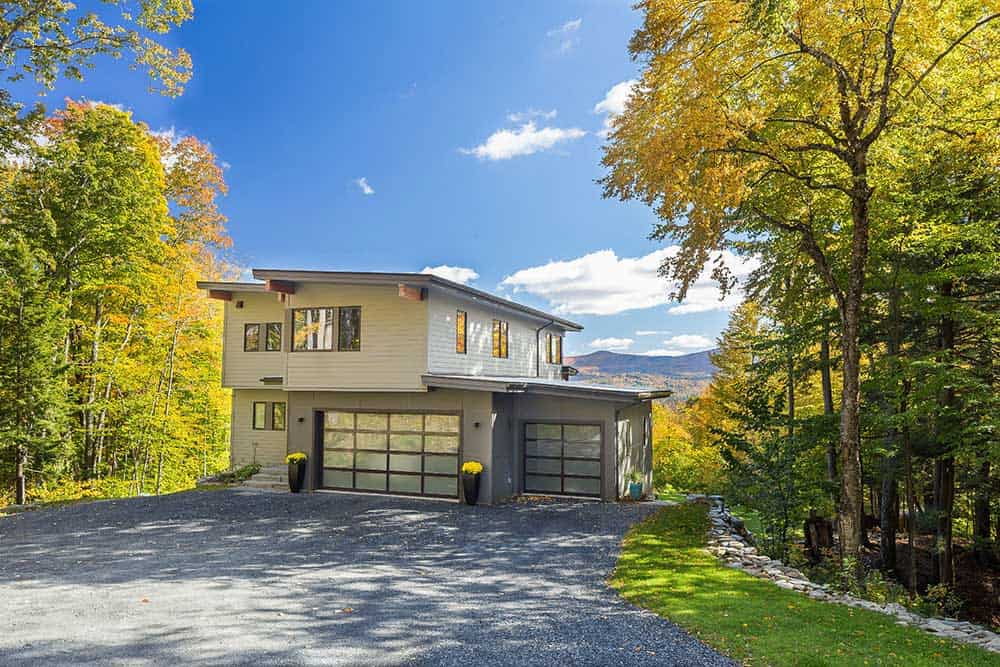 Yankee Barn Homes is a post and beam company that has been building luxury prefab barn homes out of their facility in Grantham, NH since 1973. Emil Hanslin founded Yankee Barn Homes in 1969 to custom-design and craft timber frame homes. Hanslin set out to market an authentic styled barn home designed to fit a contemporary lifestyle and built with the finest materials for weather protection and energy conservation.
The natural beauty of post and beam homes is showcased in their exceptional designs, which are expanding from traditional to modern, under the watchful eye of their NYC design director, Jeffrey Rosen. And, since these homes are prefab (meaning they're pre-cut in their facility), there is significantly less waste than a standard stick frame, the company's trademarked roof and panel systems allow for exceptional energy efficiency, and – get this – the weather-tight shell of a home can be up in about two weeks or less. Who needs heavy machinery on site for months on end, when you can have your house up in days?
The company focuses primarily on the New England and mid-Atlantic markets – and as a 50 years NH business this February, they're not settling into the same old, same old. They're continuing to push the boundaries of design, to improve efficiencies, and to build dream homes that stand the test of time (weather hurricane force winds, snow loads, or design).
With the addition of new ownership in 2011, Yankee Barn Homes took the next step in its history. The company has developed trademarked roof and wall panel systems incorporated within the post and beam construction, increasing efficiency of the home. Today, Yankee Barn Homes designs and builds in any architectural style, barn home to farmhouse, cottage to mountain lodge.
True Panels
True PanelsT are structural wall and roof panels manufactured by Yankee Barn Homes in its climate controlled shop under strict Quality Assurance oversight. True Panels are a key component in the Yankee Barn energy efficient panelized building enclosure. The True Panels are built with premium grade Sustainable Forest Initiative certified, kiln dried lumber.
True Panels are insulated with "green polyiso", a double-foil faced, extruded polyisocyanurate foam core. The sheets of green polyiso are sealed in place with a bead of expanding foam insulation. The exterior sheathing material is 5/8" CDX Douglas fir premium grade plywood, as opposed to the 1/2″ chip board or lower grade plywood most commonly used.
True Panels are custom designed for each Yankee Barn home and include full structural, framed openings for all doors, and most windows are installed. There is a 1 ½" space from the face of the insulation to the inside of the studs leaving very good and easy access for your electrician to run wire without disturbing a lot of the insulation. The True Panel System is extremely strong, energy efficient and cost effective, saving you time, money and labor.
Modern Prefab
The Mad River Modern comes in at 2,577 square feet of living space, 3 bedrooms, and 2.5 baths. Additionally, an optional walkout basement adds another 832 square feet of finished living space with potential for an extra bedroom and full bath.
The features of this Yankee Barn follow along with the original intentions of the Mid-Century Modern style. This contemporary design was intended for a sloped build site, but would work equally well on a level lot. An open floor plan and floor-to-ceiling windows allow for maximum natural light and panoramic views. A neutral color palette emphasizes the natural warmth of the post and beam frame throughout the home. The open living area seamlessly progresses outdoors to the first floor waterproof deck, overlooking the Green Mountains of Vermont. The patio directly below is protected from inclement weather making it a great space for entertaining, even on a rainy day.