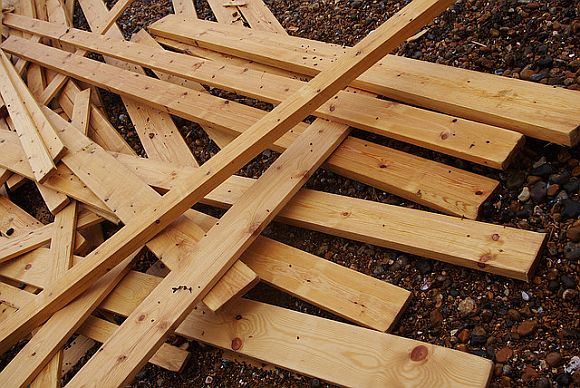 You're probably familiar with the old saying, "If it ain't broke, don't fix it!" If you're talking about materials, especially wood, there's no reason to discard pieces just because they've seen better days.
On the flip side, maybe you've collected a stash of salvaged wood that's ideal for your next project–it just isn't as attractive as it could be. Depending on the degree of wear and damage, refinishing wood can be a complicated process that involves stripping, sanding and staining.
For an easier method, try a one-stop-shop product like Howard Restor-A-Finish. This potent formula rescues wood from a variety of sins, including fading, scratches, nicks and water marks.

You'll want to consult Howard's online guide at www.howardproducts.com to diagnose your problem and use the proper application technique. For stubborn problem areas like water marks or burn rings, you'll apply the finish with steel wool, which will help buff out the marked area and bring out the natural wood grain.
A word to the wise? This stuff is strong–really, really strong. Use it on a nice day when you can open your whole house up, or, if you can, apply the product outside. If you're indoors, keep your work area well-ventilated, and you may want to use a mask. Keep children and pets away from the area until the fumes have dissipated.
Let us know if you use Howard Restor-A-Finish for a project and what you think!
Photo: Flickr.com/DaveBleasdale
The following two tabs change content below.

Katy Schamberger is a Kansas City-based freelance writer, editor, blogger and author who weaves experience as a journalist, magazine editor and Chief Content Officer to create compelling, engaging copy that informs, entertains and inspires action. Oh, and she likes to take photos, too, especially of architecture, food and cocktails. Welcome!

Latest posts by Katy Schamberger (see all)