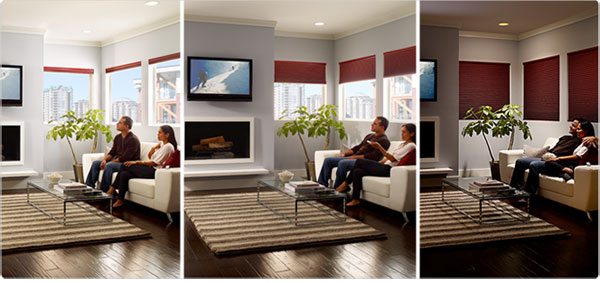 Regardless of the season, saving energy within the home is important and we're always looking for new ways to do it.

Fortunately, Lutron Electronics, the lighting control pioneers, designed Serena Shades — do-it-yourself, remote controlled, honeycomb shades that help keep rooms cooler in the summer and warmer in the winter. And the best part, Serena shades are customizable and perfectly priced, starting at $279 a window—making them an affordable, stylish update to your home.
Since we are so excited about Serena, we wanted to find out more from Lutron so we chatted with Staci L. Quirk who is the product marketing manager at Lutron.
Remote controlled shades have always been a luxury item. What prompted Lutron to bring Serena shades to the market?
Given their energy-saving benefits and convenience factors, remote controlled shades have become more of a necessity than a luxury. Homeowners now have the opportunity to bring an element of home automation and luxury into their spaces at a much lower price.
How are honeycomb shades different from other shades and how much energy will we really save?
Honeycomb shades help save energy in a home by insulating windows, doubling the "R" value, or thermal resistance. The shades are designed to trap heat in the air pockets to provide superior insulation. Homeowners can lower Serena shades in the summer to help block the sun's harsh rays and keep air-conditioned rooms cool, while in the winter, homeowners can lower the shades to capture heat from the sun to warm the room.
People are very particular when it comes to window coverings. What type of design options does Serena shades offer?
Serena is available in more than 50 colors and five textures, so there are more than 100 options for homeowners to choose from.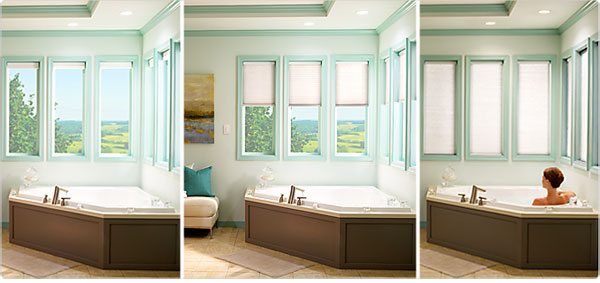 Applications such as hard-to-reach windows and rooms with multiple windows seem like the perfect place to install remote controlled shades. Why would anyone with just a few windows in their home consider Serena shades?
Serena shades are customized to suit a homeowner's needs—such as covering one large foyer window, creating a perfect movie-watching environment with blackout shades or turning a bedroom into the ultimate relaxation chamber. Because they are remote controlled, Serena shades are great for nurseries, so parents can quietly lower shades while holding a sleeping baby.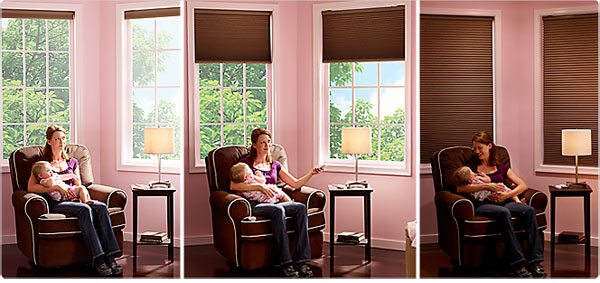 Serena shades are offered with two options for remotes. What are the differences between your Pico wireless and infrared remotes?
The Pico wireless control is a radio frequency (RF) remote, so it can be used anywhere in the room and can control one or more shades in that area. We think this is perfect for sunrooms with multiple windows. The infrared (IR) remote must be pointed at the specific shade you wish to control in order for the shade to receive a signal, but an added bonus is that it can be integrated into a universal remote.
What is the installation process? Does a customer need to hire a professional installer?
Serena shades are completely do-it-yourself and easy to install. Homeowners can install a set of shades in 15 minutes or less! To install, mount the brackets with a few screws and click the shade into place, then place the batteries inside and program the remote. The video (below) shows the installation, maintenance and benefits of Serena shades.
Serena shades seem like the obvious choice for homeowners who are seeking luxury window treatments at a great price. And, it's always a bonus when form and function equate to saving energy.
For more information and to order your custom shades visit SerenaShades.com.