An issue with selecting new countertops is the cost and time involved with installation and in many instances you just want to change the color or texture and maybe hide various stains or slight damage and abnormalities in your countertop.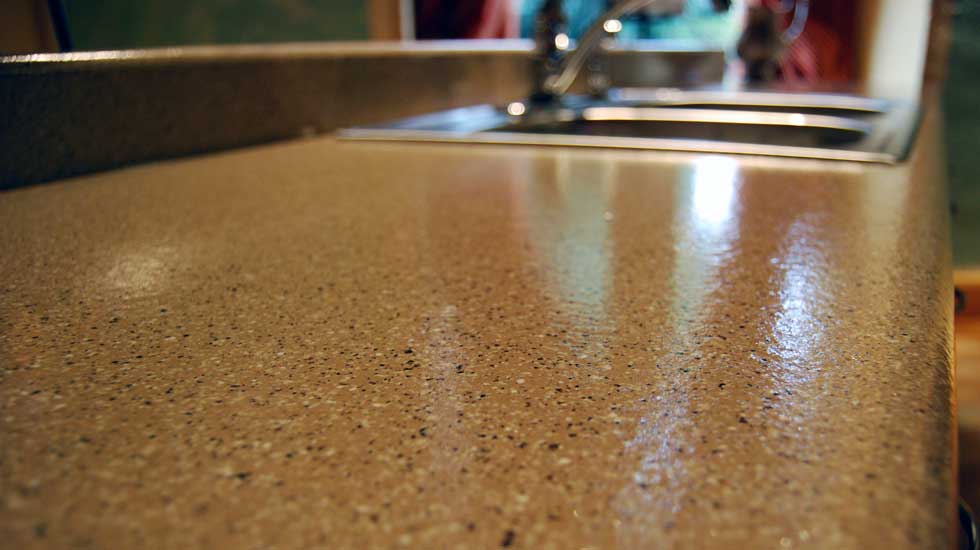 The item we use most in the kitchen? Our countertops! They can be the most visually attractive component of a kitchen or conversely the most hideous. They take a tremendous amount of abuse and we expect them to perform under a variety of conditions whether it be heat, moisture, weight or general wear.
Rust-Oleum Countertop Transformations
Rust-Oleum has introduced a cheap kitchen countertop design product that can give old laminate countertops a premium designer finish without the expense, mess or downtime associated with replacement.
The Rust-Oleum Countertop Transformations Do-It-Yourself Countertop Coating System comes in a complete kit and has been created with the DIYer in mind.
"Homeowners today are looking for countertop surfaces that are durable and functional, yet appeal to their sense of style," says Rust-Oleum senior brand manager Ashley Lehrmann. "Countertop Transformations is a highly durable alternative to expensive new countertops that's guaranteed to last for years."
Rust-Oleum is hoping their new countertop treatment will replicate the look of natural stone but to the discerning eye it is still a bit off and once you touch it you know it's not the real thing. But with the variety of countertop materials out there we don't get the feeling that it's trying to replicate stone but rather introduce us to a whole new surface which it is.
Countertop Transformations gives you the ability to transform your countertops, providing a durable new finish at a fraction of the cost of replacement. The coating system eliminates the need to hire a contractor and the mess associated with countertop replacement. It's also possible to use on bathroom vanities, bar tops and tabletops.
How to Install Rust-Oleum Countertop Transformations

We went through all of the steps to install this countertop transformation with Rust-Oleum that included:
Step 1: Prepare the surface with the Diamond Embedded Sanding Tool (included).
Step 2: Apply the Countertop Transformations Adhesive Base Coat.
Step 3: Spread the Decorative Color Chips.
Step 4: Sand and smooth.
Step 5: Apply the Countertop Transformations Protective Top Coat.
All it took was five steps to a new countertop. There is definitely some labor involved with sanding the countertop to a smooth surface and currently they only provide a sponge size hand sander which they claim contains tiny diamonds which are used as an abrasive.
We suspect some people might take the sanding process into their own hands and use a 120-180 grit paper with their palm sander or oscillating attachment but double check the instructions before trying that, in fact Rust-Oleum doesn't recommend it.
Rust-Oleum Countertop Transformations Finishes
There are a variety of finishes including Pebbled Ivory, Desert Sand, Java Stone, Onyx and Charcoal – the most sought after "neutrals" in kitchen design. It stands up to daily wear and tear and features HomeShield Antimicrobial Protection to protect the painted surface by inhibiting the growth of mold, mildew, and other odor or stain-causing microbes.

The Countertop Transformations kit comes with almost everything needed for a countertop refinishing project including an Adhesive Base Coat, Wetting Agent, Decorative Color Chips, a Diamond-Embedded Sanding Tool, Sanding Block, Decorative Chip Dispenser, Decorative Chip Scraper, Texture Sample and Stir Sticks. It also includes step-by-step instructions (in both English and Spanish) and an instructional DVD to make the project even easier.
Countertop Transformations is backed by a 100% Satisfaction Guarantee. A dedicated Product Support line is also available for assistance with projects, if needed.
If you're seeking a cheap alternative to your countertop design then you may want to give this kit from Rust-Oleum a try. It should be available at your local home center and costs $250 which covers 50 sqft so a fraction of the investment of new countertops.