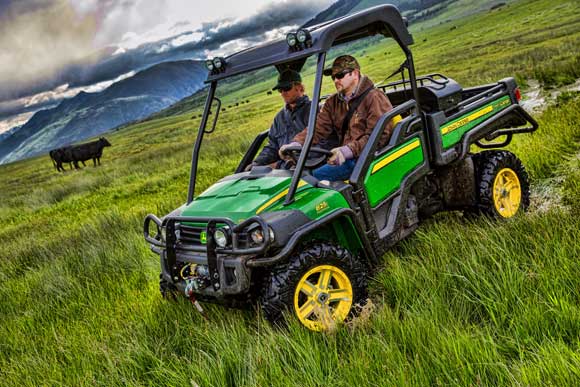 The popular John Deere Gators are known for quality, fun and utility. The 2014 line-up has been tweaked to focus on operator side retention, winch enhancements, and specific performance upgrades to each model category.
"The growth of the John Deere utility vehicle portfolio allows us to collect customer feedback from trails, farms, jobsites, and other applications where the Gators are used," said David Gigandet, John Deere marketing manager, Gator utility vehicles. "Understanding what our customers need and want allows us to build a better utility vehicle year after year."
Operator Side Retention (OSR) is now standard on all Operator Protective Structure (OPS) equipped Gator utility vehicles. A net OSR is part of the base configuration for the HPX, XUV heavy-duty, and mid-duty models. Stylized poly doors can be ordered in lieu of nets for certain models. The nets allow for easy one-handed operation, provide great visibility and allow for accessible ingress and egress from the utility vehicle. The stylized poly doors feature automotive style handles, color-matched panels, and a 90 degree opening for easy entry and exit.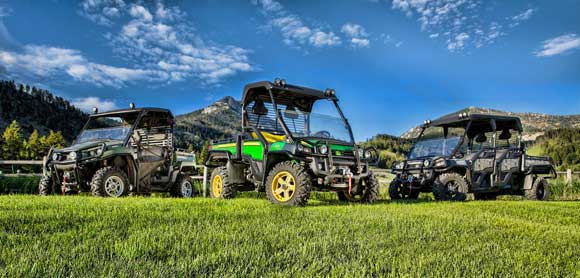 A new Warn® ProVantage 3,500 or 4500 lb. winch increases pulling capacity up to 1,500 additional pounds over previous models to provide the reliability and grunt needed when tackling the trails or work around the land.
The heavy-duty line of XUVs (625i, 825i, 855D) features digital display and operator station updates. The new digital display now includes a glow plug indicator light (diesel), a flashing water temperature icon, and a power steering indicator (if equipped). New illuminated dash switches provide better nighttime visibility.
An ag management solutions system (AMS) integration kit is also available for the heavy-duty models. This kit allows a customer to mount a StarFire receiver and GS display (both sold separately) to the Gator to assist with boundary mapping, flagging field obstacles, and soil sampling.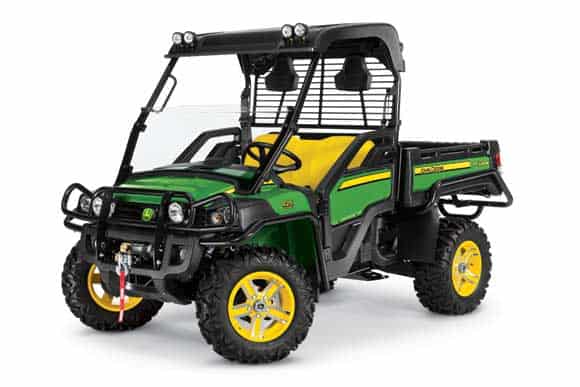 The highlight of the mid-duty line of XUVs (550, 550 S4) is an improved braking system that delivers 26 percent reduction in brake pedal effort and improved operator feedback while maintaining superior braking performance.
All Gator XUVs are available in Realtree® Hardwoods™ HD Camo, olive and black or John Deere green and yellow color schemes. There are also more than 100 factory and dealer-installed attachments available for customization.