We all have those whimsical childhood dreams of what our dream house would be like. Whether it be turrets, underground tunnels, tiny elevators, or hidden passageways, we all smile with delight at the thought of finding a real-life home with even one of these attributes.
But what if it were possible to easily create one of these scenarios — a secret doorway — in almost any home?


While stumbling around Pinterest the other day we came across the above photo, which brought our mild infatuation with secret doorways to a fever pitch. Who wouldn't love to change out a standard doorway with a bookshelf, china hutch, dry bar or a layered pantry? And who doesn't love a good challenge that could result in one of the coolest finished projects ever?

In our home, a secret doorway would be absolutely stellar in our dining room — we already plan on doing a large built-in for entertaining and extra storage on the wall with an actual door, so a flush cabinet or bookcase would perfectly camouflage the doorway to our master bedroom, which is off of the dining room. That way, when we did have people over for dinner parties or holidays, we wouldn't have to answer questions about where the door leads or have people mistake it for a coat closet or bathroom.
Since our house is old and therefore nothing is standard, we're confident this would be a pretty intricate DIY job combining components for our built-in as well as making allowances for things like building out the door frame to create an adequate pocket for the shelves without crowding our bedroom and the electrical very near the existing door frame. There are plenty of great how-to's on the great World Wide Web, as well as companies that manufacture standard-sized as well as custom units.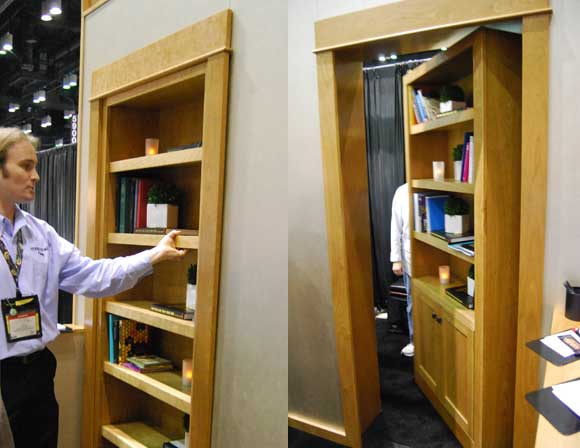 Just thinking about the possibility of having our very own secret doorway gets us pretty excited. Where would you use a secret doorway in your home? As always, let us know what you think!
Photo courtesy of Hidden Passages