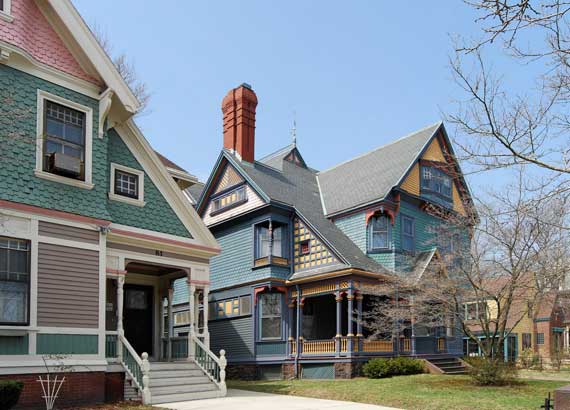 Vancouver, Canada has been dubbed as one of the most desirable cities in the world to live and we agree.
In addition the picturesque mountain scenery, lush parks and trails, there is an eclectic mix of storefronts, many of which are a second home for the 'Canuck DIYer.'
Handy Vancouverites have an abundance of choices when it comes to vendors and shops for the local do-it-yourself enthusiast – both big box retailers and independent mom and pop shops. Here's a roundup of some stores that are likely to come in handy for your next project.
Hardware Stores
Magnet Hardware Ltd.
1575 Commercial Dr., Vancouver, B.C.604-253-1747
Customers who visit Magnet Hardware Ltd. can find a range of products carefully selected for home renovation, repair and maintenance projects. Lumber, paint, hand and power tools, plumbing and electrical supplies and all manner of building materials– including plants – are available at this great little hardware store.
Hewer Home Hardware
4459 W 10th Ave., Vancouver, B.C.604-224-4934
Hewer Home Hardware is one of the city's oldest hardware stores that dates all the way back to the 1920's. In addition to a great selection of home hardware, one will find a garden center at the location with a year-round nursery. The staff are friendly, knowledgeable  and always eager to help with any project.
Gandy's Home Hardware
2262 W 4th Ave., Vancouver B.C.604-73-8014
Lumber, tools, paint, plumbing and electrical supplies and an extensive selection of building materials are available at Gandy's Home Hardware, along with house wares, sporting goods, automotive items and lawn and garden supplies.
Bradford Hardware
#101 1626 West 2nd Ave., Vancouver, B.C.,604-569-0783
Bradford Hardware is a specialty order hardware showroom located in the heart of Vancouver in its newest and upcoming design area – the Armoury District. The eclectic store imports a wide variety of custom hardware products to fit any budget and design.
The Little Hardware Company
1320 Davie St., Vancouver, B.C., 604-687-6285
If you live in the West End and need your day-to-day hardware supplies, this is the place to go. The old school mom'n'pop hardware store has all the little things you could possibly need to finish your small DIY project.
Junk Removal
Disposal King Ltd.
13280 Mitchell Road,  Richmond B.C., 604-306-8599
In addition to fair and competitive pricing, reliable service and attention to detail, Disposal King Ltd. operates in an environmentally responsible manner. It's through this quality work and top-notch service that the junk removal business has built a solid reputation of customer satisfaction.
1-800 Got Junk?
#305 – 460 Nanaimo St., Vancouver B.C. 1-800-468-5865
1-800-GOT-JUNK? offers junk removal services for your home or business including offices, retail locations, construction sites, and more. The junk removal company ensures that your junk gets recycled, donated, or disposed of responsibly.
Home Builders
PHW Homes
7822 Canada Way, Burnaby B.C. 778-898-6014
As a family run business with over 26 years experience in quality custom homes and laneway homes, this Vancouver-based business will provide you with the flexibility, transparency, and experience required to make your dream home a success.  Through their unique combination of cost efficiency, management effectiveness, and customer rapport – they're able to provide you with an exceptional fixed price without ever compromising the quality.
WallMark Homes
4090 Graveley Street, Burbaby B.C.604-420-5200
Wallmark Homes is focused on continuing to improve the way they build homes by incorporating the latest home building techniques and technology. Their commitment to you includes staying current with industry standards, remaining conscious of environmental impact and identifying top-quality vendors to provide the best materials and workmanship for your new home.
Paint
Cloverdale Paint
1852 W Broadway, Vancouver B.C.604-731-5858
The bustling West Broadway location offers a wide selection of all home owner and trade/architectural products and a full selection of sundries, wall coverings and book order wall coverings. Limited selection of Cloverdale Industrial Products in stock, though they can be special ordered.
General Paint
2555 Arbutus St., Vancouver B.C. 604-731-6505
For over a century, General Paint has been providing superior paints and coatings that stand up to the challenges of everyday living.  The company is committed to creating cutting-edge products, working with you to fulfill your project needs, and bringing you the best solutions available.
Coast Signature Paints
1747 Boundary Road, Vancouver B.C. 604-299-1860
The Coast Paint Group has been providing Benjamin Moore quality and the best service for home improvement projects all over B.C. since 1961. Locally owned and operated, this is a great little one-stop-shop for all your paint and decorating needs.
The Paint Depot & Decorating Centre
775-333 Brooksbank Ave., North Vancouver 604-973-0170
The Paint Depot & Decorating Centre is a Benjamin Moore Retailer located in North Vancouver. This one-stop paint shop has everything you need to add colour to your abode – whatever your project, they love to help. The team is trained in their extensive line of products and are skilled home project experts who can help you every step of the way.