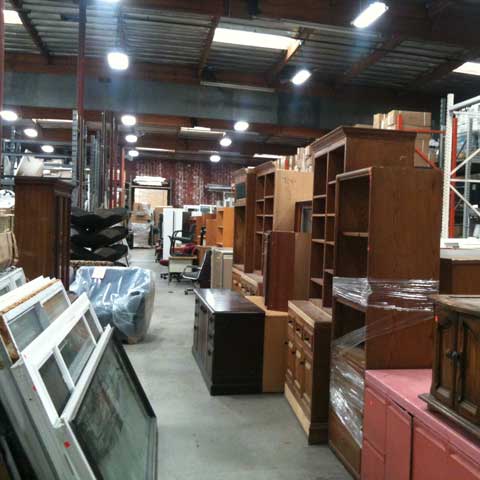 We've come to appreciate the City of Angels and realize the history and communities are as vibrant as anywhere in the country. This applies to the do-it-yourself spirit that is surging across the city and that's why we've chosen LA as the subject of our first DIY City Guide.
We've tapped a couple of our favorite house bloggers, Heather Ferguson and David Chiu from 1912 Bungalow, to help us identify some of the top resources in the greater Los Angeles area for do-it-yourself homeowners. Heather and David have been restoring their Craftsman home which is located in the historic West Adams district since 2002 and have compiled a great list of retailers, suppliers, and manufacturers that know their product and clients.
We've added a couple of our own resources to this list and consider it open-ended. Please let us know in the comments if we've left off your favorite neighborhood hardware store or local shop you can't do without.
Note: Thanks to some help from Apartment Therapy LA and their readers we've added a few other recommended resources.
Hardware Store
Anawalt Lumber
3 locations. 11060 W. Pico Blvd., Los Angeles, CA 90064; ph: 310.478.0324
We are fortunate enough to live near this overgrown hardware store which is larger than an Ace Hardware but smaller and more manageable than Home Depot. They are true to their name and have an eco-conscious lumber yard on site as well as an extensive nursery. They serve layman and pros alike and specialize in renting equipment and power tools of all types.
Busy Bee Hardware
1521 Santa Monica Blvd, Santa Monica, CA 90404; ph: 310.395.1158
Small store packed with lots of hardware and friendly helpful staff. If they don't have it they can recommend where to get it.
B & B Hardware
12450 W. Washington Blvd, Los Angeles, CA 90066; ph: 310.390.9413
A real, old fashioned hardware store with a knowledgeable staff that actually wants to help you. Reasonable prices.
Living Green
10000 Culver Boulevard, Culver City, California 90232; ph: 310.838.8442
They only offer alternative building materials and furnishings that adhere to a sustainable "green" criteria.
Antique Hardware
Liz's Antique Hardware
453 S. La Brea Ave, Los Angeles, CA 90036; ph: 323.939.4403
As far as organization and selection, Liz's is hard to beat. They offer a wide variety of door, window and furniture hardware; lighting and accessories from 1860 – 1970. I shop here for items I can't find elsewhere because I find the price a little high. Knowledgeable, friendly staff.
Crown City Hardware
1047 N. Allen Ave, Pasadena, CA; ph: 626.794.0234
Has been around since 1916. Great collection of antique hardware, which is also available online. They have a restoration collection which offers reproduction pieces at a lower cost than an antique.
Martin Pierce Hardware
Los Angeles, California; ph: 800.619.1521
Sculptor Martin Pierce works in steel and bronze to create unique doorknobs and pulls that capture the essence of nature using trees, frogs, and butterflies as his subjects.
Muff's Hardware
135 S. Glassell St. Orange, CA 92866; ph: 877.34.MUFFS
Since 1971, have offered wide selection of antique hardware and and old house items.
Antique Stove Heaven
5414 S. Western Ave, Los Angeles, CA; ph: 323.298.5581
Antique Stove Restoration
3769 S. Western Ave, Los Angeles, CA; ph: 323.735.4399.
This is keeps our 1940's Wedgewood stove running.
Contemporary Hardware
Sugatsune
221 East Selandia Lane, Carson, CA 90746; ph: 310.329.6373
Stainless steel hardware, stainless steel drawer slides, lapcon soft closing lid stays and high quality hinges. With offices in Japan and distribution worldwide.
Doug Mockett & Company, Inc.
1915 Abalone Avenue, Torrance, CA 90501; ph: 800.523.1269
Mostly offers stainless steel modern designs for the kitchen and bath.
Historic Renovation
Home Front
ph: 323.732.1213.
Featured in Los Angeles Magazine's Best of LA edition 2008 for best wood stripper. We haven't had the chance to work with Steve Pallrand yet, but when we restore our kitchen this is definitely who we want to work with. He has worked on many projects in the West Adams area.
Paint Store
Cox Paint
1130 Santa Monica Blvd, Santa Monica, CA 90401; ph: 310.393.7208.
They have been around since 1945. There is also a store in Culver City but the Santa Monica store is much better if you are looking for paint color samples.
Jill's Paint
3534 Larga Ave., Los Angeles, CA; ph: 323.664.9067
Local shop recommended by Apartment Therapy and many others.
Home Security
Alarm Screens Van Nuys
7661 Densmove Ave #7, Van Nuys, CA 91406; ph: 818.901.9033.
Alarm screens look just like normal window screens and hook directly into your home's alarm system. If the screen is removed or cut your alarm system will be activated. We put in alarm screens and removed the metal burglar bars covering our windows.
Glass
Judson Studios
200 South Avenue 66, Los Angeles, CA 90042; ph: 323.255.0131
They've been focused on stain glass making since 1897 and remain family owned and operated with Karen and David Judson leading the way.
Tile
Classic Tile & Mosaic
3221 S. La Cienega Blvd., Los Angeles; CA 90016; ph: 310.287.0142
Specializes in handcrafted tile, unique stone and custom mosaic. Can also assist with the building process- including custom design, color concepts, and planning.
Salvage Yards and Architectural Salvage
Santa Fe Wrecking Company
1600 S. Santa Fe Ave, Los Angeles, CA 90021, on the corner of Santa Fe Ave and Olympic Blvd in downtown Los Angeles; ph: 213.623.3119.
They have a large supply of doors, cast iron tubs, toilets and sinks.
Silver Lake Architectural Salvage
1085 Manzanita St, Los Angeles, CA 90029; ph: 323.667.2875.
A real gem. Their inventory is constantly changing. They have furniture, built-ins, light fixtures, a large supply of doors and over sized windows, hardware, and bath fixtures. They will negotiate on price. (hat tip to AT:LA on the name correction)
Olde Good Things
1800 S. Grand Ave, Los Angeles, CA 90015; ph: 213.746.8600
Architectural antiques, artifacts and oddities. It is worth a trip. I go here if I am looking for something out of the ordinary to decorate a room. I find their prices on the higher side. Their New York location is also worth checking out but also a bit on the high side.
Freeway Building Materials
1124 S. Boyle Ave, Los Angeles, CA 90023, at Opal St. between 7th and 8th Streets; ph: 323.261.8904
This place was featured on season 2 of "Top Design" and is a favorite of Hollywood prop masters and set designers. Large supply of doors, stained glass windows, door knobs, old brick, flagstones, lumber and unusual objects. The prices are negotiable.
Pasadena Architectural Salvage
30 S.San Gabriel Blvd., Pasadena, CA 91107; ph: 626.535.9655
Inventory includes mantels, lighting, stained glass, iron work, plumbing fixtures, door & window hardware and furniture representing the Arts & Crafts, Spanish Revival, Art Nouveau and Victorian periods.