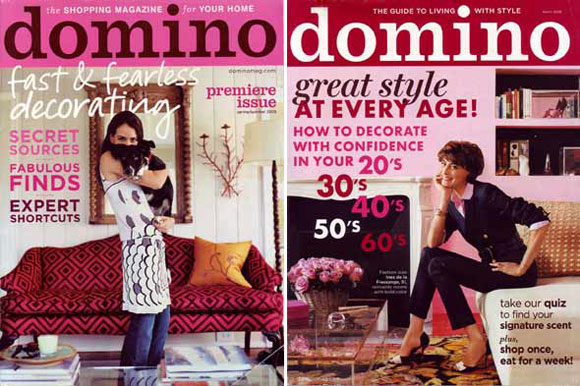 We were all puzzled when Domino magazine closed three years ago. They kept the online archives available through Brides.com but that was just awkward and we were stuck with the loss of another beloved shelter title.
We just got word from Susan Portnoy, VP of Digital Strategy at Conde Nast, that Domino will be back as a special edition called Quick Fixes. Looks like it will be available in the Spring and then another issue will hit newsstands in the Fall. Just two issues this year.
According to Conde Nast
Quick Fixes will be full of Domino's best home decorating stories, focusing on easy, often inexpensive changes that make a big difference – from quick spruce-ups of dowdy furniture to more involved DIY projects like painting stairs or reorganizing a home office. Domino Quick Fixes will be available on national newsstands from April 17 through July 16, 2012, for $10.99.
Are you excited about this? Think Conde Nast is finally getting smart and just cashing in on a great brand name with a special issue of repurposed content? Will it have the same look and feel of the Domino we all loved? Any of the previous staff working on it?
So many questions but we do wish they would just get serious about digital and really build up the website. Everyone would love that!