2011 is slowly winding down (eeeekkk!!), so that means we'll start to see more trend forecasts emerge for 2012.
If you're considering a flooring purchase within the next several months, we've got a sneak peek at next year's flooring trends thanks to Shelley Pond's post on the official SURFACES/StonExpo Blog. A full look at 2012 trends will be available at the SURFACES Trends Hub, a new concept that debuted at the 2011 show (pictured below.)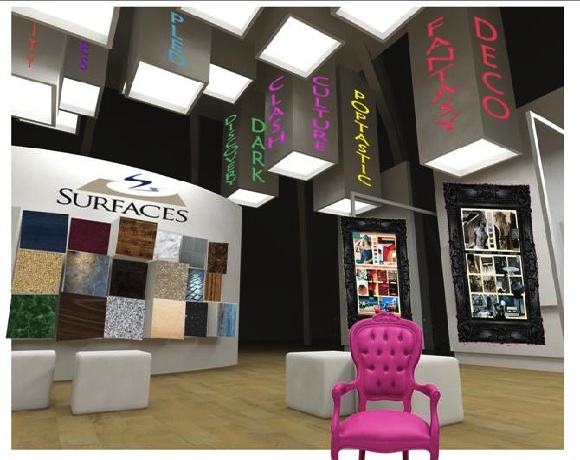 Love color? Get ready to see some vivid flooring choices inspired by color palettes of Eco Carnival (rhythmic patterns, bright botanicals and tribal geometrics), Colour Capital (angular shapes, bolts of color, clashing patterns) and The Abyss (illumination, shadowy lighting, wave patterns and surface textures inspired by sea creatures).
Prefer a cleaner, more streamlined aesthetic? Shelley highlights Majestic Minimalism as "the perfect marriage of tradition and modernity" inspired by the Baroque and Rococo periods. Muted hues like plaster of Paris come alive with accents of royal red, Princess blue and tuxedo black.
And if you crave a mix of past and future, you'll love Old To New, which Shelley describes as "the season's new fusion trend, perhaps more significant than any we have previously explored; bringing together the trend for simplicity and self-sufficiency with an energized integration of technology inspired by plugged-in Urban Homesteaders."
We'll keep you posted on how these flooring trends will evolve into new products. We saw so many great things at the 2011 SURFACES Expo, and we have no doubt that next year's show will be just as amazing.
In the meantime, are you thinking about new flooring? If so, which type is your favorite?
Photo courtesy of SURFACES