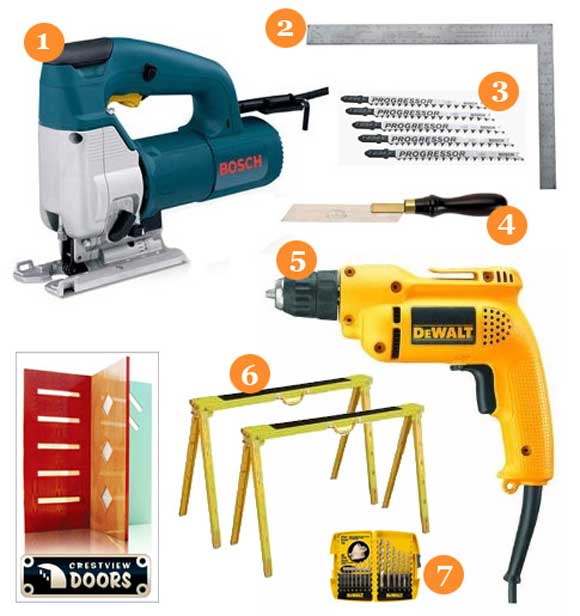 This is our biggest Giveaway to date and we're running it through labor day so you've got plenty of time to enter as well as tell all your friends and family (we'll tell you why later).
Crestview Doors is an amazing family-owned and operated business located in Austin, TX. They design and manufacture the Doorlite Kit, a do-it-yourself project that adds stylish windows to any flush interior or exterior door. Their exterior kits can match a variety of house styles and will also ad touch of mid-century modern to any home (think Mad Men style).

The photo above should be all the convincing you need to tackle the install of a Doorlite Kit but Crestview Doors has gone a step further and has partnered with us for this MEGA-GIVEAWAY.
Crestview Doors will giveaway an entire set of tools (valued at nearly $300) that are used to install the Doorlite Kit. One grand prize winner will receive the tool set and a runner-up will receive a $50 gift card from Amazon (this is why you should share with your friends).
Here's a great video showing each of the tools used to install a Doorlite Kit and listing of all the tools and their value.

Bosch 1587AVSP-1 Jigsaw $129.00
This baby has a nice low center of gravity for fine control, 4 orbital settings for super-fine to fast-aggressive cutting, a tiny guard to minimize chipping, and an easy no-tools-required blade changing system. Perfect for cutting holes in doors.
Bosch T234X Progressor Wood Blade (5-Pack) $8.35
You'll need the extra long 4-inch blade to get a clean cut all the way through the door.
DeWalt D21007 Heavy-Duty VSR Drill $58.82
Yes, it's a corded drill. If you've gotten used to a battery powered drill, you can forget how light, powerful and ready a corded drill can be. This is the model we keep in our shop.
DeWalt DW1169 Pilot Point Twist Drill Bit Assortment, 14-Piece $19.99
This set has the 3/8 inch bit recommended for getting your jigsaw blade started.
Lynx Flush Cut Saw $21.50
This is a Japanese-style pull saw. (Don't push, you'll bend it.) Great for cutting dowels.
2 Steel Folding Sawhorses, 40″ $30.88
We love these adjustable, tough, space-saving sawhorses.
Stanley 45-300 Aluminum Carpenters Square $13.79
Measure twice, cut once.
You can get started by ordering a Doorlite Kit today and if you win you'll have all the tools you need to install it yourself!
HOW TO ENTER
1. Sign-up for the Crestview Doors newsletter. The folks at Crestview Doors truly believe in their product and if you're an avid DIY enthusiast you'll find a lot to like in their newsletter. Here's a sample about vintage inspired screen doors. They promise to never spam you or share your email with any other third party.
After signing up for their DIY Newsletter you can also increase your odds of winning by connecting with them on Facebook and/or Twitter.
2. After signing up for the newsletter leave a comment on this article sharing your favorite Doorlite Kit style. Here's a listing to choose from. Our personal favorite is the Wellington.
GIVEAWAY DEADLINE
After all the entries have been tabulated the random winners will be chosen at 12 midnight EST on Labor Day September 6th, 2010 and will be notified immediately.
Here's a photo gallery of homes that have greater curb appeal thanks to Crestview Doors.

Crestview Doors also has a great video series on how-to install your Doorlite Kit so if you win they've not only provided the tools but the knowledge to install the kit yourself.
Join our Email Newsletter for more Giveaways and Home Improvement Tips.
(we do not sell our lists to third parties and you can unsubscribe at any time)
We take no responsibility for the function or use of the these products.
Only residents age 18+ of the U.S. and Canada are eligible to win.
All rules are subject to change without notice.
Please review our Giveaway policy.