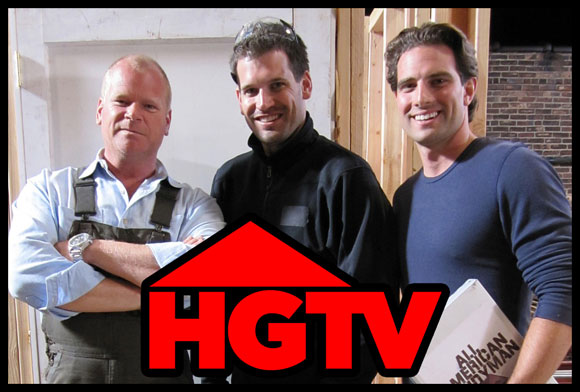 HGTV's All American Handyman made three cuts last week and now have their top five competitors, one of which will wear the crown of All-American Handyman.
We caught up with the last Handyman voted off the show, Andrew Kowalyshyn. He made the top six but his door hanging abilities, or lack thereof, sealed his fate and he was sent home Sunday.
Despite his ousting Andrew was gracious enough to answer some questions we had about the show and his experiences competing to be the All American Handyman.
C&H: Hi Andrew! Congratulations on being selected as a competitor on HGTV's new reality show All American Handyman. We were sad to see you go last night but you made it pretty far into the competition. How do you feel you did?
Andrew: Thanks Timothy! I was definitely a little bummed to be sent home, but I was pretty proud of myself for making it into the group of top six contestants. Dennis and I really had great chemistry on the team challenge and I was thrilled with the work we did! Also, working with Carmen De La Paz was a blast!! Admittedly, the door-hang challenge was something I struggled with, mainly due to my lack of experience with that specific task. Even though my door didn't close, I was happy that I got it hung and swinging. Mike and Scott judged that challenge very fairly, and it was obvious my install was the worst of them all.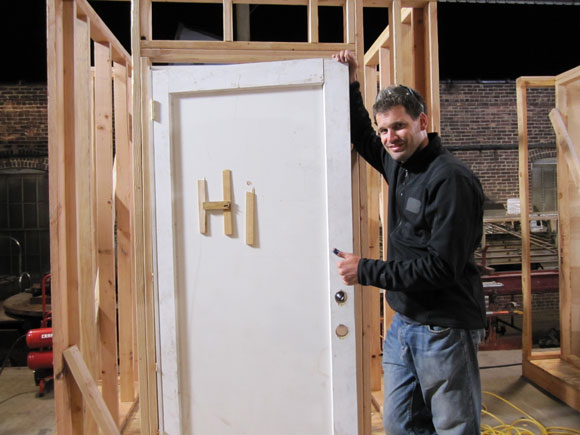 C&H: The challenges we've seen so far seem tough and with the time constraints even harder. Can you share a bit of your background and do you feel that you were properly prepared for the challenges they threw out?
Andrew: As far as schooling goes I have a BS in Engineering from the University of Hartford. The program was heavily focused on acoustics, which I have made a career of.
As for my handyman work, that all started when I purchased a loft in Denver. Basically, any upgrades I wanted to do to the loft I had to do myself, just to save money. I never considered hiring contractors due to the cost, so I had to learn how to do something myself if I wanted it done. I received a lot of instruction from a friend of mine who does fix-n-flips on homes in the Five Points area of Denver. Over the years I have completed a lot of upgrades on my loft, from major jobs such as installing hardwood floors, installing wainscoting, building custom shelves and a desk, etc., to smaller tasks like plumbing repairs, patching drywall, installing light fixtures, in-wall wiring for a home theater system, hanging a custom closet door, etc.
My work is mainly done in my spare time and as my budget allows; more of "weekend warrior" type stuff, than hardcore handyman work. I also rely heavily on friends and Google for advice (there are some great how-to videos out there!) on tasks I may be unfamiliar with. In that regard, the tasks on the show became fairly difficult for me mainly due to the time constraints involved. I mean, my idea of hanging a door would involve a calm Saturday afternoon and a few beers…not 60 minutes with Mike Holmes and Scott McGillivray hanging over my shoulder!
C&H: Having those two watching over anyone's shoulder would definitely make the challenge tougher. The judges Scott McGillivray and Mike Holmes seemed to play off each other and really only offer critiques. What is your take on the judges and did you learn anything from them?
Andrew: Honestly, Scott and Mike were incredible to the entire cast. While I realize they had to be pretty strict with their judging standards on-camera, they were very friendly and approachable off-camera. It was really great just to be able to work with them for the few days I was involved with the show. And while I did pick up a few tips here and there from them, there really wasn't a lot of time for instruction. Their job was to see how we worked under pressure, and judge our skills as they saw them.
C&H: Without giving away the winner who were your favorites going into the show and were there any qualified competitors (besides yourself) kicked out too early?
Andrew: It was tough getting to know a lot of the cast members when it was the big group of 20. But by the time it got down to the top 10, I had definitely gotten to know them better. And this may sound like I'm just being nice, but really, the entire top 10 was a great group of people.
As far as contestants who may have been sent home too soon, I think Flagg may have gotten a little short-changed on the team challenge. He was paired with Caitlin who, let's be honest, is of a smaller stature. This isn't a problem for some one working around the house in their spare time and on their own schedule, but when you are given a time restriction, your ability to lift and move heavy items quickly can become a huge factor. I think that limitation made it difficult for them to get into a rhythm, which was unfortunate, because just from chatting with him on set it was clear that Flagg new his stuff.
Going back to last week's episode, I have to admit that I was sad that Matt got sent home (even though he probably saved me from getting the boot on that episode!). Matt was my roommate at the hotel, and even though the show is a competition I don't think anyone really wants to see someone leave – especially someone so nice. Matt built that incredible table on the very first challenge, but he just froze on the shapes challenge with Scott. I think if he had been able to stay on, we would have seen how talented a handyman/carpenter he really is.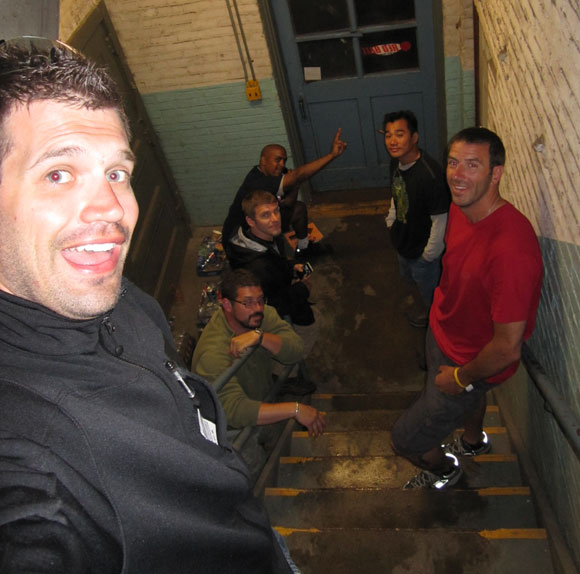 Everyone else was really incredible. Dennis was a thrill to work with on the team challenge, just because he knew so much off the top of his head. We were able to work through everything very quickly and establish roles right off the bat, which really helped us accomplish a lot. I really can't wait to see how well he does in future episodes, because I know he has great skills. And from Peter, to Elliot, and Rich and Dee – it was just a fun loving group of guys who really had a passion for this kind of work. It was fun getting to meet them all and work with them, and it's an experience that I'll remember for the rest of my life.
C&H: If you would have won the show and been named All American Handyman what would have been your next steps? Your own show on HGTV?
Andrew: The winner was to receive a $10,000 shopping spree at Sears and a "development deal" with HGTV. I don't think the winner is guaranteed their own show, but the opportunity is certainly there should they impress the HGTV folks enough. And that opportunity alone is priceless.
Had I won, I probably would've used the shopping spree to upgrade some appliances in my kitchen to compliment the new concrete counter-tops and sheet metal backsplash I'm working on. Then I'd start the renovation of my bedroom/closet/laundry-room that I've been planning for some time now. The $10,000 from Sears would've been a big help in completing those jobs!!
C&H: Thanks Andrew!
When Andrew isn't renovating his loft he's working as an acoustical engineer at D. L. Adams Associates in Denver, CO which offer a myriad of services including LEED certified acoustic design projects. There's no doubt Andrew's home theater system rocks!
On a side note that Andrew shared that wasn't mentioned on the show, Sears donated all the Craftsman tools used on the show to the rebuilding efforts in New Orleans so there is a good chance we used these while volunteering at Fifty for Five last month. Well done Sears.
photos: courtesy of Andrew Kowalyshyn