Today's kitchen countertops come in a wide variety of colors and patterns, and ever-expanding material options make it easy to find the right look to match your modern, traditional or country-cottage style kitchen. Mike Olivieri of Olivieri Contracting in North Canton, OH has shared this kitchen countertop pricing and materials guide with us that should help any homeowner navigate the myriad of options when selecting a kitchen countertop. Mike also has a lot of great how-to advice on his blog.
Here are some things to consider when choosing a kitchen countertop.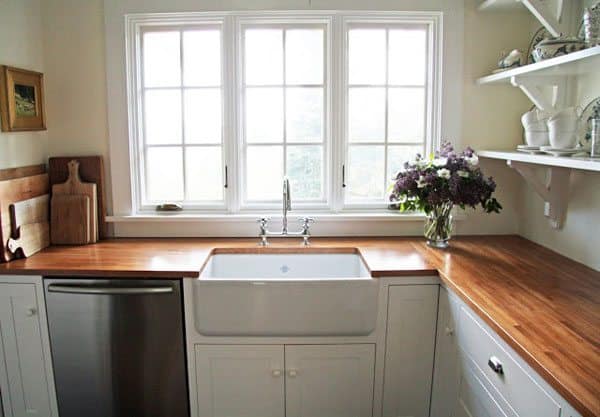 The Right Price
Setting your price point up front and sticking with it will help you when it comes time to shop. There are so many exquisite countertops available that it's easy to fall in love with something you can't afford.
You should also know exactly what the quoted price covers. The countertop material may be advertised at $10 a square foot, but find out beforehand if that covers installation, sink cut-outs and edging. Also, don't forget to consider the taxes that will be added at the checkout counter.
Lastly, consider the property value of your home when choosing countertops. While it's true that a nice updated kitchen is a big selling factor, over-improving may just be throwing money away. By the same token, you wouldn't want to put a laminate countertop in a million-dollar home. Even if you're not thinking of selling today, buying materials that fit the sale value of your home is worth considering.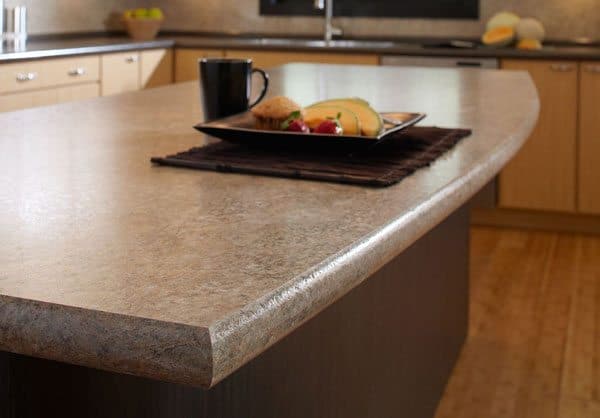 Ease of Maintenance
After setting a price point, consider how much time you're willing to spend maintaining your kitchen countertops. If home improvement projects and honey-do lists are your idea of a fun weekend, it's OK to choose a porous material that will need to be sealed every six months. Granite, marble and concrete are the most common types of countertops that require regular sealing.
If, however, your weekends are filled with fun and adventures, stainless steel, quartz and laminate are good choices for countertops. Their low maintenance will pay off in free time for other activities.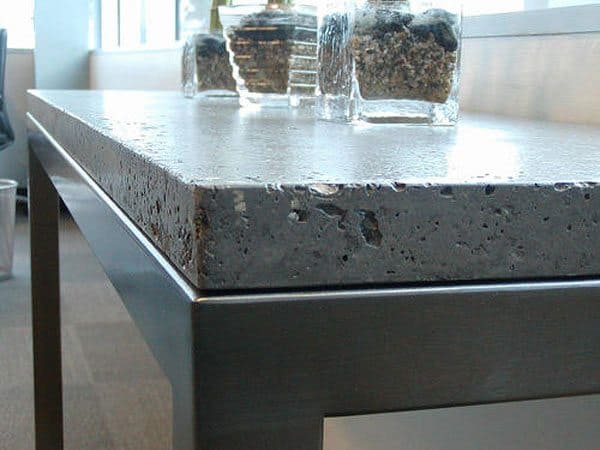 Durability
Water, heat, sharp knives, acidic foods—kitchen countertops have a lot to contend with, and unless you're the king and queen of take-out, your countertops will be used. When considering the durability of kitchen countertops you want something that will not stain, crack, scratch or etch.
Solid surface countertops made of 100 percent acrylics, 100 percent polyester or a combination of both are built to withstand years of use. They are resistant to stains and scratches and are completely renewable or repairable.
The most popular choice in kitchen countertops, granite is also pretty tough, offering a near diamond-hard durability.
Though marble is good for baking and pastry, it scratches easily and is prone to etching. Because of this, some homeowners choose to have a marble surface on one counter for baking, and the rest of the kitchen countertops in another material.
The key is to consider how you use your kitchen and how much you use your kitchen when shopping for countertops. Most materials will have pros and cons, so choose the countertop that matches your lifestyle.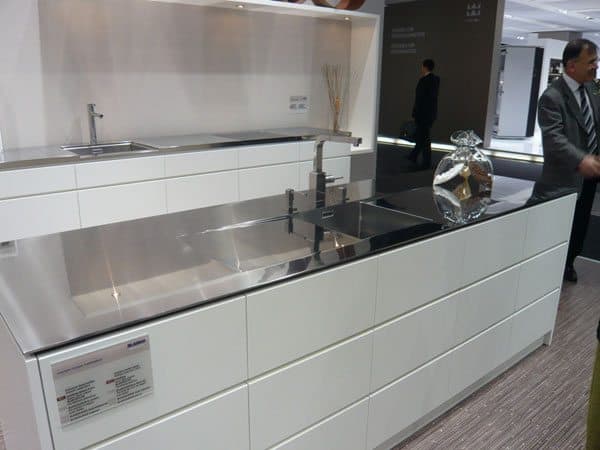 Kitchen Design
Lastly, you will want to choose something that works with surrounding materials. Stainless steel, concrete and quartz look great in modern kitchens, but probably won't work with traditional styles.
Granite, soapstone and tile are classic choices. Perfect for bringing nature into the home or old-world style charm to the most used room in the house, these materials lend timeless appeal to mid-range homes as well as million dollar mansions.
Quick Reference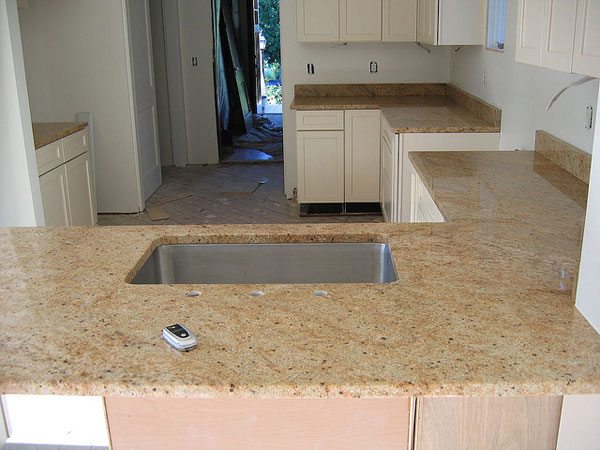 Granite
Pros: Stands up well to wear and tear. Each piece is one of a kind. Natural colors and patterns.
Cons: Must be sealed periodically to avoid stains. Is heavy, so sturdy counter boxes are required.
Cost: $35 to $100 per square foot, installed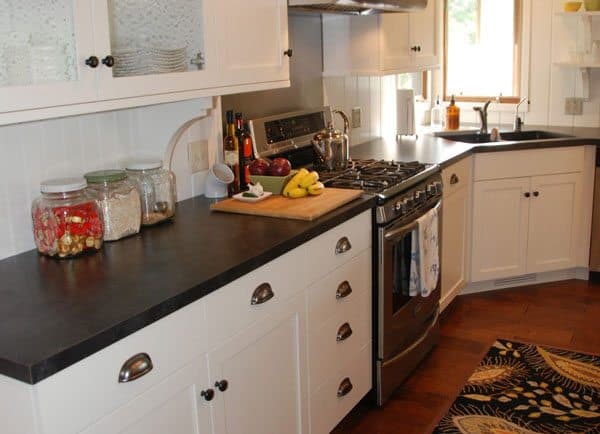 Solid Surfacing
Made from acrylic and polyester
Pros: Virtually maintenance free. Can be susceptible to scratches and burns, but they can be sanded out. Seamless installation means no cracks and crevices for dirt to penetrate. Extensive color and pattern options.
Cons: Can look artificial. Hot pans and sharp knives can cause damage.
Cost: $35 to $100 per square foot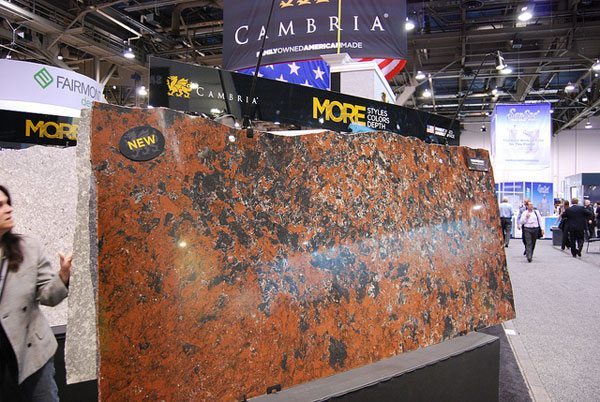 Quartz
Pros: Virtually maintenance free. Available in large array of colors and patterns.
Cons: may be evident that it's an engineered product.
Cost: $40 to $90 per square foot, installed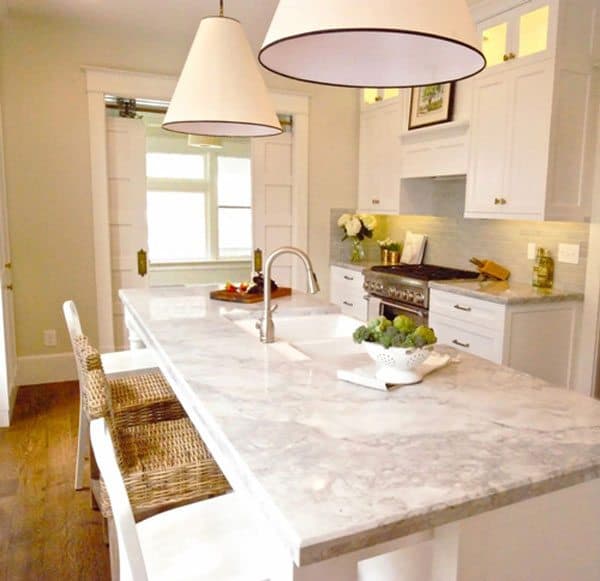 Marble
Pros: Elegant, very cool used a lot in pastry and baking stations
Cons: Susceptible to stains even when sealed. Can scratch and chip. Not generally used throughout the whole kitchen.
Cost: $40 to $100 per square foot, installed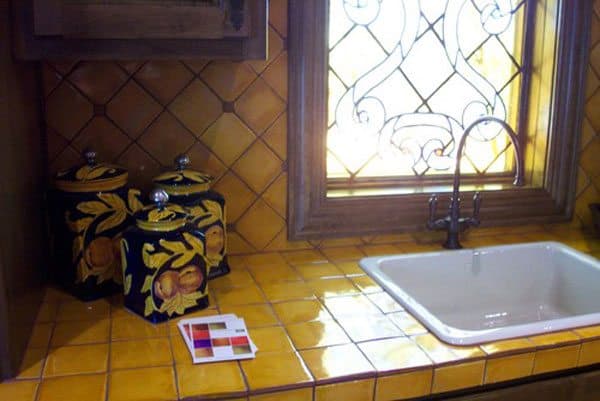 Tile
Pros: Resists stains. Stands up to heat and sharp blades. Tiles can be replaced fairly easily if they break.
Cons: Uneven surface makes it difficult to balance a cutting board or roll out a pie. Unsealed grout is prone to staining and standing moisture can damage it and contribute to bacterial growth.
Cost: $10 to $80 per square foot, installed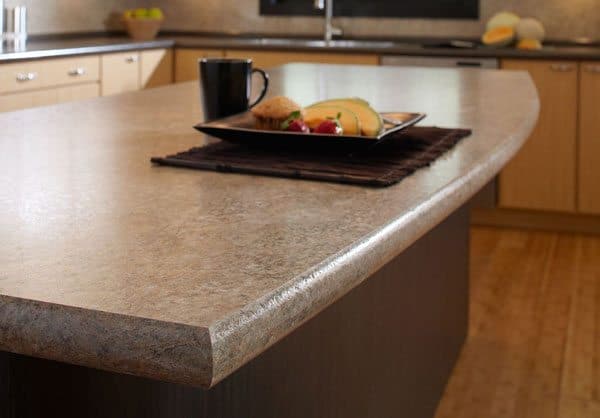 Laminate
Pros: Low maintenance and easy to clean. Lightweight.
Cons: Prone to scratching, burns and staining. Weather and moisture leads to peeling. Cannot be used with under-mount sinks. Difficult to repair if damaged.
Cost: $10 to $30 per square foot, installed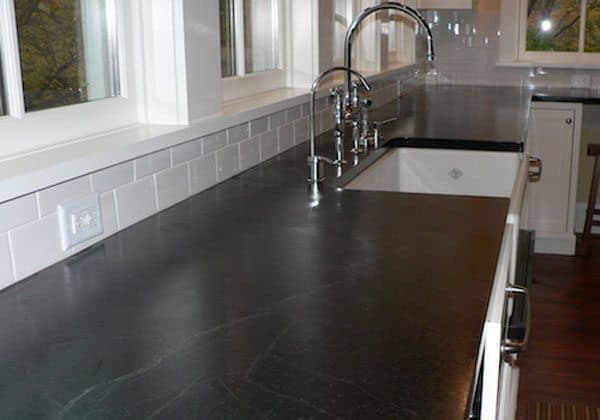 Soapstone
Pros: Natural softness and depth. Starts out light and darkens over time acquiring a rich patina.
Cons: Should be polished with oil to stay in top shape. Can crack over time. May be damaged by sharp knives and nicks. Natural roughness of the stone can scuff glassware and china.
Cost: $70 to $100 per square foot, installed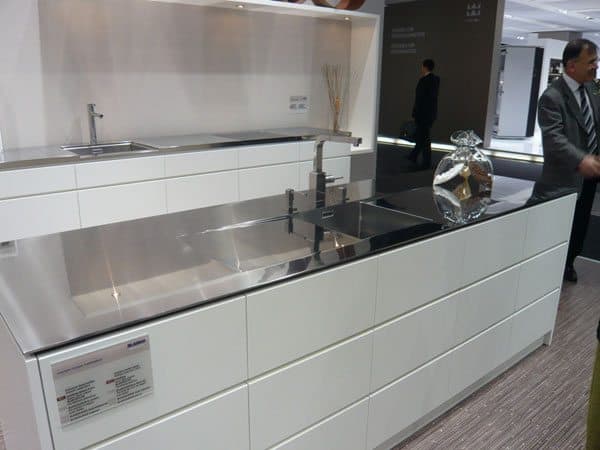 Stainless Steel
Pros: Nearly indestructible. Resists heat and bacteria. Appropriate for contemporary and industrial-style kitchens.
Cons: Shows fingerprints and must be wiped off frequently. Chemicals can affect color and some cause unwanted etching. Can be very expensive due to custom build.
Cost: $65 to $125 per square foot, installed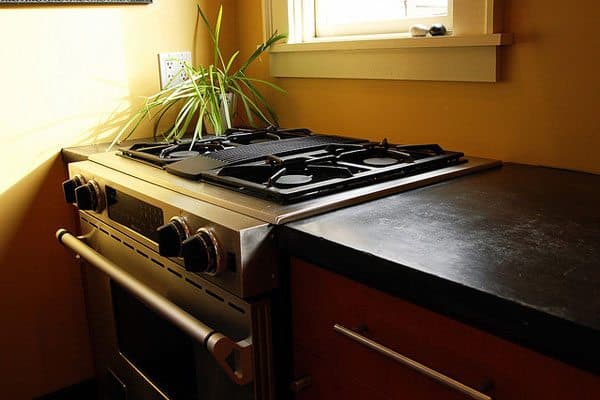 Concrete
Pros: Versatile. Can be customized to fit any shape and tinted to match any décor. Can add unique inlays such as glass, rocks and shells. Stands up well to heavy use.
Cons: Because it is porous, concrete will stain without frequent sealing. Small cracks can develop with time and settling. Very heavy, so a strong base is needed to support it.
Cost: $75 to $125 per square foot, installed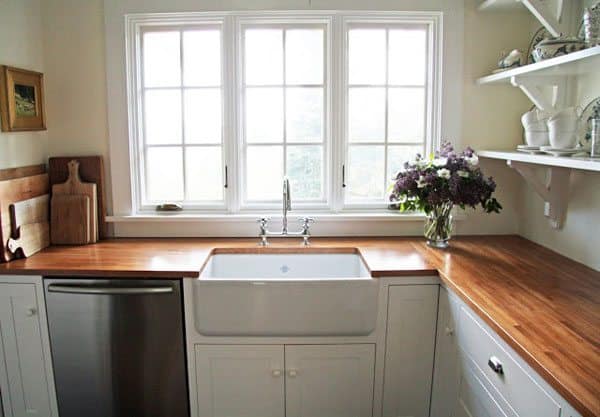 Butcher Block
Pros: Warm, natural appearance. Does not hold up well to sharp knives, but scratches can easily be sanded down.
Cons: Swells and contracts with moisture exposure. Harbors bacteria and needs frequent disinfecting. Oiling is a must to fill in scratches and protect the surface.
Cost: $35 to $70 per square foot, installed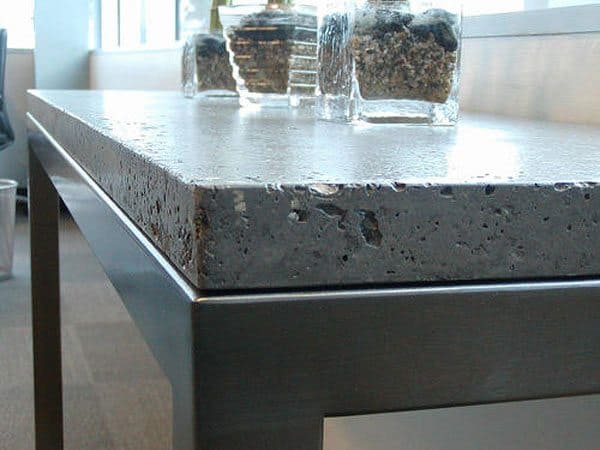 Paper Composite
Pros: Looks like surfacing or laminate, but is warmer. Surprisingly hardy and withstands heat and water well. Lighter weight than natural stone or concrete.
Cons: Susceptible to scratches and chemical damage. Requires occasional oil treatment and sanding to refresh it.
Cost: $85 to $100 per square foot, installed
Sources: Laurie L. Dove, What Type of Countertop Needs the Least Amount of Maintenance?, http://home.howstuffworks.com; Marisa Villarreal, Bob Vila's Guide to Kitchen Countertops, www.bobvila.com; Erin Eberlin, Before Choosing a Countertop, http://landlords.about.com; Lisa Frederick, Kitchen Countertops 101: Choosing a Surface Material, www.houzz.com