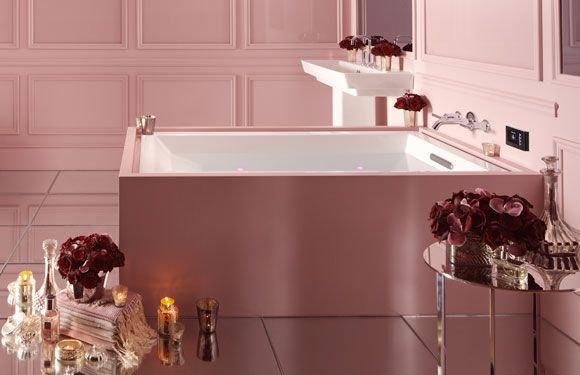 Last year Kohler brought us the ultimate toilet with the NUMI and at this years Kitchen and Bath Show they are introducing VibrAcoustic technology on their Underscore bath line. What is "VibrAcoustic"? It is what it sounds like.
"Enhanced technology-based baths integrate music, water vibration and lights"
Sound divine right? There's a bit more to it than just music and lights.
Vibroacoustic is a technology-based sound therapy defined as hearing and feeling sound
vibrations through the body. Focused on complete body relaxation these baths are engineered to ease tension and stress.
The sound quality of the bath is actually so good that it can be used as a stand alone bath audio solution. Anytime you want to fire up some tunes just turn on your bath.
Like any modern piece of audio equipment you can stream music and podcasts from a mobile device via WIFI or bluetooth.
The bath lighting is also synched to the music in what's known as "Chromatherapy". There are eight different colors and various combinations and you can also select the hue on each color.
The acrylic Underscore bath is available in nine sizes ranging from 60-by-30 inches to 72-by-42 inches, including a 48-by-48-inch cube-shaped model, and is available in five colors with both drop-in and undermount installation to ensure a natural fit with other design elements in the bathroom.
Luxury doesn't come cheap as the price for this bath ranges from $1,055.70 for the 60-by-30-inch Underscore VibrAcoustic bath to $4,634.55 for the 72-by-36-inch Underscore VibrAcoustic bath with Chromotherapy. But if you are seeking the ultimate bathing experience then a Vibracoustic bath is your nirvana.