I have a secret dream of buying a house with a great yard, and then getting one of those one-room home kits to build my very own home office. It sounds like a great scenario, right? The office, while still at home, is detached, giving you the seclusion you need to be truly productive.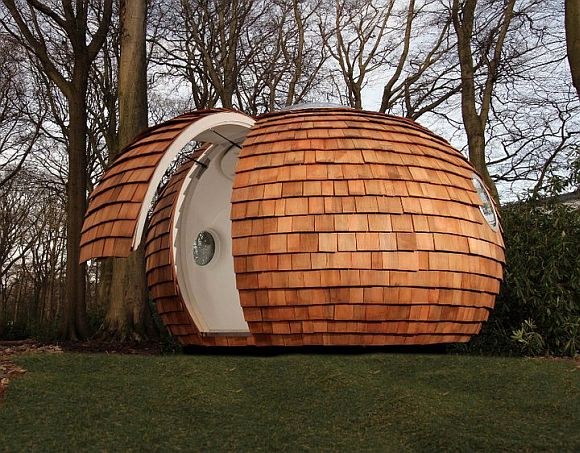 If you have the same vision, here's something to try: the Archipod. Looks cool, doesn't it? The circular abode is a curved plywood structural box with encapsulated fiberglass insulation, high-performance foil insulation and an internal plasterboard finish. The exterior of the Archipod is covered in Western Red Cedar shingles, which you can opt to have treated or untreated.
Archipods are "constructed predominately from timber, the world's most replenishable construction material, insulated to a standard exceeding that of current building regulations. The structure is prefabricated in sections small enough to be carried through a house," according to the company.

If you'll be using your Archipod as a home office, you can opt to have a custom desk built in. The ergonomic semicircular desk is typically 2′ 4″ deep and comes in a variety of colors and finishes. Plus, the Archipod comes fully outfitted with light sources and electrical outlets, so you can power a computer or any other gadget.
Ready to make the Archipod your own? Warning: it's gonna cost you! The standard size pod is around $34,320, while the bigger pod typically costs $39,950.
What do you think of the Archipod? Is it worth the price tag?
Photo courtesy of Archipod