If you're fortunate enough to have an outdoor space at home, why not take advantage of it by installing an outdoor shower? Outdoor showers are a fantastic addition to any backyard, patio, or pool area. They offer an opportunity to wash off the day's stresses, cool down in the summer heat, or bask in the fresh air while you get clean.
Here are ten creative ideas for your outdoor shower design to elevate your shower experience and help your home stand out.
The Spa Oasis
Consider creating an outdoor shower oasis if you want a calming, spa-like experience. Use natural wood and stone to create a serene and soothing atmosphere. Install a rainfall showerhead, and consider adding plants, candles, or aromatherapy oils to enhance the ambiance.
The Vintage Vibe
Consider using reclaimed wood and antique fixtures for a more rustic and vintage feel. Vintage-style faucets and exposed pipes can give your outdoor shower a unique and charming look that will impress.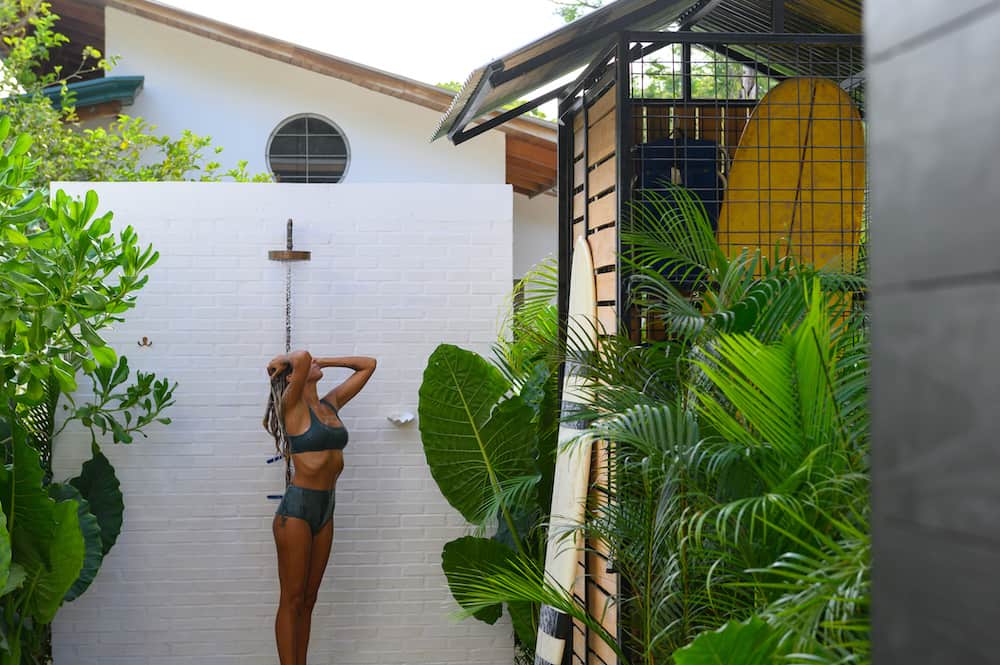 The Beach Getaway
Bring the beach to your backyard with a beach-themed outdoor shower. Use light and airy colors, like blue and white, and incorporate seashells, driftwood, and other seaside-inspired elements. Install a showerhead that mimics the sound of waves, and you'll feel like you're on vacation every time you use your outdoor shower.
The Modern Marvel
Opt for a minimalist design with clean lines and a monochromatic color scheme for a sleek and modern look. Use stainless steel or chrome fixtures, and consider adding a glass or acrylic partition for privacy.
The Tropical Paradise
Create a lush and tropical feel by incorporating greenery and exotic plants into your outdoor shower design. Use bamboo or rattan accents and install a shower head that mimics a waterfall. You'll feel like you're showering in a rainforest!
The Farmhouse Charm
If you love the farmhouse aesthetic, bring it to your outdoor shower using vintage and industrial elements. For example, incorporate a galvanized metal showerhead, an antique pitcher for rinsing, and a wooden stool for storing towels and other shower essentials.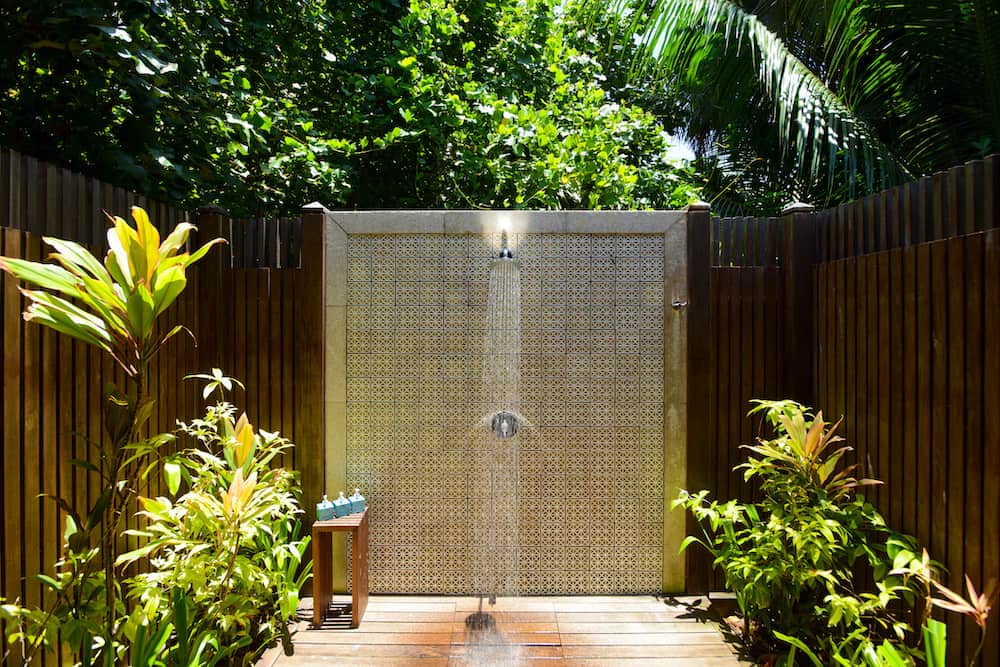 The Outdoor Oasis
Consider creating an outdoor shower oasis separate from your home if you have a large outdoor space. Use natural elements like stone and wood to create a spa-like atmosphere, and incorporate a seating area for lounging before or after your shower.
The Glamorous Getaway
Opt for a bold and dramatic outdoor shower design for a touch of Hollywood glamour. Use black or dark-colored tiles, install a chandelier, and incorporate metallic accents like gold or silver.
The Contemporary Cool
If you prefer a contemporary style, choose a clean, straightforward design with neutral colors and minimalist fixtures. Use concrete or stone tiles for a sleek look, and consider adding a bench or ledge for sitting or storing shower essentials.
The Bohemian Dream
Finally, incorporate bright colors, patterns, and textiles into your outdoor shower design for a free-spirited and bohemian vibe. Use a mix of wood, metal, and fabric materials, and incorporate unique elements like a macrame shower curtain or a beaded chandelier.
An outdoor shower can be a fantastic addition to any home with an outdoor space. You can build an outdoor shower yourself or hire a contractor to install one for you. But start by incorporating one of these ten creative ideas into your design can elevate your shower experience and make your home stand out.