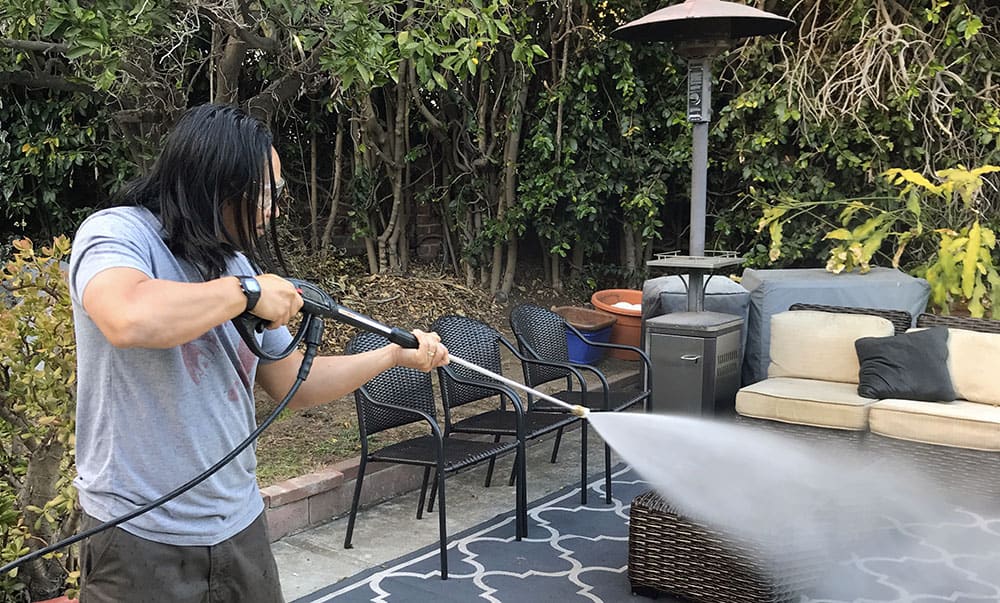 Pressure washers are one of those household items that once you get one, you can't believe how you ever managed without one. They truly come in handy for tasks throughout your home. They take up little space, are affordable, and when properly cared for will last for years.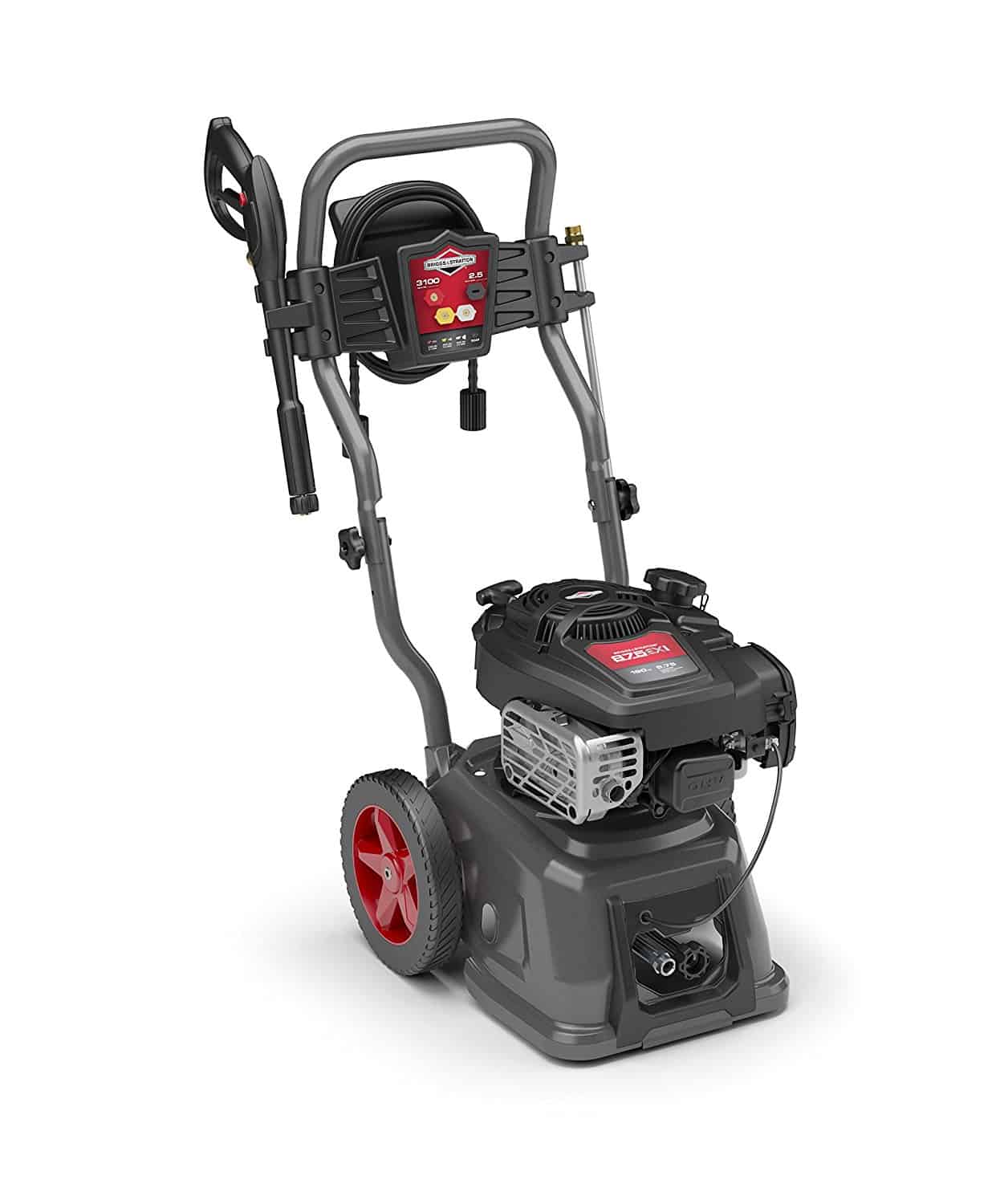 We recently acquired a Briggs & Stratton 3100 MAX gas-powered pressure washer. The timing is perfect as we are in process of moving. Here's how we used the Briggs & Stratton pressure washer this month and why it's proven to be a vital tool in our DIY arsenal.
Cleaning the Exterior
Unfortunately our previous home was located near a freeway and a fine layer of dirt always covered everything in our backyard. We've used a hose and sprayer to clean our walls, patio, and outdoor furniture, but it has never really gotten everything clean. Once we used our pressure washer on the walls and realized how much dirt was removed and how clean our walls had become, we were instantly sold on needing to use a pressure washer for this type of job.
Before using a pressure washer, make sure you are wearing a pair of indirect vented safety goggles. These will protect your eyes from dirt and debris that can get kicked up by a pressure washer.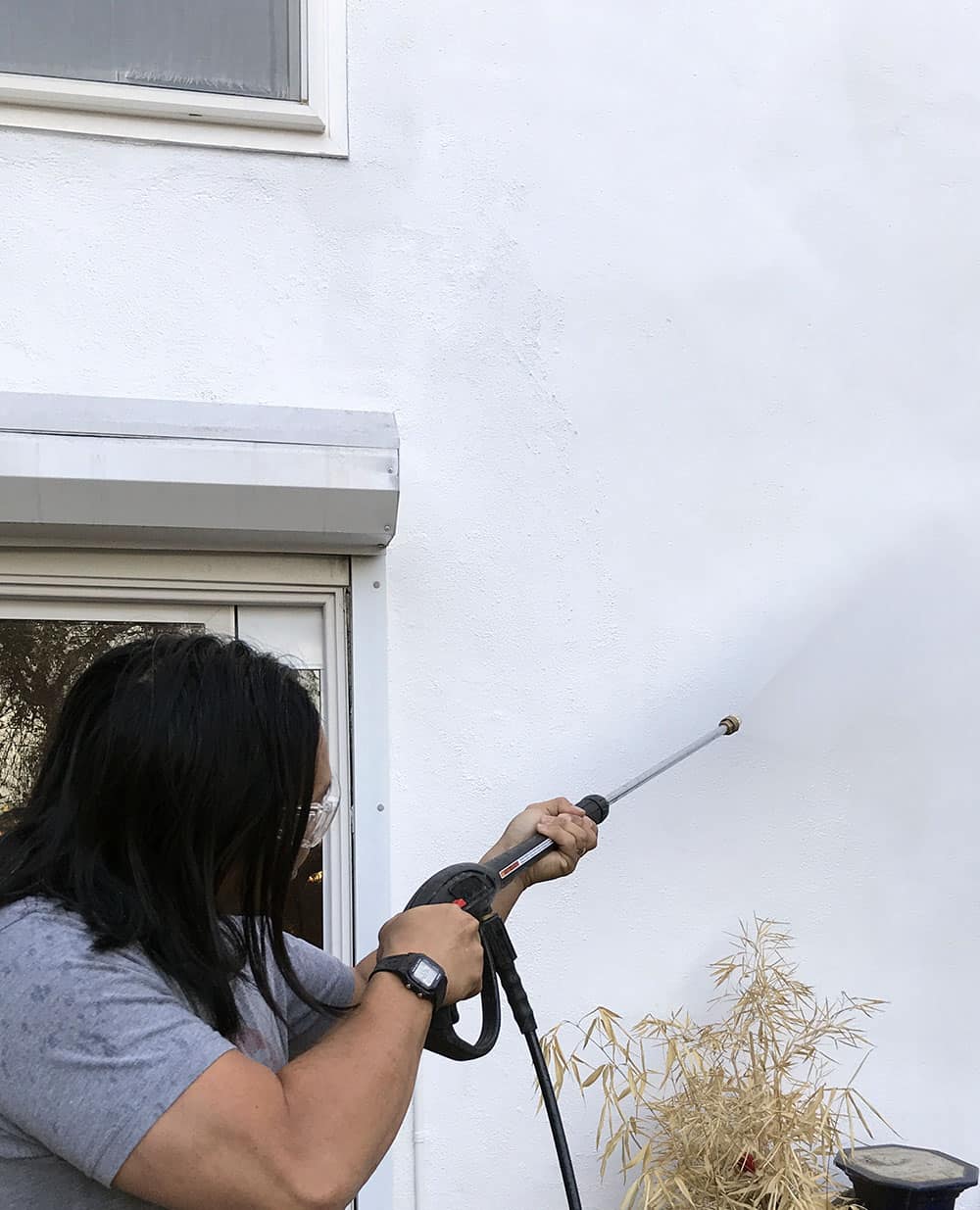 Our new home is not near a freeway, but the home has been neglected and the exterior has probably never been washed . Once we took the pressure washer to the white exterior walls, we saw years of gunk get removed and our walls actually looked white!
Cleaning Outdoor Furniture
We continued to use the pressure washer to clean the patio area and wash down all of our outdoor furniture. The Briggs & Stratton pressure washer is a much more effective cleaner than a regular hose sprayer, which never really get the job done right and wastes more water. At 2.5 gallons per minute, we know our Briggs and Stratton pressure washer is making the most effective use of water.
This unit comes with four different spray nozzle options, which provide a variety of water streams. We chose the yellow nozzle as it provided just enough power to really wash down our furniture, without damaging the fabrics. It also worked great on our patio umbrella and outdoor rug, and after cleaning unveiled their true color again.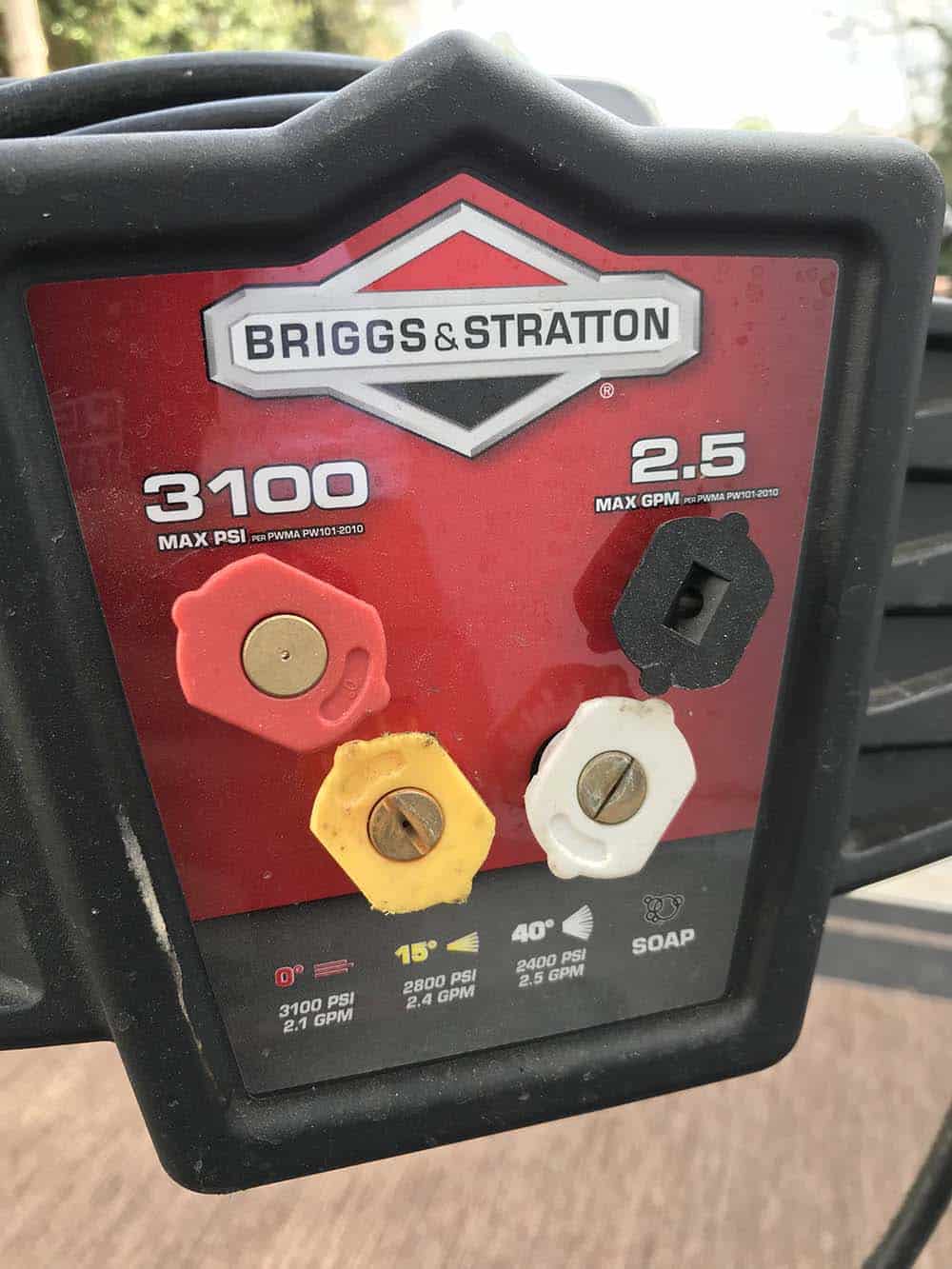 One concern with a gas-powered pressure washer was the sound of the engine, but Briggs & Stratton addressed this by introducing Quiet Sense technology that makes the pressure washer idle 40% quieter when the spray gun trigger is released. This dramatically cuts down on the sound, which makes the unit even more enjoyable to use.
Cleaning the Garage Floor
One of the first projects at our new house was adding an epoxy floor to our garage. The original garage floor was in decent shape, but was unprotected, so years of oil and dirt had built up and caused a mess. Everyone knows the first step before applying epoxy is to thoroughly clean the garage floor. A degreaser and brush is a good start, but to really remove the grime a pressure washer is needed.
We fired up the Briggs & Stratton and it easily removed years of dirt buildup. Hours with a brush and hose would still not have been effective as the pressure washer was for doing this job.
A clean garage floor provides the necessary base for the epoxy to adhere to, and we can now be confident our garage floor will stay protected for years to come.
Truck Washer
I've got a Ford F150 and 1989 Toyota Land Cruiser that send plenty of time in the mud, dirt, and clay around Los Angeles and in Nevada. The key to keeping your truck clean is not letting that stuff cake on and dry—especially the clay. Giving my trucks a quick spray down with the pressure washer is the best way to remove all the dirt before a proper wash and wax.
There is nothing more effective than a pressure washer for cleaning the undercarriage and frame of the trucks. You can really get into all of the nooks and crannies in the wheel wells and other areas that a hose sprayer just doesn't have the reach or power to clean.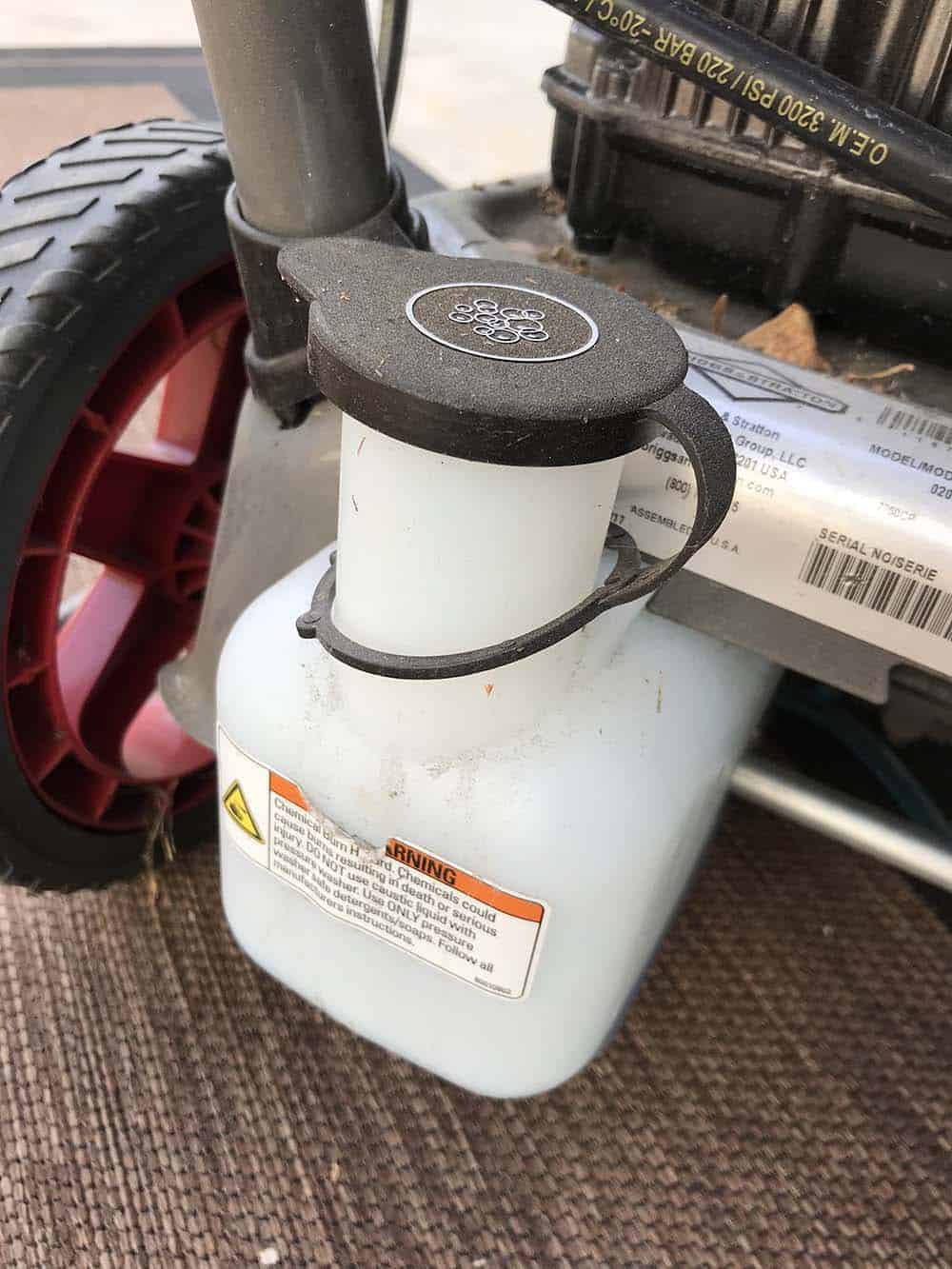 The Briggs & Stratton makes it easy to wash vehicles or anything that can benefit from soap or detergent, as the 3100 has a convenient detergent tank that you just fill and it gets dispensed automatically through the washer.
Future Uses
Because we plan on spending so much time outside, our Briggs & Stratton pressure washer will get a ton of use. We've got an old shed on the back of the property that needs cleaning both inside and out, and a few Rubbermaid storage closets that have acquired a ton of dirt and cobwebs over the years. A few minutes with the pressure washer will clean up both nicely.
We have a ton of patio space around our pool and patio area, and keeping it clean will remain a top priority throughout the year. We've got lovely trees and brushes around our property, but they shed a variety of leaves, flowers, and fruits that mix to form a tough to remove film around the pool area. It's much easier to "sweep" them away with a pressure washer than a broom.
If you're on the fence about getting a pressure washer, don't be! Buy one today and start enjoying a cleaner outdoor life now. We recommend the Briggs & Stratton 3100 MAX which is available on Amazon for $429.
This post is sponsored by Briggs & Stratton, but all opinions are 100% represented by Timothy Dahl of Charles & Hudson.