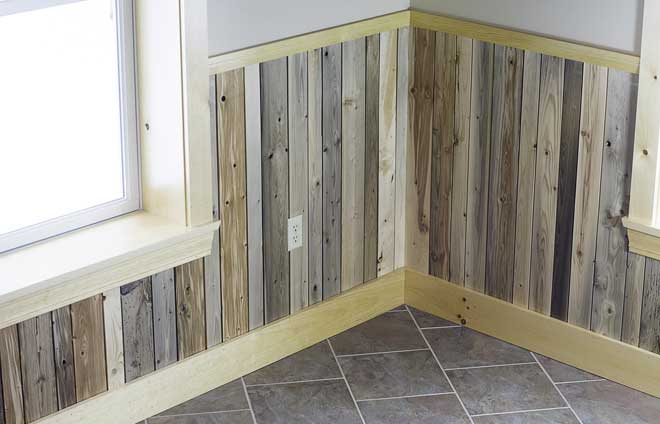 It takes time to find truly unique products and although we may wish to build our homes using reclaimed materials that tell a story, limits in costs and time don't always make this possible.
Maine Heritage Timber recently reached out to us about their reclaimed wainscoting that we found fascinating. All of Maine Heritage Timber's products are made with perfectly preserved old growth timber that's been reclaimed from the bottom of the Penobscot River – the vital byway that once made Bangor, Maine known as "the lumber capital of the world". Products from Maine Heritage Timber are cut from 100% river reclaimed logs and they do not repurpose old wood that's already been used in buildings. The wood was fell at the height of the logging boom in the 1800's. This allows them to produce a product that has the characteristics of old growth wood but with none of the chemicals or contaminants that repurposed wood can contain. In addition to bar tops, flooring and custom furniture, Maine Heritage Timber provides an exemplary wainscoting product.
Maine Heritage Timber's Wainscoting product is made from a mixture of spruce and fir that was destined for Maine's pulp and paper mills before it sank. The kit comes in 8 linear feet sets with planks are ½" thick, 42" in length and random widths of 3", 4" and 5". Combined with a 5 ½" baseboard and a top cap molding, gives an overall wall coverage of 48''. The kit is available in two different baseboard and cap options to complete your kit, or you can make it yourself. These kits are easy to install and are reminiscent of channel rustic siding and delivers a clean contemporary look. Click here to check out the wainscoting kit and check out the photos below of the wainscoting installed.