In July, I received the chance of a lifetime and joined fellow DIY/shelter bloggers for a design challenge sponsored by Shaw Floors.
Our task was simple: Build a room from the floor up. And because we were hosted by Shaw Floors, our room's floors were the key component. After being split into teams of two, we picked our flooring from Shaw's new HGTV flooring line.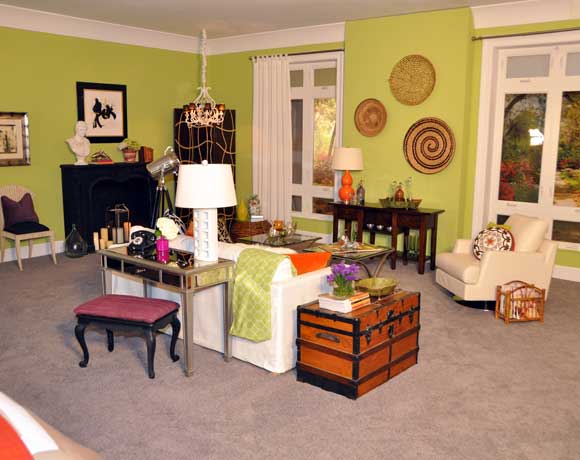 My design partner, the fabulous Julia of CasaSugar, and I immediately bonded over our love of the color gray, which made our flooring choice easy. We went a little wild with our paint color and furnishings to balance the contemporary neutral, and the finished result is a sleek, posh studio that we think is as inviting as it is inspiring.
The most exciting part of the experience? Our rooms are a part of Shaw's 30 Days of HGTV campaign, which kicks off today! Go to the Shaw Floors Facebook page to vote for your favorite (*cough* – it's no contest, right?). Every day you vote, you're entered to win your own Shaw flooring from the HGTV line.

That's right – Shaw is giving away A FLOOR A DAY during September! Too cool, don't you think?
So what are you waiting for? The winning team gets an all-expenses paid trip to the HGTV Urban Oasis home in Chicago, so Julia and I have our fingers crossed for victory.
Thanks for participating and for your support. Happy voting!!