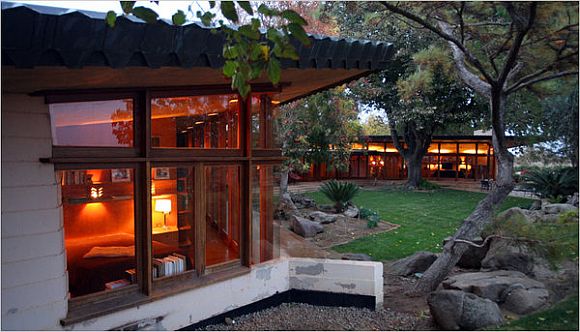 Do you have an extra $2 million laying around? Then you could be the owner of a sprawling Frank Lloyd Wright home in Los Banos, Calif.
Known as the Fawcett House, the six-bedroom home rests on 80 acres of land. According to a story in the New York Times, the home's design is "based on equilateral triangles, with a core living room and kitchen area, and two wings."
One of the home's more striking features is a 12-foot by 6-foot fireplace that blends seamlessly into the surrounding floor. It's a bit shocking to see such an open fireplace, but the design makes sense given Wright's open design aesthetic that embraces the flow of space.

Yet owning a Frank Lloyd Wright home is no easy task. Aside from the steep price tag, the homes often require diligent restoration so that they remain true to their original vision and detail. You may encounter design and renovation guidelines, especially if the home is listed on the National Register of Historic Places.
Wright is considered one of the greatest architects in the 20th century, and, during the span of his life, design 1,141 works–532 of which were completed and 409 of which still stand, according to the Frank Lloyd Wright Foundation.
If money were no object, would you consider buying an architectural treasure like a Frank Lloyd Wright home? Or is there another architect whose work you covet?
Photo by Jim Wilson of The New York Times