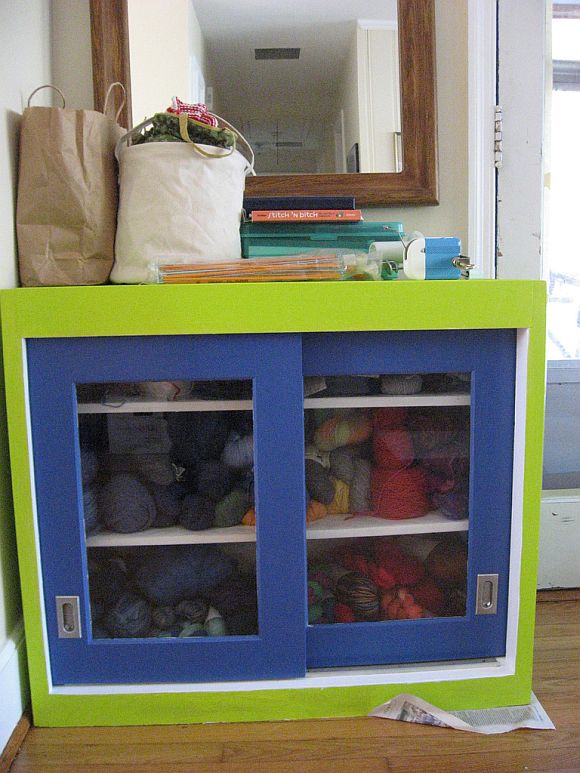 One of the best things about getting married? The gifts — er, I mean, love and commitment! Let's face it – registering for household goods and appliances is a definite upside of marriage. And as my impending nuptials draw ever closer, my fiance and I find ourselves in a loft stuffed with stuff and in desperate need of storage. My solution for our pots, pans, dishes and glassware? A renovated armoire.
Because storage is at a premium in our one-room dwelling, I'm always on the lookout for creative solutions. I've been planning a trip to some of Kansas City's salvage shops to pick out an armoire, which I think will offer more storage space–and character–at a much lower price than a new piece of furniture.

I haven't yet found my perfect piece — when I do, you'll get to read the step-by-step transformation! But I've encountered several great ideas that can help you transform a cabinet or armoire into a chic, stylish storage area that houses everything from pots and pans to tools and jewelry.
+ A thorough sanding and paint job can work wonders on an old piece of furniture. Use bright colors for a more modern look, or apply a neutral hue if you want something with a classic aesthetic.
+ Swapping out drawer handles or knobs is also a quick way to add new life to an old armoire. You can also use other embellishments, such as hooks and small dishes, to help organize items on the inside of a door or drawer.
+ And if you need to boost the cabinet's storage capacity, consider adding a couple of shelves to give you more space. An old piece of furniture is nothing more than a blank canvas, allowing you to incorporate your own DIY ideas and skills on a smaller scale.
Have you renovated a piece of furniture to give it new functionality within your home? Let me know any tips you have, and I'll keep you posted on my armoire project!
Photo by sleepyneko
The following two tabs change content below.

Katy Schamberger is a Kansas City-based freelance writer, editor, blogger and author who weaves experience as a journalist, magazine editor and Chief Content Officer to create compelling, engaging copy that informs, entertains and inspires action. Oh, and she likes to take photos, too, especially of architecture, food and cocktails. Welcome!

Latest posts by Katy Schamberger (see all)