Crown molding is totally impressive. The look of a room can be completely transformed with just this one addition. But is crown molding a possibility on rooms boasting a cathedral ceiling? And if so, is it even worth the work?
It's All In the Cutting
The angle on cathedral ceilings poses a challenge. Crown molding is generally installed on a 90-degree angle between the ceiling and the wall. With a cathedral style ceiling, that angle is much more than 90 degrees.

But don't be put off. You can easily set the molding at the correct angle for the ceiling. Use a 360-degree adjustable protractor to get an exact measurement.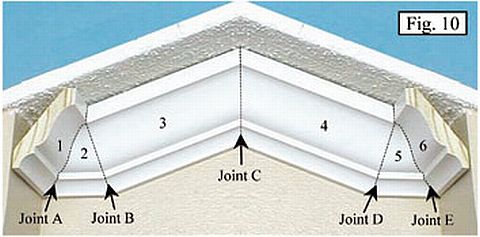 Also you will have an extra piece to cut with a cathedral-style ceiling. When trimming up the sloped portion, there is a piece connecting the two angles that will need to be trimmed into a triangular shape in order to fit. Check out the diagram and note the #2 piece.
Once you have that installed, proceed up the angle of the ceiling and back down again, connecting to the molding against the opposite wall within another piece #2.
Essential Tools
You'll need a compound miter saw and a brad nailer to complete this DIY molding job. Get yourself a sturdy ladder or scaffolding system as well.
The compound miter saw has more accurate angles and is best for DIY enthusiasts as the molding can be laid flat for cutting. A regular miter saw uses a fence and can be a bit trickier.
Is It Worth It?
Cathedral ceilings are fairly impressive on their own. Can crown molding actually add to that?
The detail and "crowning" glory this type of trim brings to your wall is unmatched. To take that soaring ceiling to an even higher glory, get out those tools and get cutting.
Just don't forget to measure twice and cut once.
photo 1 courtesy of flickr/tsuacctnt
photo 2 courtesy of Wayne Drake – author of Crown Molding & Trim: Install It Like a Pro!