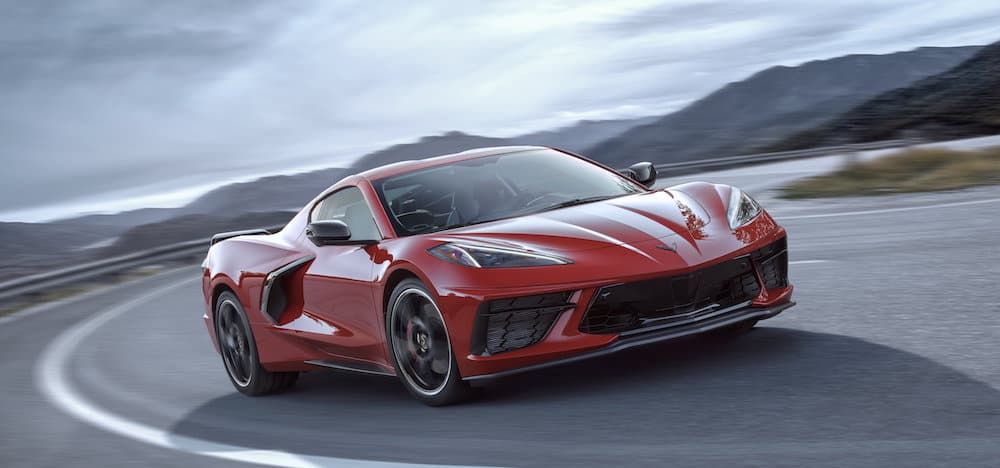 The 2020 Corvette Stingray C8 is a major accomplishment for General Motors in engineering, performance, and accessibility. Last night the new Vette was unveiled to the world and it did not disappoint. 0-60 in under 3 seconds and 495 horsepower for $60,000, Corvette has truly produced the first everyday supercar.
Mid-engine sports cars have always been the realm of European carmakers like the Ferrari and Buggati's of the world. Ford has the GT but it's priced hundreds of thousands of dollars more than the new Corvette.
Mid-Engine Performance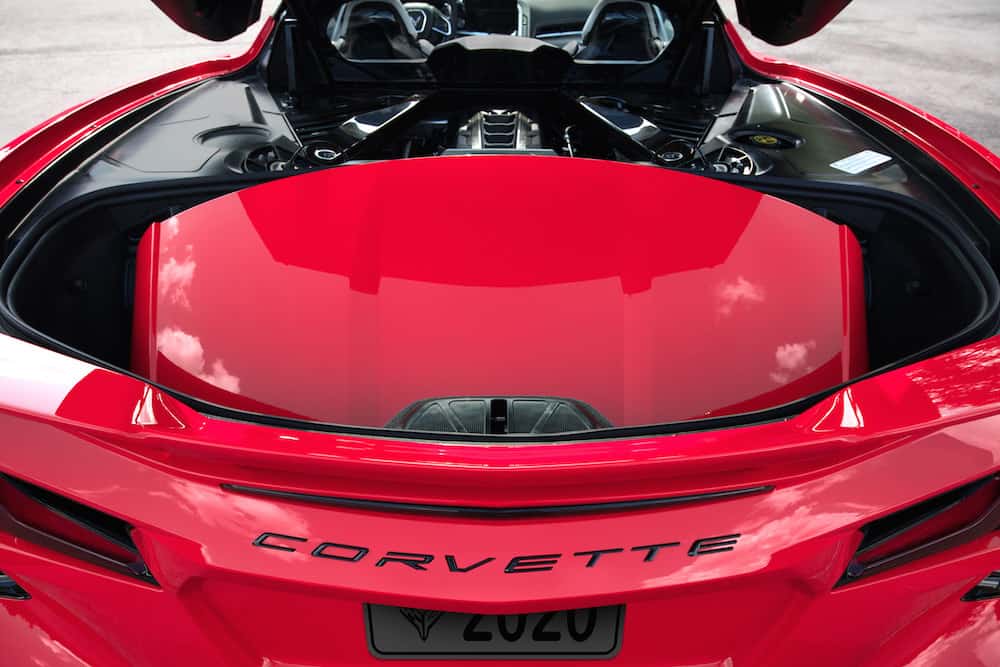 The 2020 Stingray's heart is Chevy's next-generation 6.2L Small Block V-8 LT2 engine, the only naturally aspirated V-8 in the segment. It will produce 495 horsepower (369 kW) and 470 lb-ft (637 Nm) of torque when equipped with performance exhaust — the most horsepower and torque for any entry Corvette.
"Though now placed behind the driver, the LT2 gives the same visceral experience we all expect from Corvette," said Jordan Lee, GM's global chief engineer of Small Block engines. "The LT2 has been designed to deliver excellent low-end torque and high-end power to give thrilling pedal response at any RPM."
Here's what moving the engine from the front of the vehicle to the middle has done for performance.
Better weight distribution, with the rear weight bias enhancing performance in a straight line and on the track.
Better responsiveness and sense of control due to driver positioning closer to the front axle, almost on top of the front wheels.
The fastest 0-60 time of any entry Corvette ever — under three seconds when equipped with Z51 Performance Package.
A racecar-like view of the road due to lower positioning of the hood, instrument panel and steering wheel. Excellent forward sightlines throughout the vehicle for both driver and passenger.
An enhancement of Corvette's traditional utility strengths, with dual trunks for a total of 12.6 cubic feet of cargo volume, ideal for luggage or two sets of golf clubs.
All-New Design Details
There are many new design touchpoints that have never been seen on a Corvette or GM vehicle before.
Low profile headlamps designed around all-new projectors.
Completely hidden door, hood and hatch releases do not disrupt the sculpted design.
Large side air intakes for engine cooling and aerodynamic performance.
A-pillar shape that communicates speed and assists in visibility.
Large rear hatch that showcases the engine with seven air vents.
Quad exhaust tips located on the vehicle's outboard ends.
Dual-element LED taillamps with animated turn signals.
Hand-wrapped, cut-and-sew leather components with thick press stitching.
Generous use of real metal.
Stainless steel speaker grilles with Bose Performance Series audio system.
Carbon fiber trim on the GT2 and Competition Sport Seats.
The choice of either real aluminum or real carbon fiber for console and door trim plates.
Colors Galore
Chevy wants you to have this new Corvette the way you want it by offering it in over 12 exterior colors and 6 interior color themes.
12 exterior colors — Torch Red, Arctic White, Black, Blade Silver Metallic, Shadow Gray, Ceramic Matrix Gray, Long Beach Red, Elkhart Lake Blue, and Sebring Orange — plus three all-new colors: Rapid Blue, Zeus Bronze and Accelerate Yellow.
Six interior color themes: Jet Black, Sky Cool Gray, Adrenaline Red, Natural/ Natural Dipped, Two-Tone Blue and Morello Red.
Six seat belt colors: Black, Blue, Natural, Torch Red, Yellow, and Orange.
Two optional stitch packages: Yellow and Red. Standard black interiors have Sky Cool Gray stitching.
Custom Seats
Chevy understands that the Corvette will be driven by a wide variety of customers. From those who want a comfortable everyday machine to weekend warriors and track enthusiasts. Instead of making a do-it-all seat that ends up failing everyone, Chevy is offering three different seats that are purpose-driven.
GT1 – a sporty style that emphasizes comfort while providing good support for performance driving situations. Features Mulan leather trim, optional two-way lumbar support, and wing adjustment.
GT2 – a first for Corvette, these seats have a racing-inspired look with comfort for long trips courtesy of dual-density foam. They include carbon-fiber trim, a Napa leather insert, Mulan leather bolsters, a jet black-painted seat back, two-way lumbar support and wing adjustment, plus heating and ventilation.
Competition Sport – designed for the serious track-focused driver, these seats include aggressive bolsters, full Napa seating surfaces and carbon fiber trim on the headrest, heating, and ventilation, along with an all-new durable performance textile inspired by Kevlar vests.
The new Corvette will go into production later this year at their Bowling Green plant and will be priced starting at $60,000.
Oh, and we forgot to mention, the TOP COMES OFF!!!
This should prove to be a hot-seller and could truly be the return of the American sports car on a larger scale.