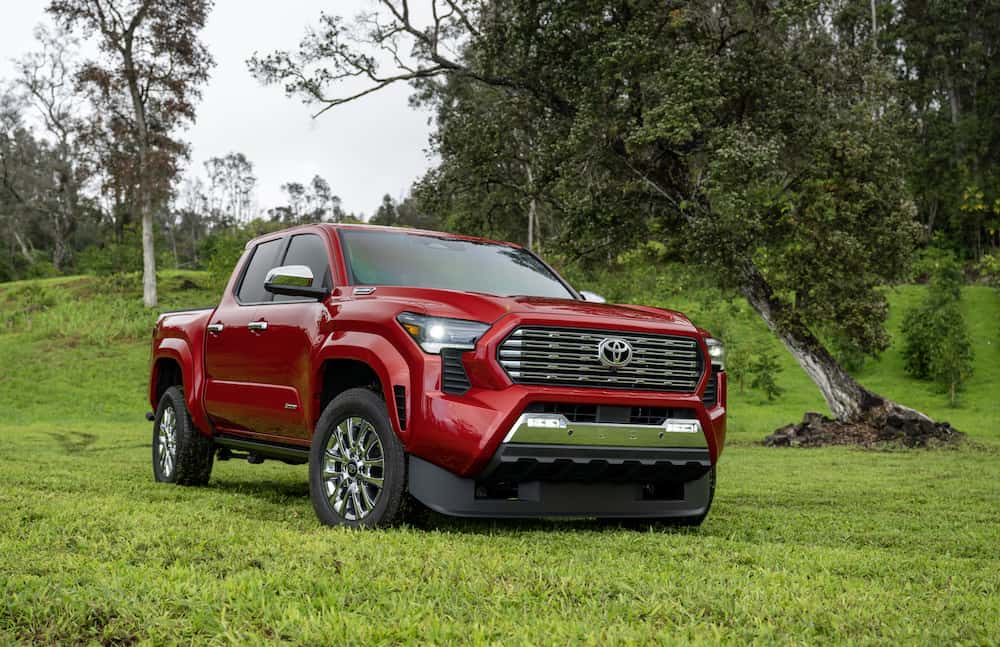 The long-anticipated arrival of the 2024 Toyota Tacoma has sparked a frenzy among truck enthusiasts and die-hard "Taco" fans. After years of eager anticipation, the moment has finally arrived, and it's safe to say that the wait has been absolutely worth it. Toyota has truly outdone itself by unveiling a truck that meets and exceeds our lofty expectations.
We're here on the Big Island, which is the best place to launch the new Tacoma, as it's truly the unofficial state vehicle of Hawaii.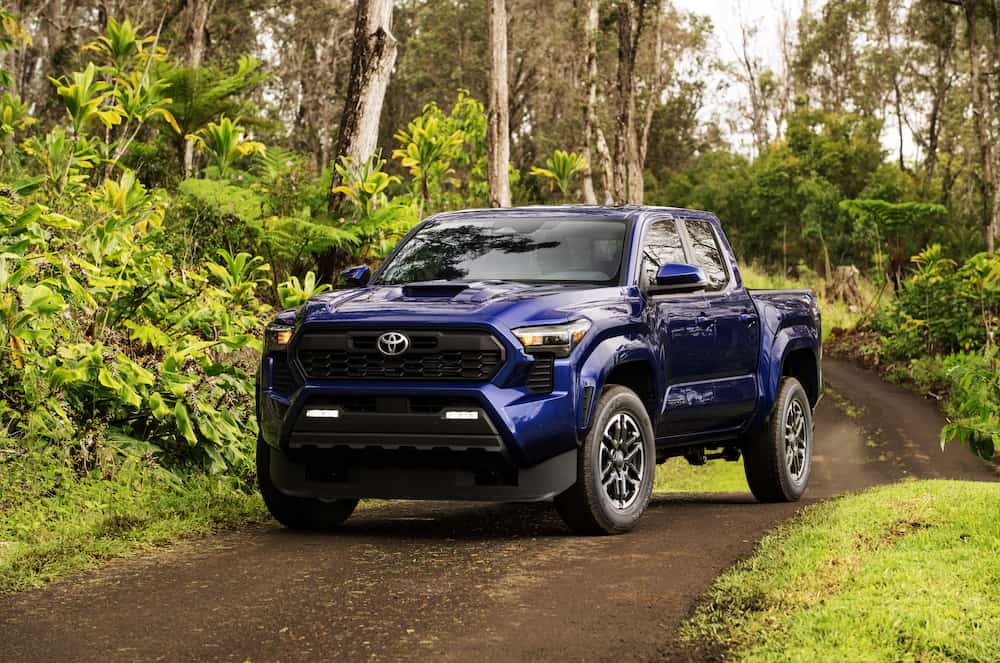 Highlights include:
Standard i-FORCE turbocharged 2.4-liter four-cylinder engine delivers 278 horsepower and 317 lb.-ft. of torque.
Available i-FORCE MAX turbocharged 2.4-liter four-cylinder hybrid powertrain offers 326 horsepower and 465 lb.-ft. of torque.
All-new Trailhunter: Factory-built overlanding rig with cutting-edge integrated off-road equipment from ARB, Old Man Emu, and RIGID.
Baja-inspired TRD Pro introduces the segment-first IsoDynamic Performance Seat for enhanced off-road driving control and comfort.
Tacoma now offers the new XtraCab long bed configuration, providing enhanced interior functionality and increased cargo capacity.
Manual Transmission is still available.
Powertrains for Every Desire
Toyota has gone the extra mile under the hood of the 2024 Tacoma, providing two potent and efficient engine options to suit various driving styles.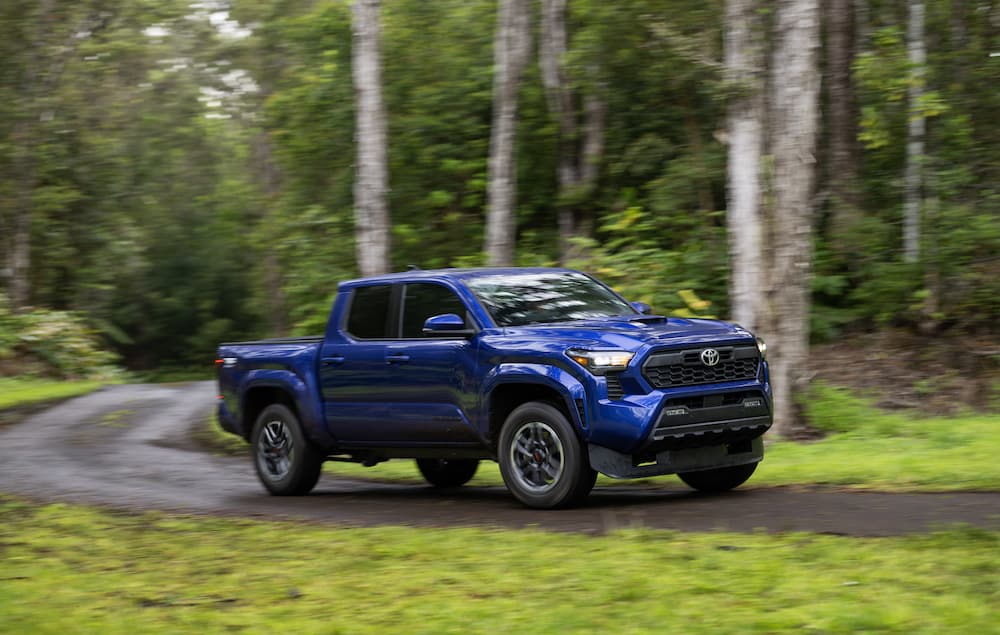 The standard i-FORCE turbocharged 2.4-liter four-cylinder engine delivers an impressive output of 278 horsepower and 317 lb.-ft. of torque. This powertrain provides robust acceleration and ample power for everyday driving and exhilarating off-road adventures.
For those craving an even more thrilling ride and formidable towing power, the available i-FORCE MAX turbocharged 2.4-liter four-cylinder hybrid powertrain raises the bar. With a staggering 326 horsepower and a massive 465 lb.-ft. of torque at your command, the Tacoma becomes a force to be reckoned with.
More photos of the 2024 Toyota Tacoma Sport.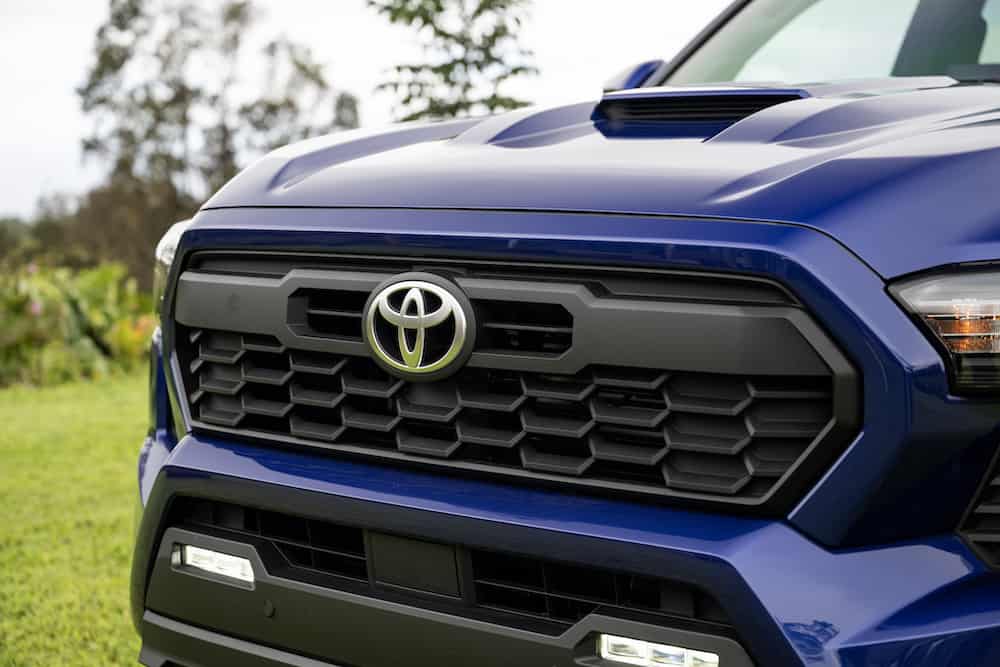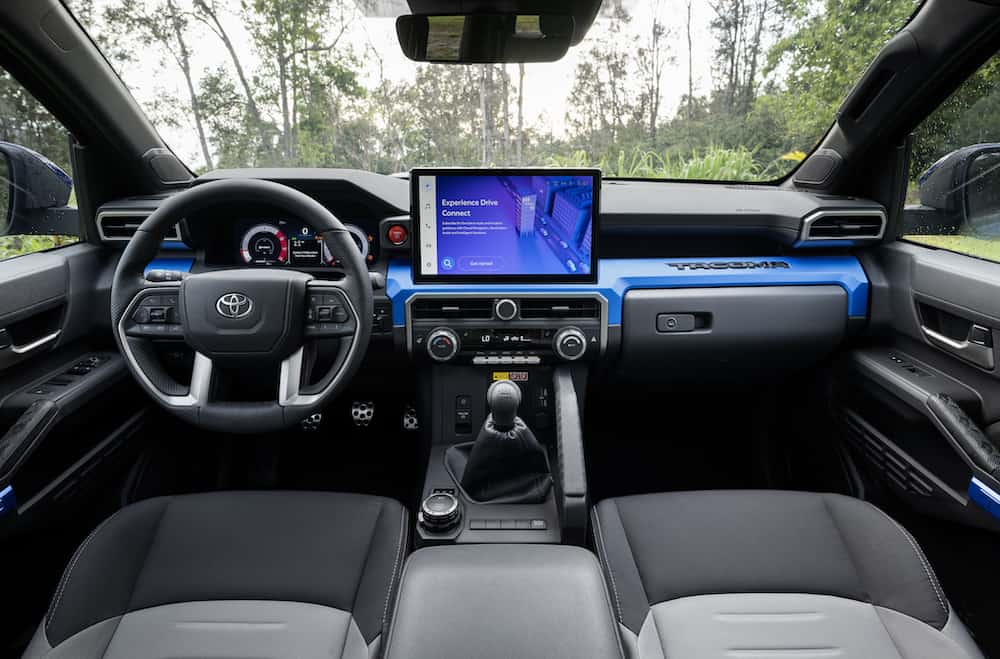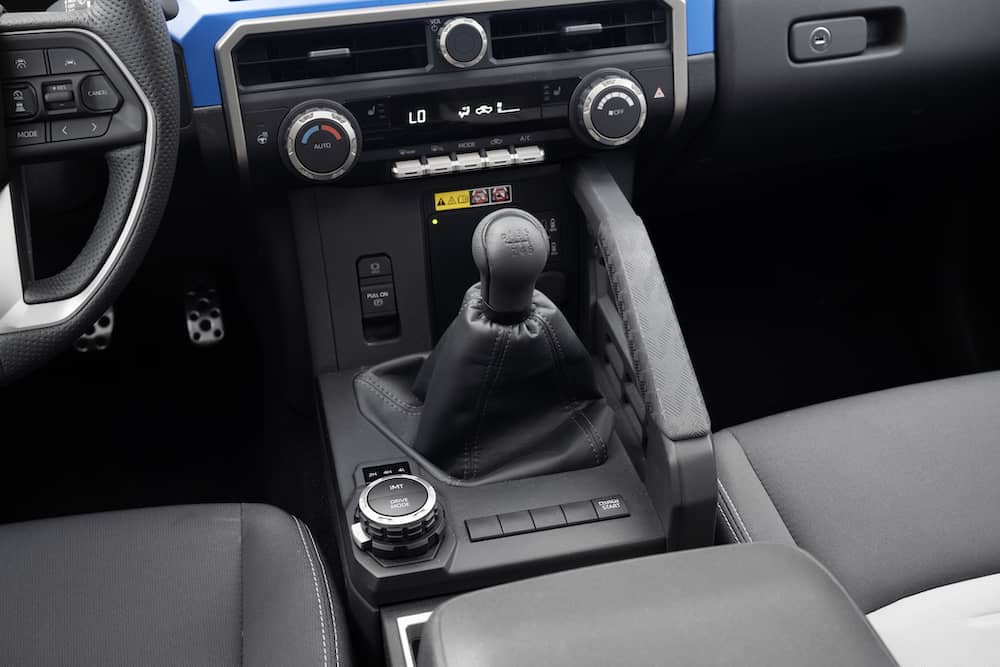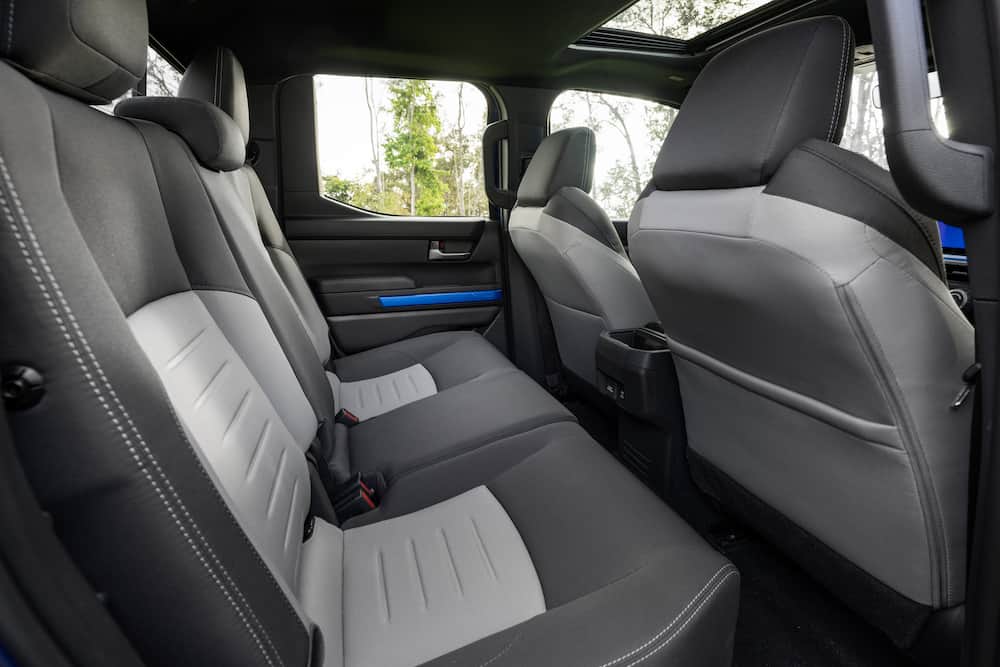 Unmatched Suspension Options
Toyota has introduced a state-of-the-art multi-link rear suspension system, elevating the ride quality and handling of the Tacoma to new heights. By replacing the previous leaf springs with coils, this upgrade ensures improved performance and a refined driving experience. While leaf springs remain the standard choice for the SR, SR5 XtraCab, and TRD PreRunner grades, the new suspension system takes the Tacoma's capabilities to a whole new level.
Toyota understands that different Tacoma trims cater to distinct driving preferences and requirements. To address this, they have meticulously fine-tuned the suspension for each grade.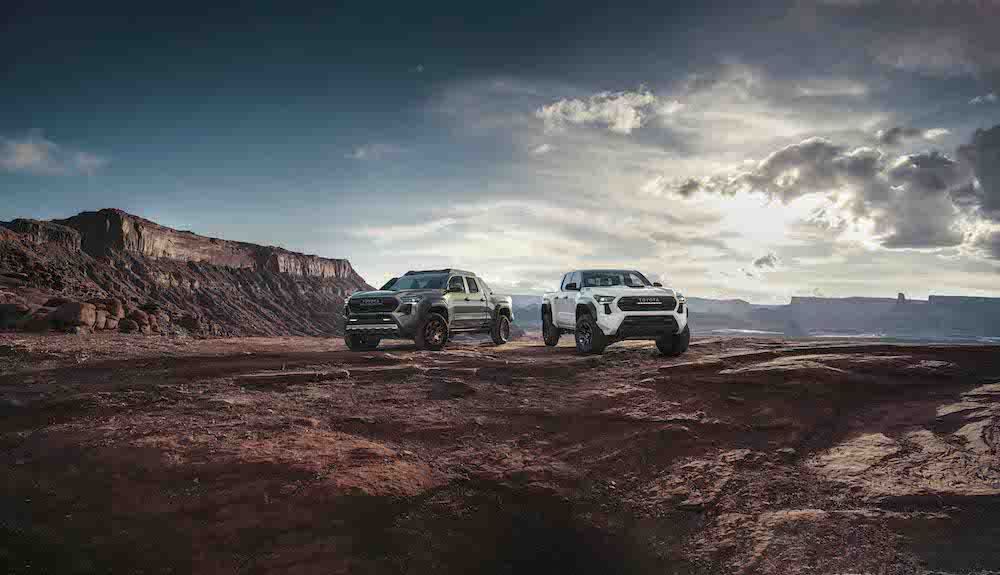 The TRD Sport trim, for instance, now comes equipped with red TRD sport-tuned shocks, delivering heightened responsiveness and sportiness. Meanwhile, the TRD Off-Road grade offers monotube Bilstein remote reservoir shocks, designed to provide extended wheel travel and superior heat dissipation.
The TRD Pro trim takes things up a notch with FOX's state-of-the-art QS3 three-way adjustable internal bypass shocks with remote reservoirs, specifically tuned to enhance high-speed off-road performance. The addition of FOX Internal Floating Piston (IFP) rear bump stops ensures the Tacoma can easily handle rough terrain, preventing bottoming out and guaranteeing a smooth ride over the most challenging landscapes.
For those who thirst for off-road adventures, the Trailhunter trim introduces the legendary Old Man Emu (OME) 4×4 Suspension by ARB. This setup is a game-changer, expertly tuned for optimal off-road control and exceptional load-carrying capability.
On the other end of the spectrum, the Limited grade showcases Toyota's Adaptive Variable Suspension (AVS) system. Constantly adjusting damping forces based on changing road conditions, this system delivers an exceptionally smooth and luxurious ride.
More photos of the 2024 Toyota Tacoma Limited.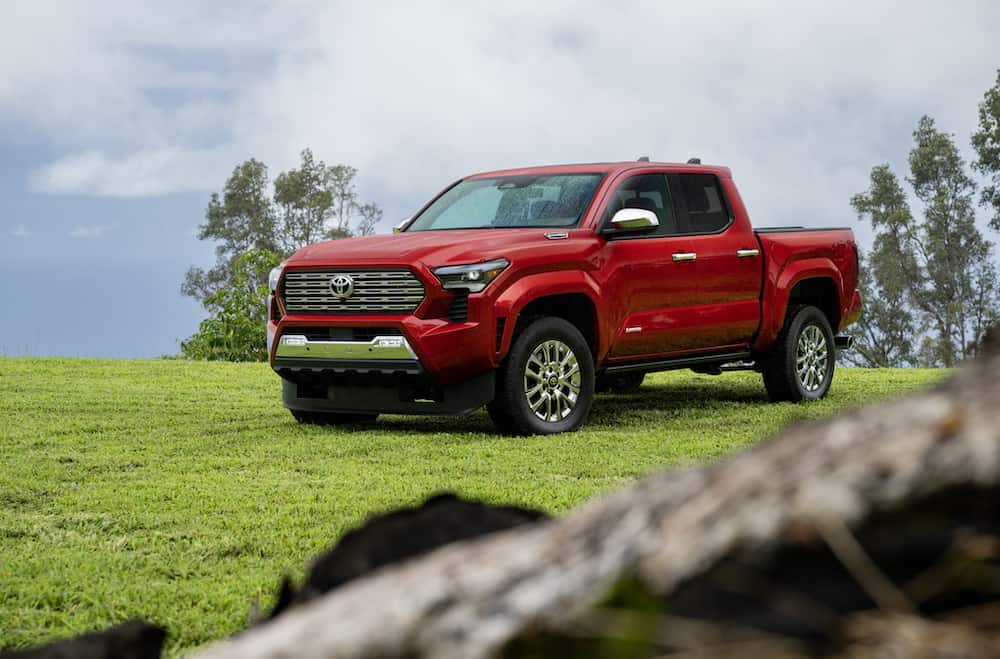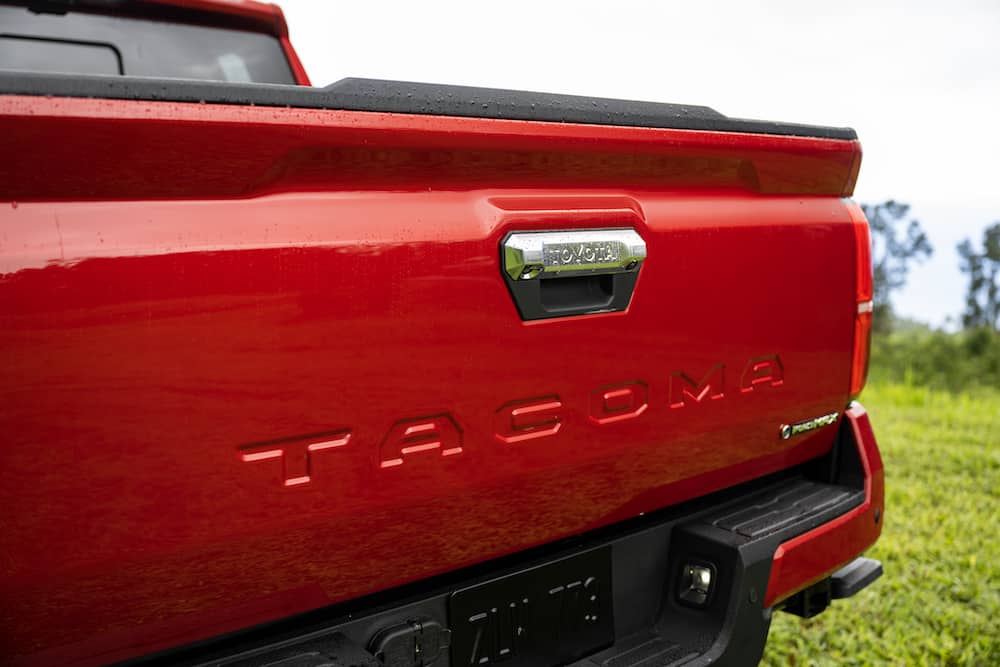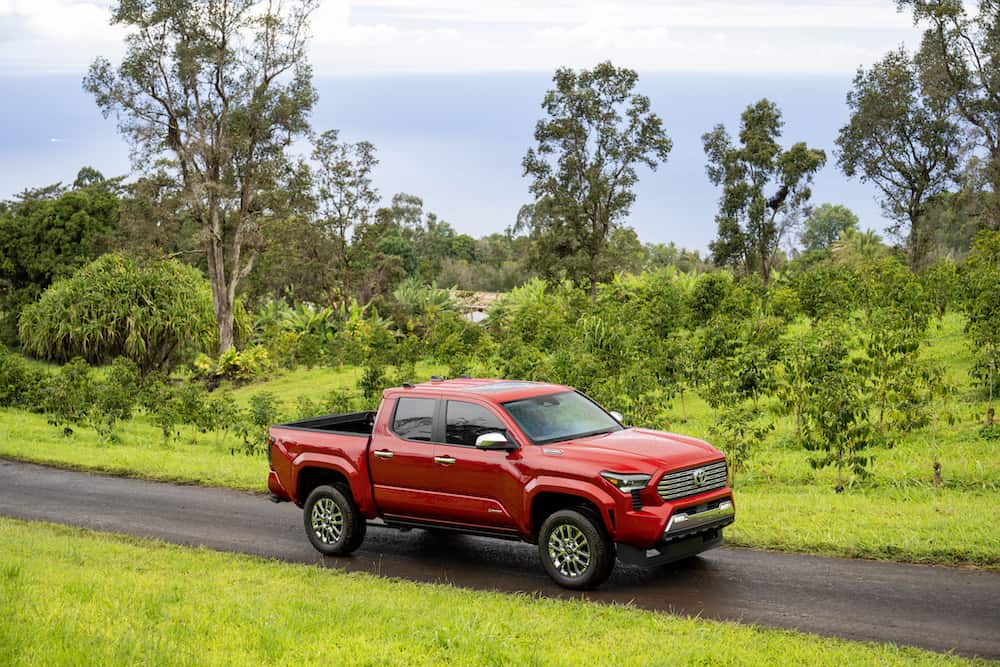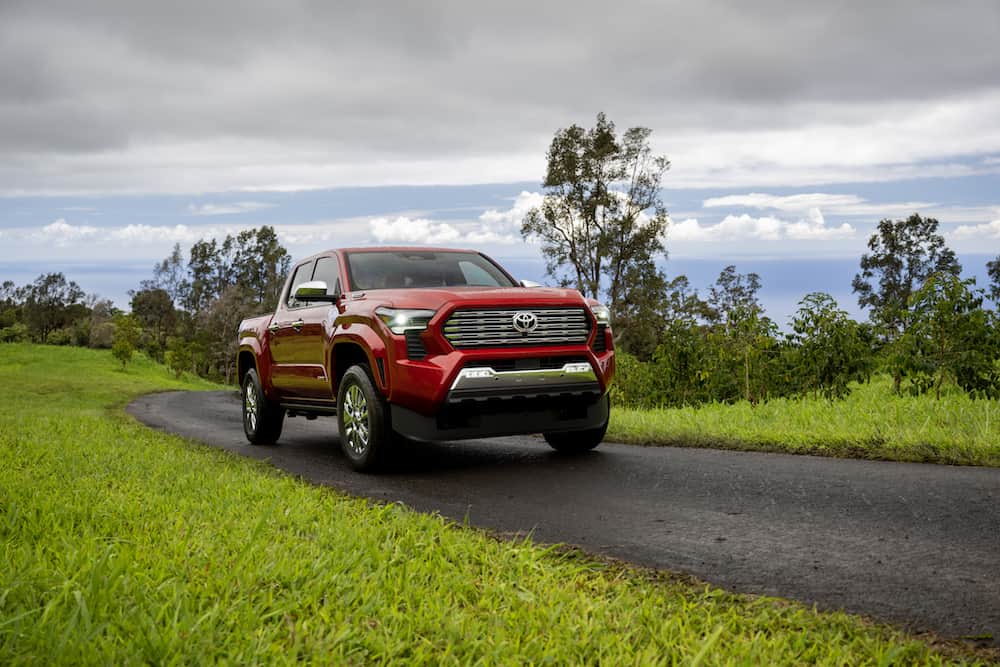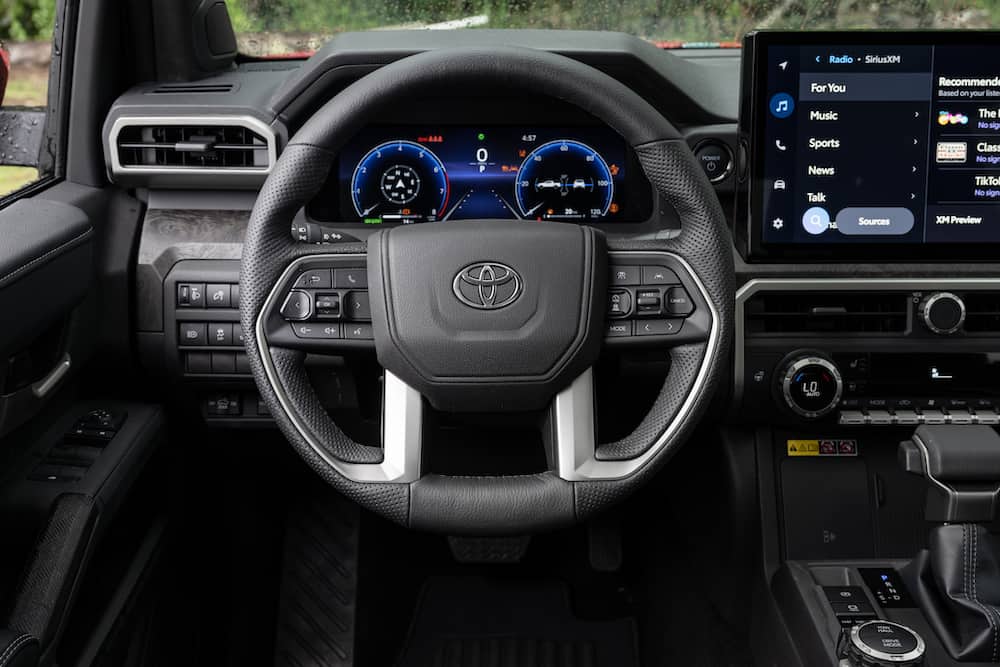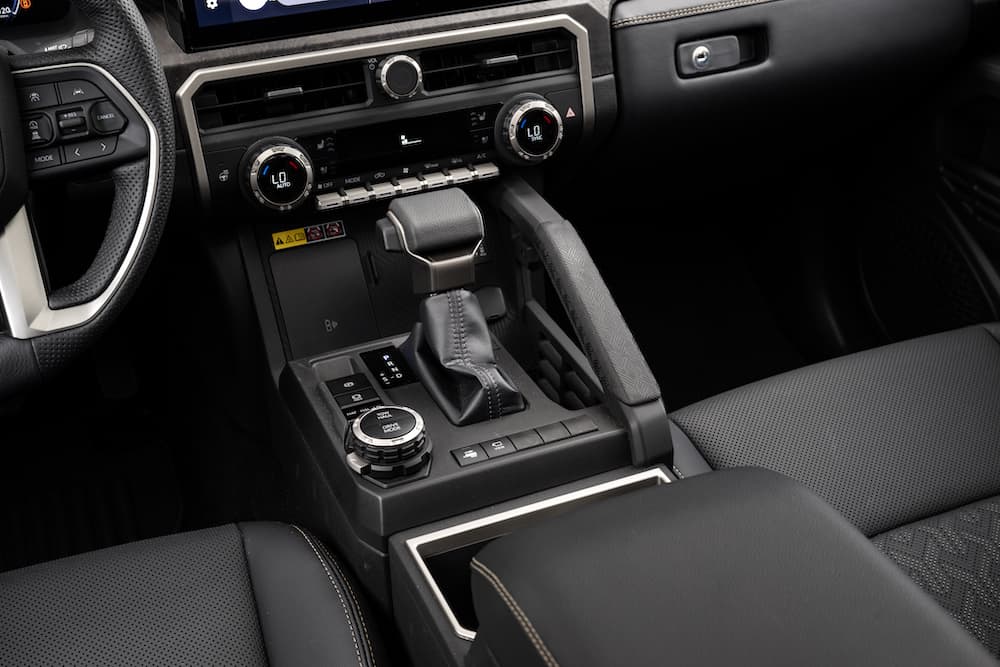 Towing Prowess: How Much Can the 2024 Tacoma Tow?
The 2024 Tacoma doesn't disappoint in the towing department, boasting an impressive capacity of up to 6,500 lbs. This applies specifically to the SR5 i-FORCE and TRD PreRunner XtraCab models. Additionally, it offers a maximum payload capacity of 1,709 lbs.
Toyota has equipped the Tacoma with a range of features to facilitate towing. These include a trailer brake controller, a trailer backup guide, and a digital display mirror. The trailer backup guidance system assists in maneuvering trailers, while the Straight Path Assist feature ensures that your truck and trailer can reverse in a straight line.
The addition of 360-degree cameras provides a comprehensive top-down view, significantly enhancing overall visibility, especially in challenging areas surrounding the truck and trailer. When combined with Toyota's integrated trailer brake controller, the Blind Spot Monitor can detect blind spots not only for the truck but also for certain types of trailers.
Moreover, the bed volume of the Tacoma has been increased by 7 percent, providing even more capacity for essential gear, especially when paired with an optional tonneau cover.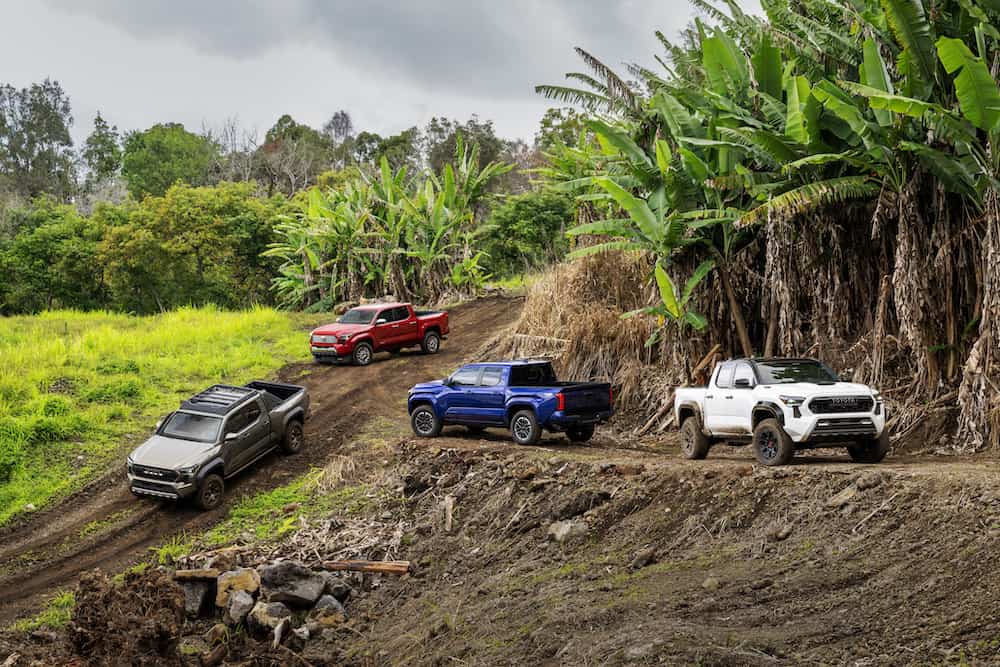 Braking and Steering: Upgrades Galore
Toyota has answered the prayers of Tacoma enthusiasts with the inclusion of four-wheel disc brakes and electric power steering across all grades of the 2024 model. TRD grades and above receive an upgraded larger front disc brake package.
An Abundance of Grades and Options
The 2024 Tacoma offers a plethora of options when it comes to grades and configurations. Drivers can choose between the four-door Double Cab and the brand-new two-door XtraCab, which has clever storage features behind the front seats. Both styles are available with either a five or six-foot bed.
The XtraCab, available in SR, SR5, and TRD PreRunner grades, maximizes utility and exclusively provides seating for two. It offers a functional rear cabin storage area and a six-foot bed. Though this configuration lacks rear doors and a rear seat, it optimizes cabin space by providing various additional storage options.
The 2024 Tacoma lineup encompasses an impressive range of grades, including SR, SR5, TRD PreRunner, TRD Sport, TRD Off-Road, Limited, TRD Pro, and Trailhunter. Making a return for 2024, the TRD PreRunner is available in the XtraCab configuration and exclusively offered with two-wheel drive. With a lifted front suspension, larger diameter BFGoodrich all-terrain tires, and an electronically locking rear differential, the TRD PreRunner is ready to conquer any challenge.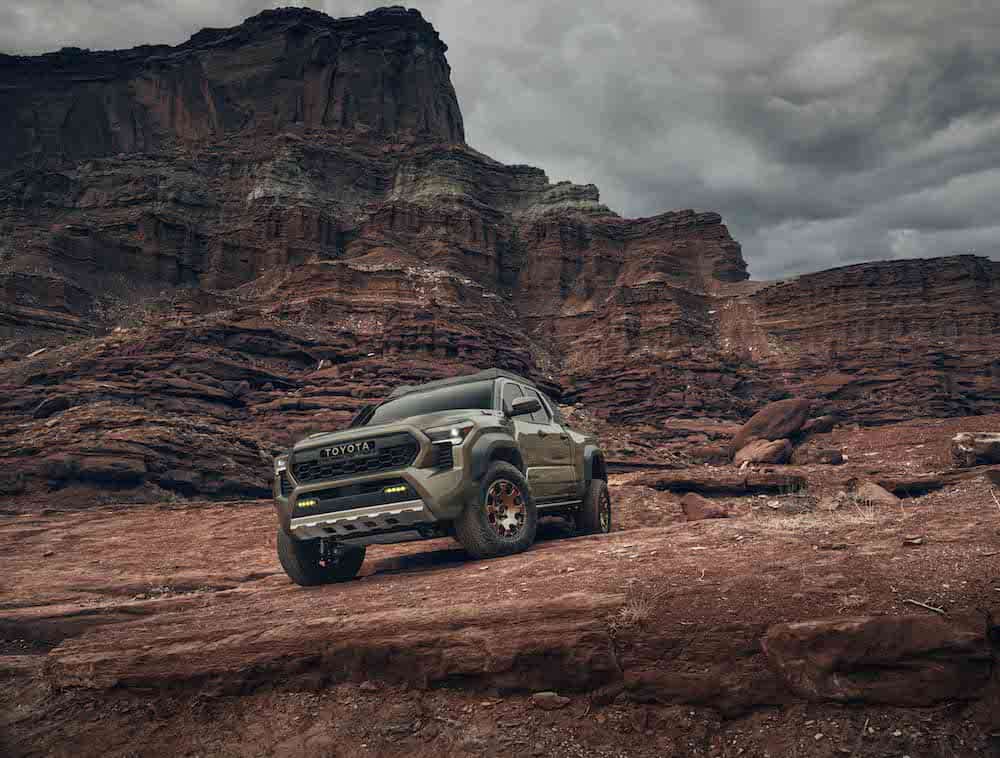 The TRD Sport boasts black 18-inch TRD wheels, color-keyed door handles, a hood scoop, black exterior badging, and aluminum pedals for a sportier and more dynamic appearance. The TRD Off-Road grade delivers improved capability, thanks to the inclusion of new Bilstein remote reservoir monotube shocks, which enhance heat dissipation. Additionally, an optional front stabilizer bar disconnect system is available.
The Limited grades exude sophistication, featuring a luxurious interior and a host of standard tech features. From power-retractable sidesteps to a head-up display, a 14-inch touchscreen, JBL audio, a digital rearview mirror, and a power moonroof, the Limited models leave no stone unturned. Those equipped with iFORCE MAX enjoy the smooth-riding adaptive variable suspension and full-time four-wheel drive, ensuring a truly remarkable driving experience.
And let's not forget the extensive color selection offered for the Tacoma, including striking options like Supersonic Red, Blue Crush Metallic, Underground, Wind Chill Pearl, Solar Octane, Celestial Silver Metallic, Black, Ice Cap, and many more.
The Tacoma Trailhunter is a Purpose Built Overland Vehicle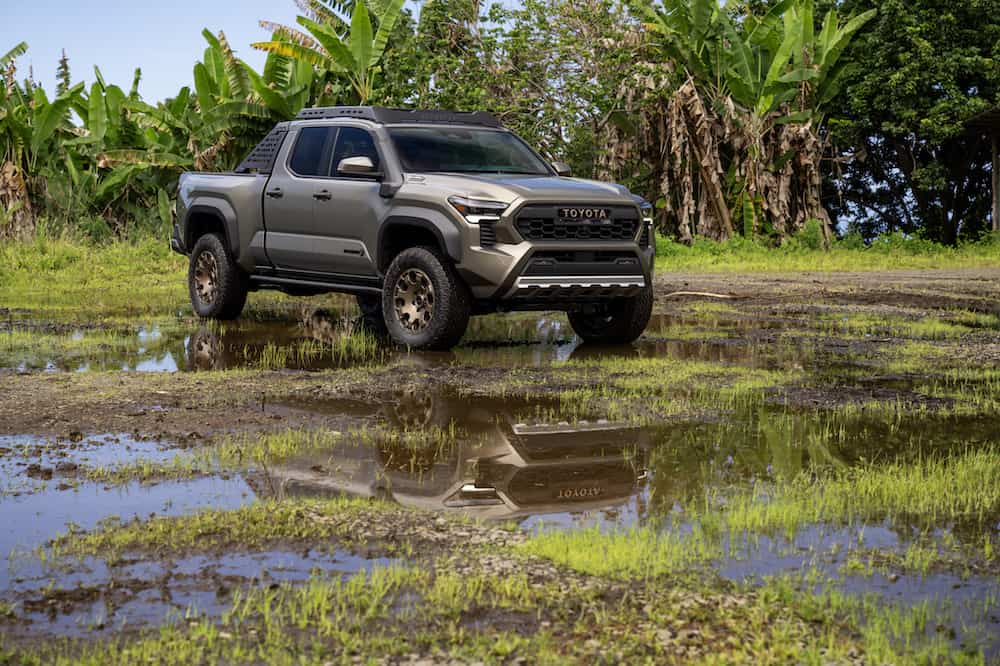 When it comes to rugged trucks, Toyota has long been a top choice for overlanders seeking unparalleled quality, durability, and reliability. We saw the Trailhunter at SEMA last year, and now it's here! Toyota overlanding enthusiasts can now buy a factory-developed overland vehicle straight from Toyota.
To bring the Trailhunter to life, Toyota partnered with the legendary Australian-based ARB, resulting in an impressive collaboration. The co-development with ARB brought forth remarkable features such as the Old Man Emu (OME) position-sensitive 2.5-inch forged monotube shocks with rear external piggyback-style remote reservoirs, a sturdy steel rear bumper, robust rear recovery points, and a versatile bed utility bar complete with removable MOLLE panels.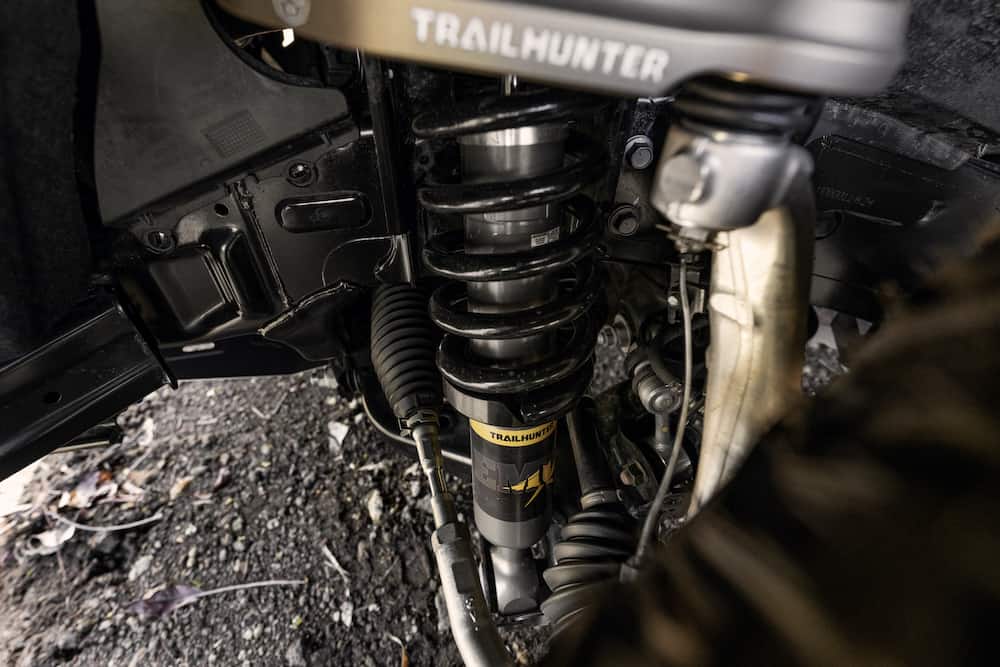 The Trailhunter is available in Double Cab configurations, offering both 5- and 6-foot bed options. True overlanding enthusiasts can take their Trailhunters to the next level by opting for the available light- or heavy-duty versions of a full ARB bed rack. This rack provides additional support for gear like rooftop tents, canopies, or even a camp shower, elevating the adventure to new heights.
With the OME shocks and 33-inch Goodyear Territory R/T tires, the Trailhunter gains an extra two inches in the front and one and a half inches in the rear, ensuring enhanced ground clearance. It doesn't stop there—this remarkable truck also features a high-clearance trail exhaust tip and a low-profile high-mount Trailhunter Air Intake.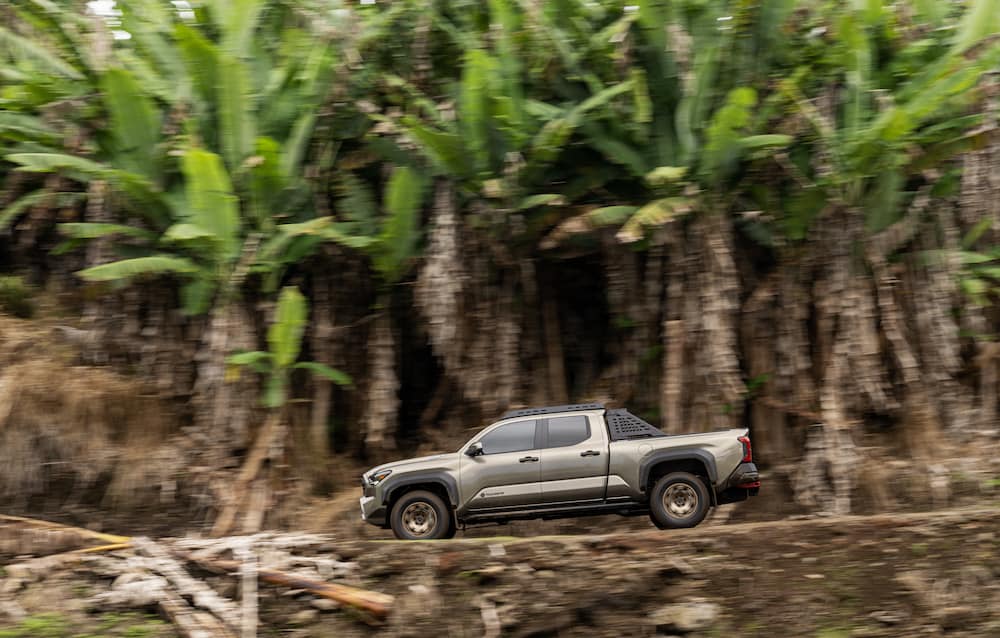 The air intake is ingeniously routed up the passenger-side A-pillar to source cleaner air for the i-FORCE MAX powertrain. The Trailhunter also comes equipped with essential protection elements, including rock rails and a range of hot-stamped, high-strength steel skid plates. These features ensure that the Trailhunter is ready to take on off-the-grid adventures straight from the factory.
The Trailhunter's design doesn't sacrifice style for functionality. It proudly displays a bronze-colored "TOYOTA" heritage-inspired grille with an integrated 20-inch LED light bar. This striking feature is complemented by white/yellow color-switching RIGID LED fog lamps, providing optimal visibility on any terrain. Lighting in the bed area is thoughtfully positioned to eliminate dark spots, while integrated bedside scene lights illuminate the surroundings for a seamless camp setup at night.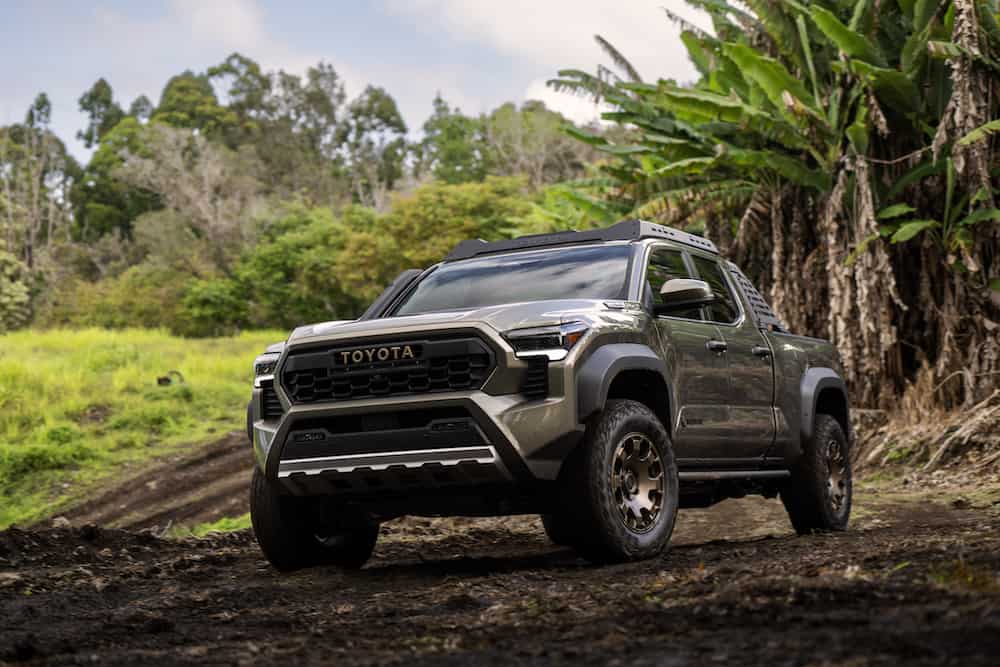 Inside the Trailhunter, convenience and power take center stage. A powerful 2400W AC inverter delivers electricity to two locations in the cabin and the rear deck, offering ample power for various devices. Furthermore, the cabin features 12V outlets and USB ports for charging other essential gadgets, such as an ARB Fridge Freezer. Toyota has truly thought of everything. The Trailhunter also comes pre-wired for accessories, with three auxiliary toggle switches conveniently located on the dashboard.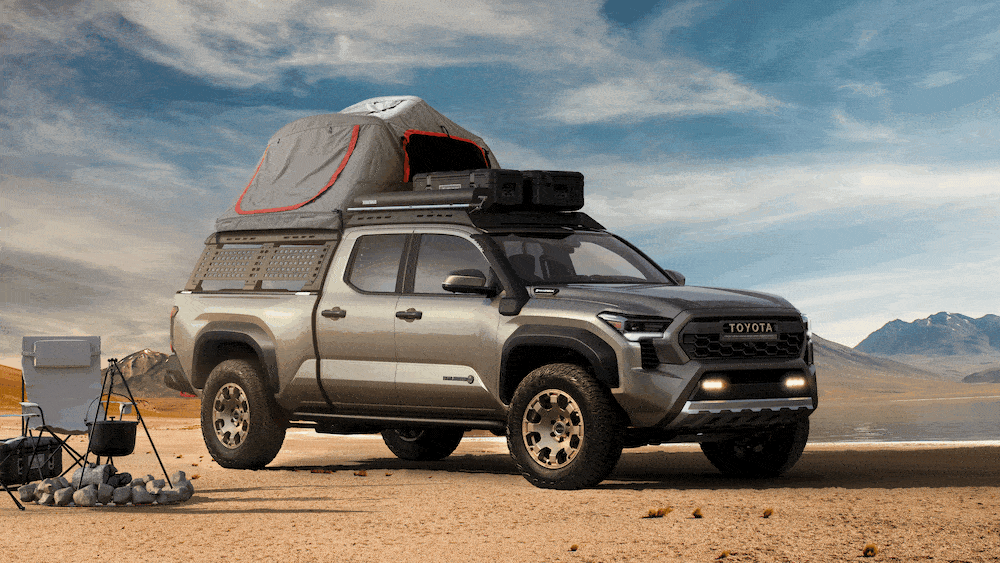 For those seeking further personalization, Toyota offers an array of additional accessories through the Associated Accessory Products program (AAP). Customers can customize their Tacoma Trailhunters exactly as they desire by choosing from over 100 accessories. From off-road recovery gear to rack attachment brackets for storage equipment and outdoor sporting equipment carriers, the AAP ecosystem has it all. What's more, these accessories can be conveniently included in customers' monthly payments, making accessorizing your Tacoma easier than ever before. And the best part? The AAP program isn't exclusive to the Trailhunter—it's available for all Tacoma models, allowing every owner to truly make their truck their own.
More photos of the 2024 Toyota Tacoma Trailhunter.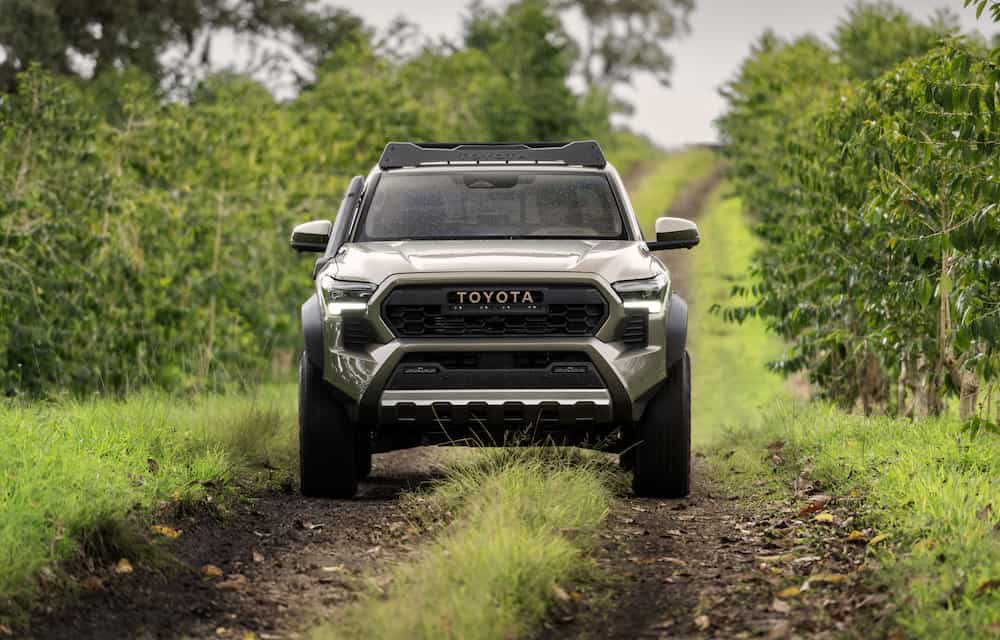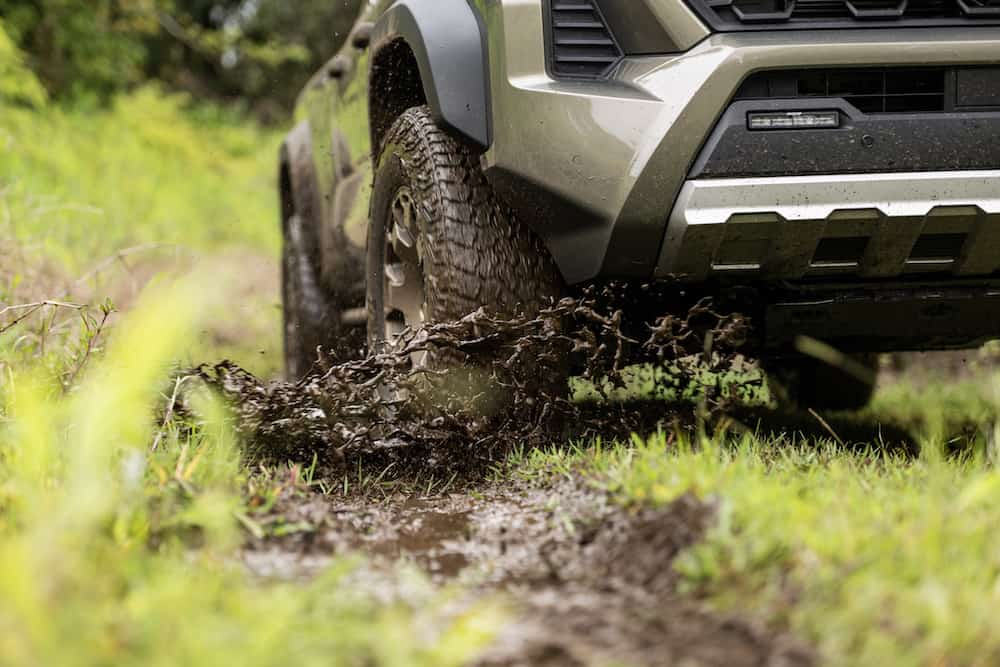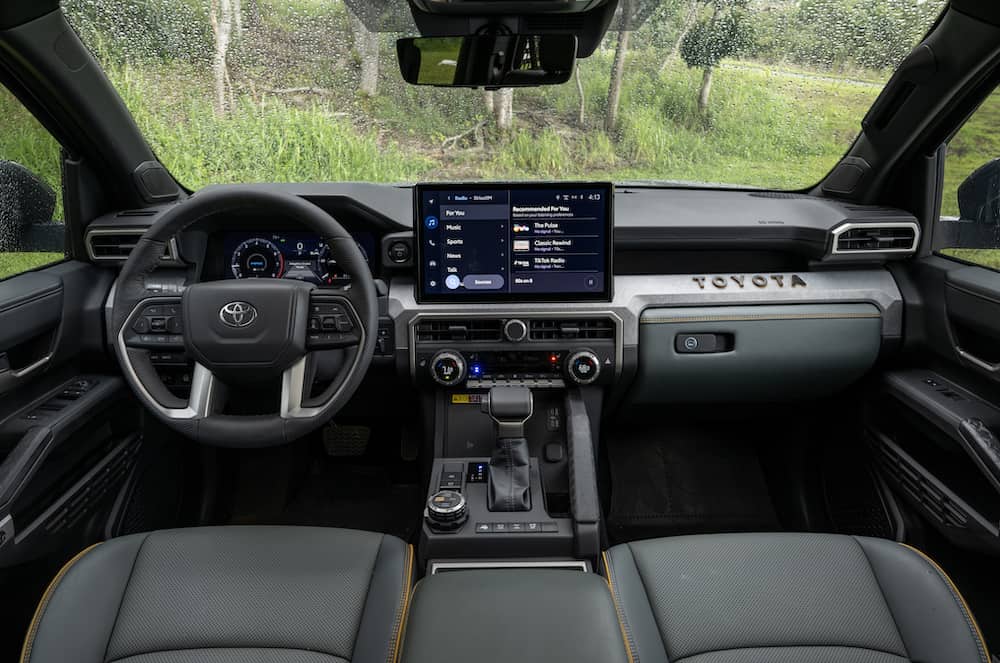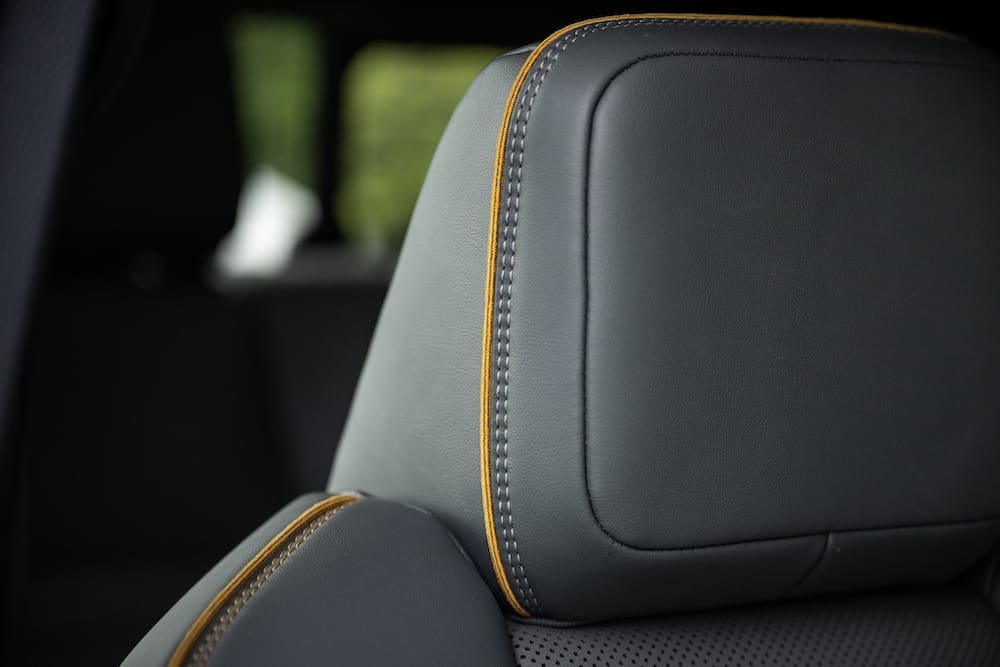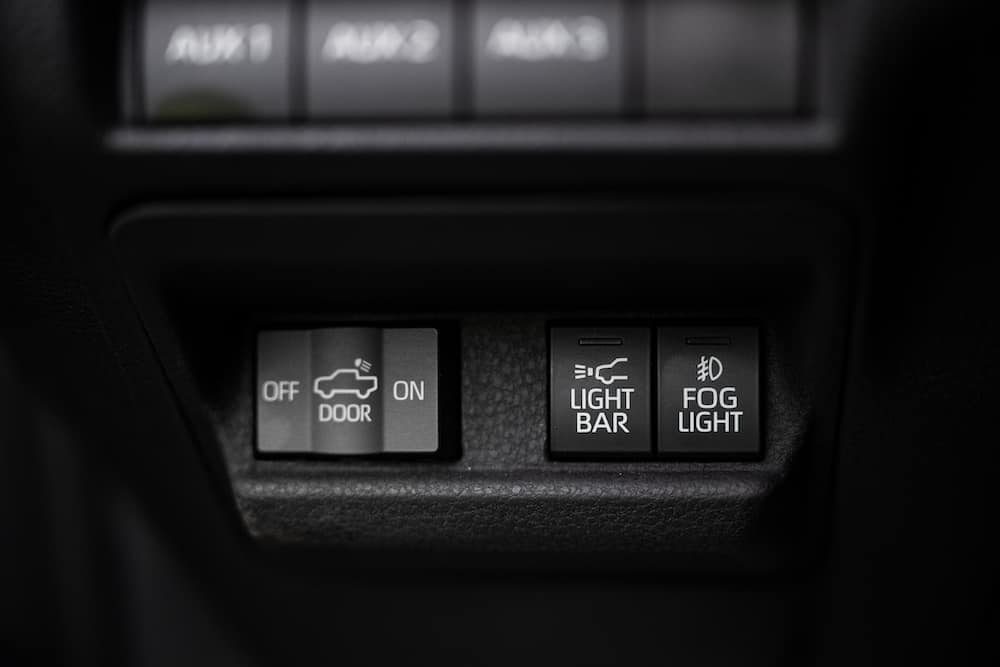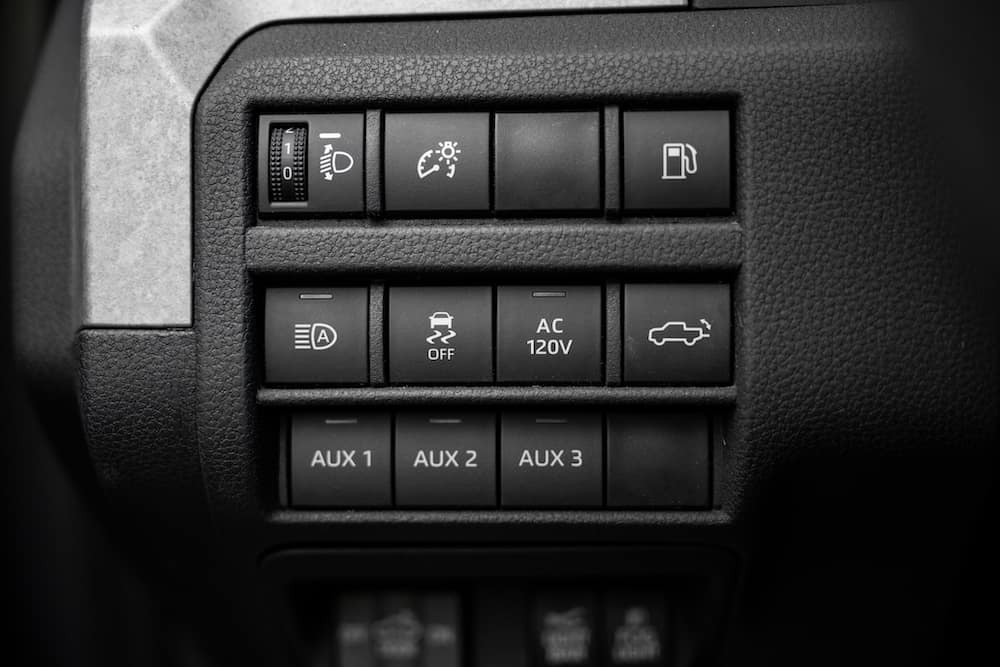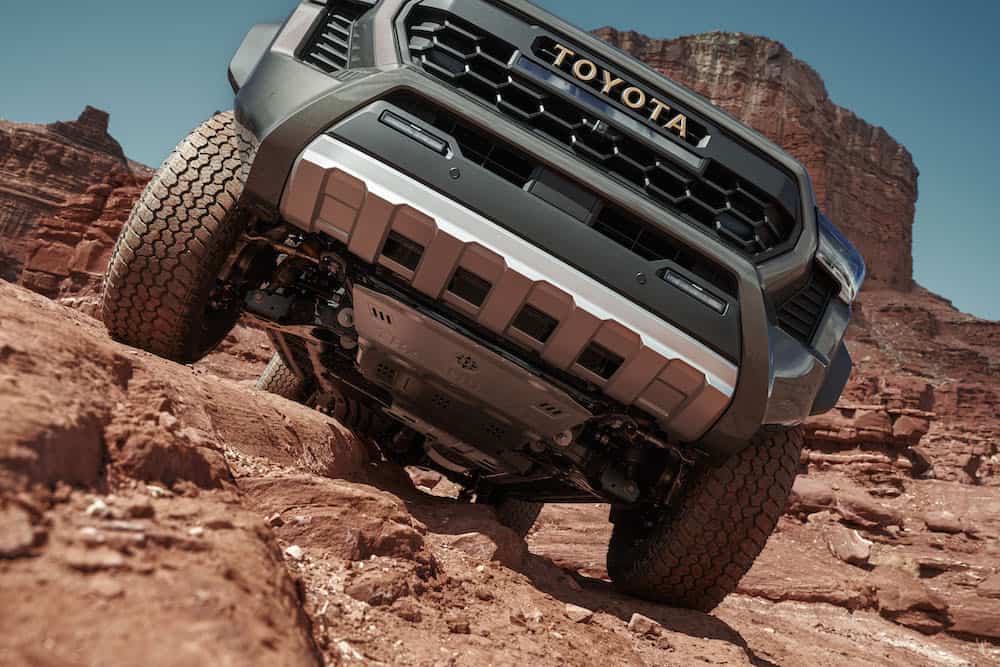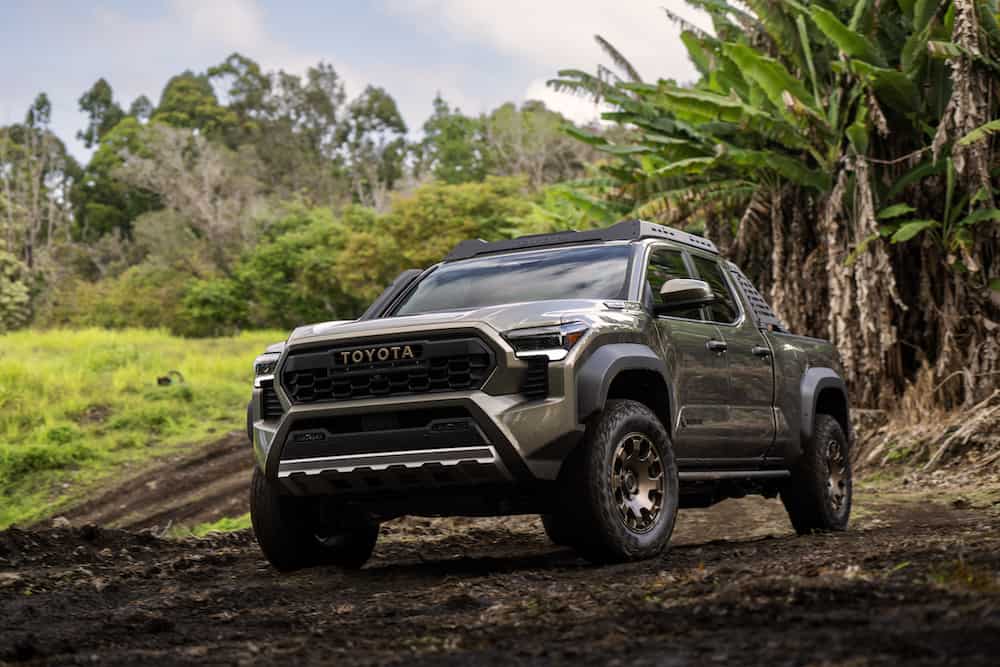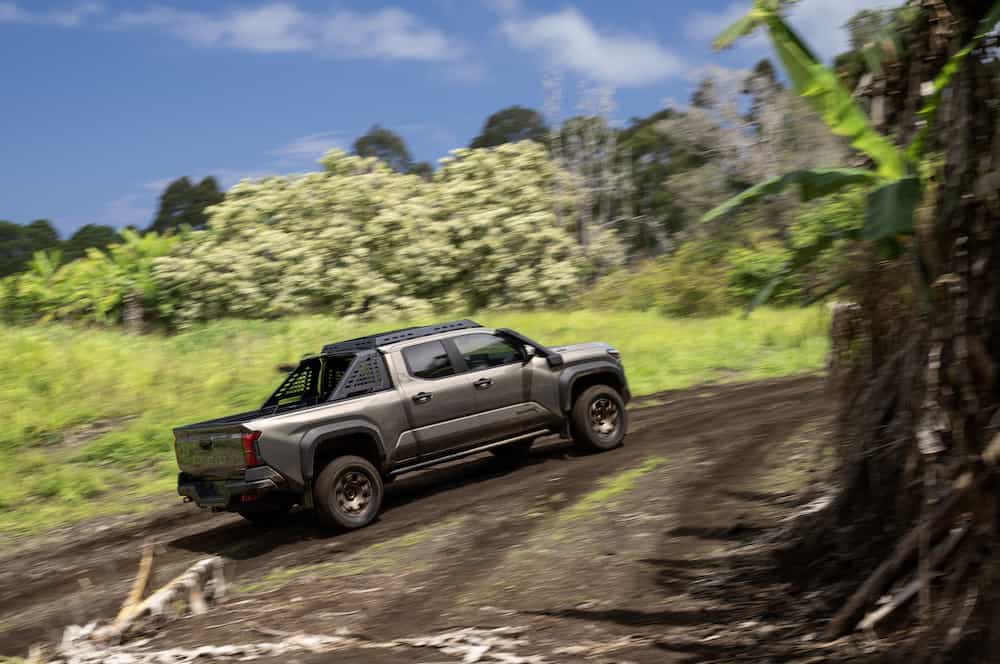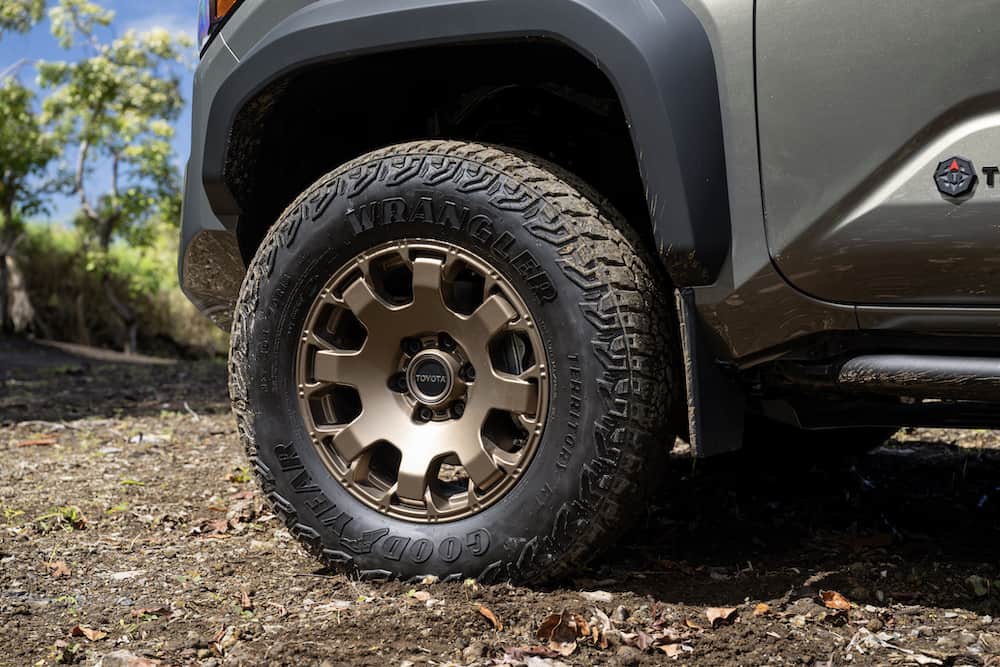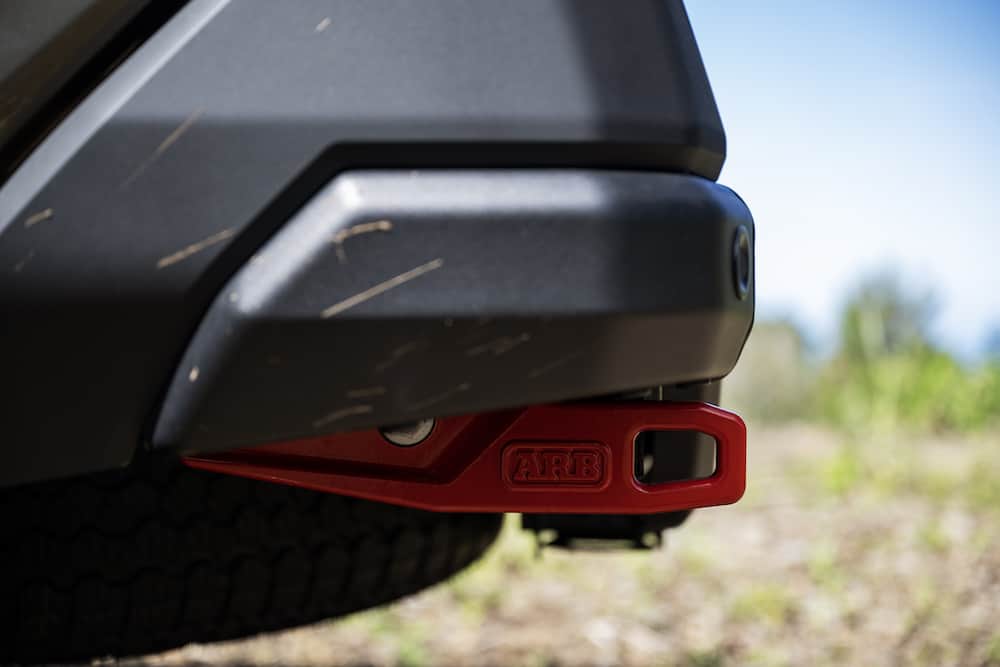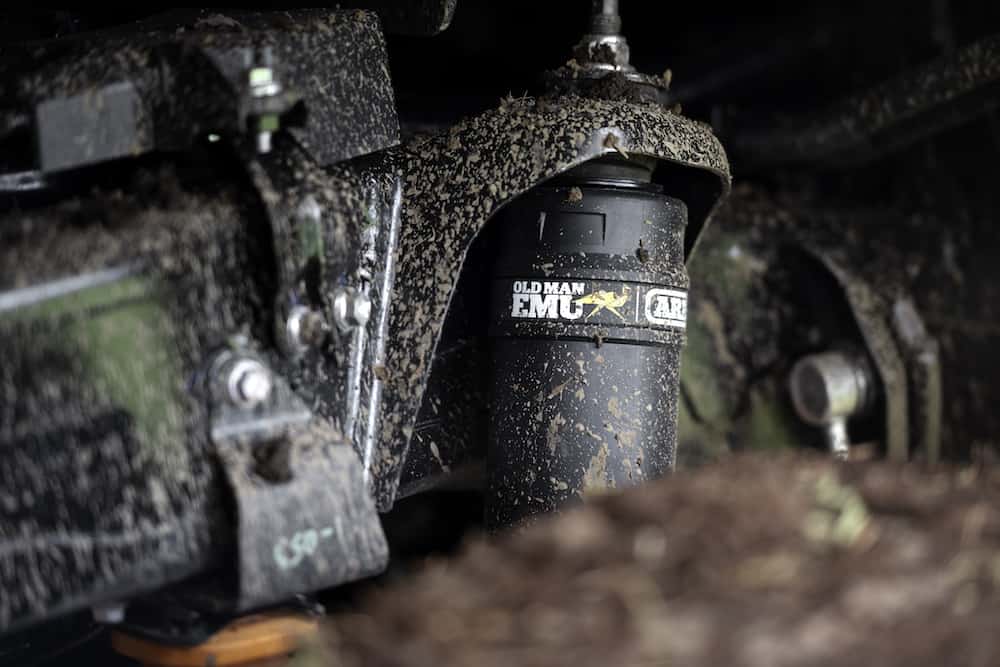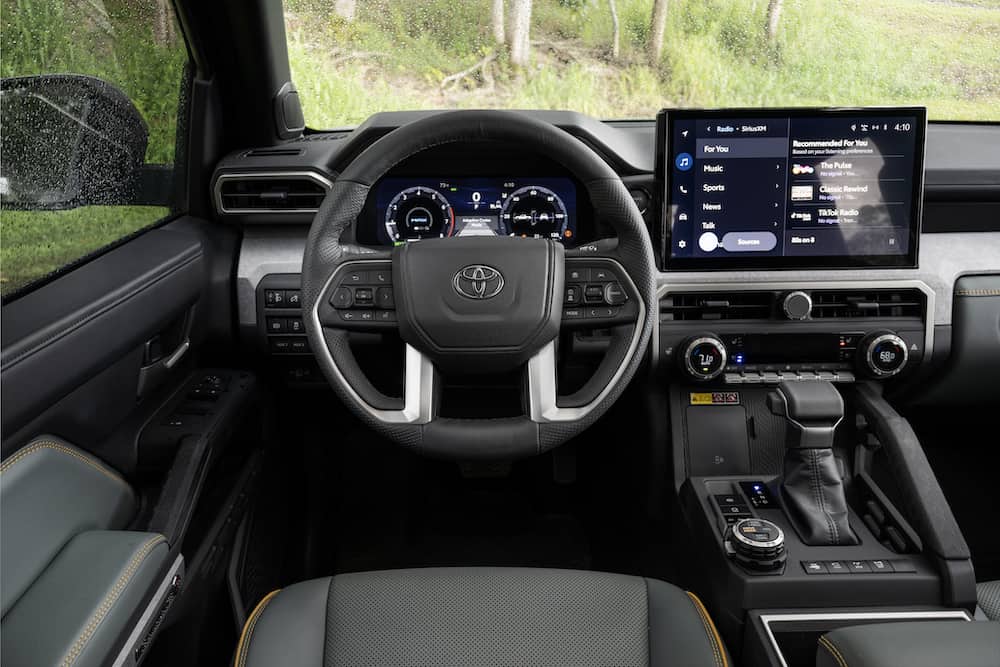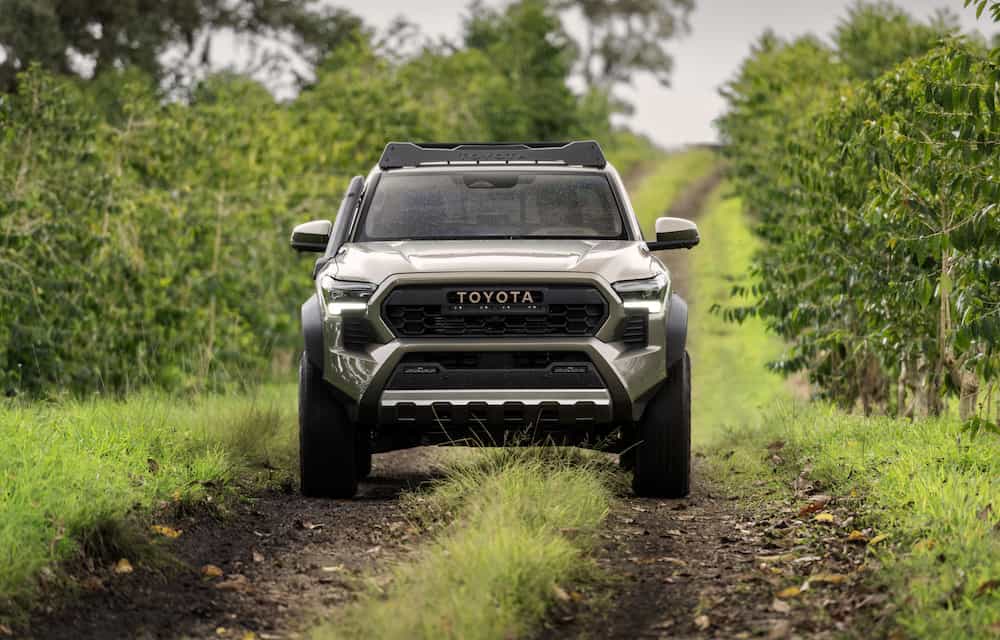 Go Faster with the TRD Pro
The newest generation of Tacoma TRD Pro takes its proven go-fast, desert running capabilities to new heights. Meticulously engineered for off-road enthusiasts, the TRD Pro boasts a host of enhancements that deliver an exhilarating and commanding performance. Red aluminum front TRD upper control arms optimize front geometry while reducing unsprung weight, ensuring precise handling and control.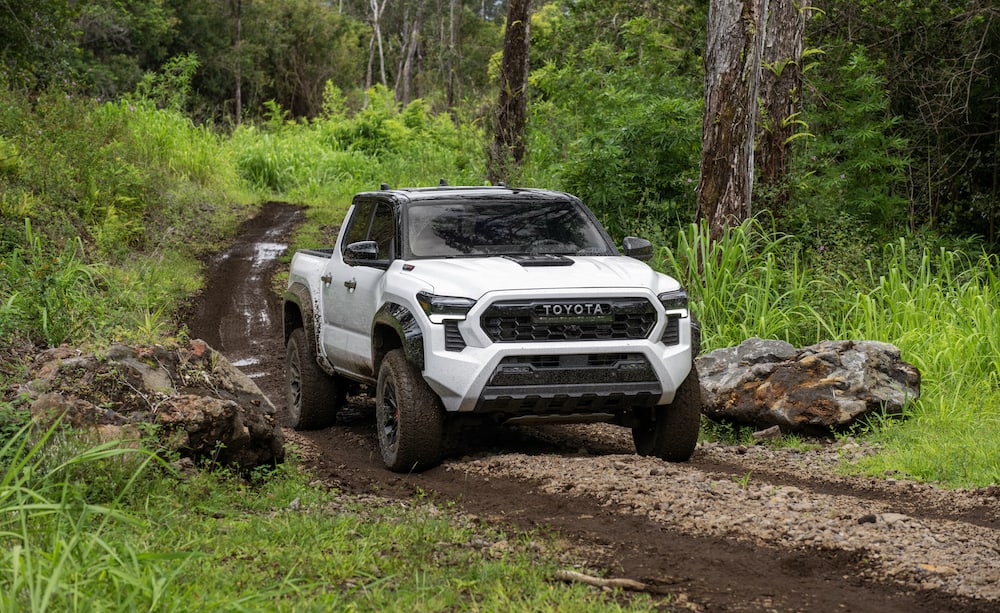 The star of the show is the remarkable Fox internal bypass 2.5-inch manual modal Quick Switch 3 (QS3) shocks. With convenient dials on the shock bodies, these shocks can be adjusted to three different settings, allowing drivers to fine-tune compression damping to conquer any terrain. And when it comes to tackling rough landscapes, the new multilink rear suspension, combined with FOX Internal Floating Piston (IFP) bump stops, provides a smooth and controlled ride, taking the edge off even the gnarliest trails.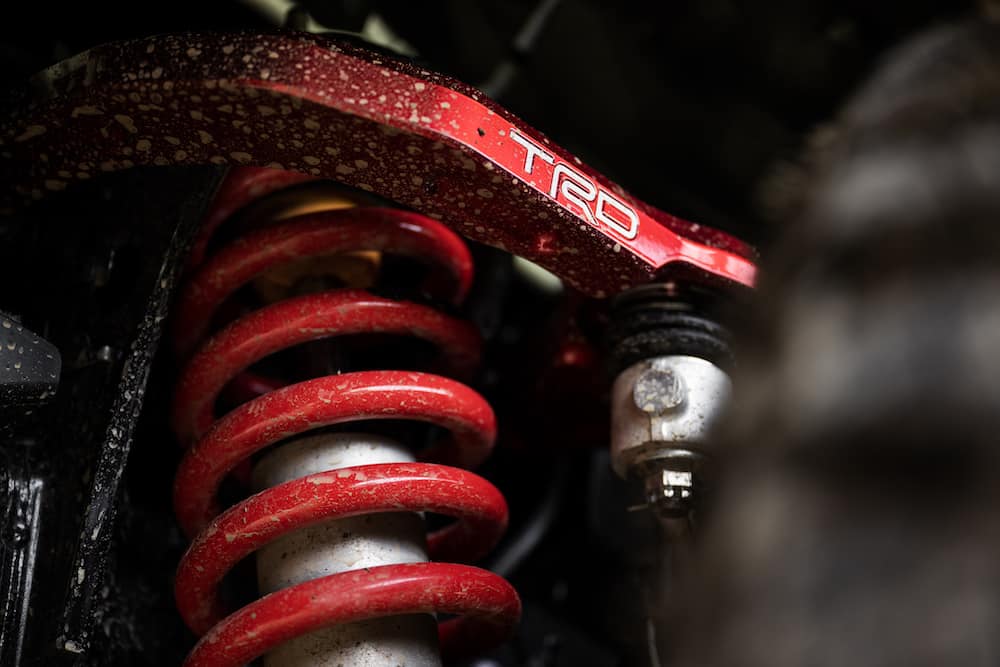 But the TRD Pro doesn't just excel in performance—it demands attention with its menacing stance. Sitting two inches higher in the front and an inch and a half higher in the rear, it exudes an aura of dominance. Wider than its Tacoma SR5 counterpart by three inches, the TRD Pro commands the road. Its black flow-formed TRD wheels are wrapped in 33-inch Goodyear Territory R/T tires, providing the perfect combination of style and capability.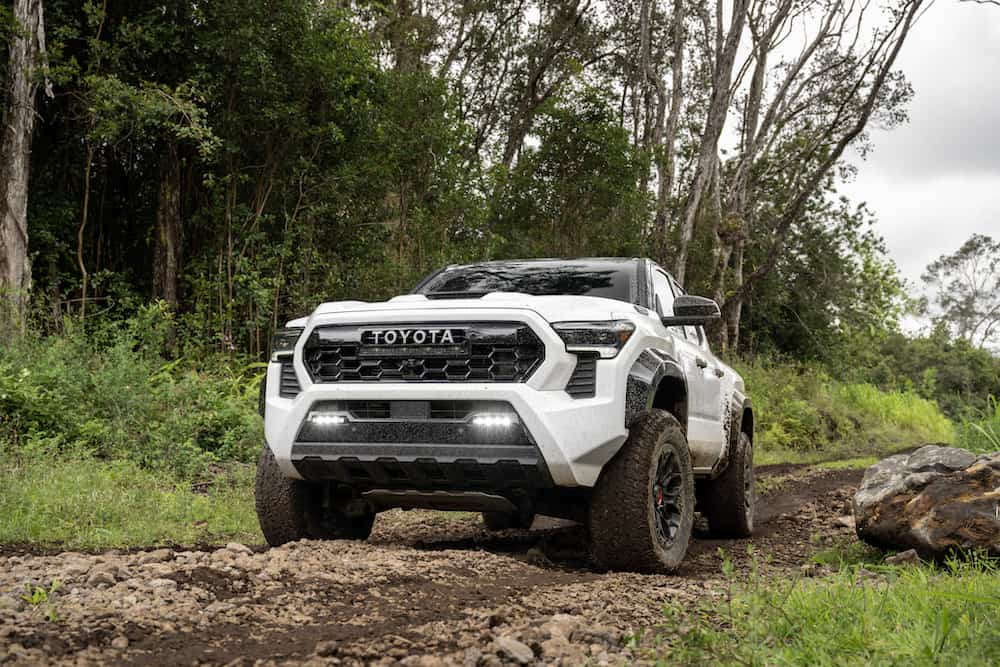 Efficiency is enhanced with the TRD Pro's standard i-FORCE MAX engine, benefiting from a TRD performance air intake and TRD cat-back dual tipped exhaust. Illuminating the path ahead, an integrated LED light bar seamlessly works with the LED headlights, optimizing the beam pattern for balanced light output and impressive range.
Additionally, a set of RIGID white LED fog lamps ensures heightened visibility in adverse weather conditions. Completing its rugged profile, the TRD Pro features a high-clearance ARB rear metal bumper with eye-catching red recovery hooks and an aluminum TRD front skid plate, ready to take on any obstacle.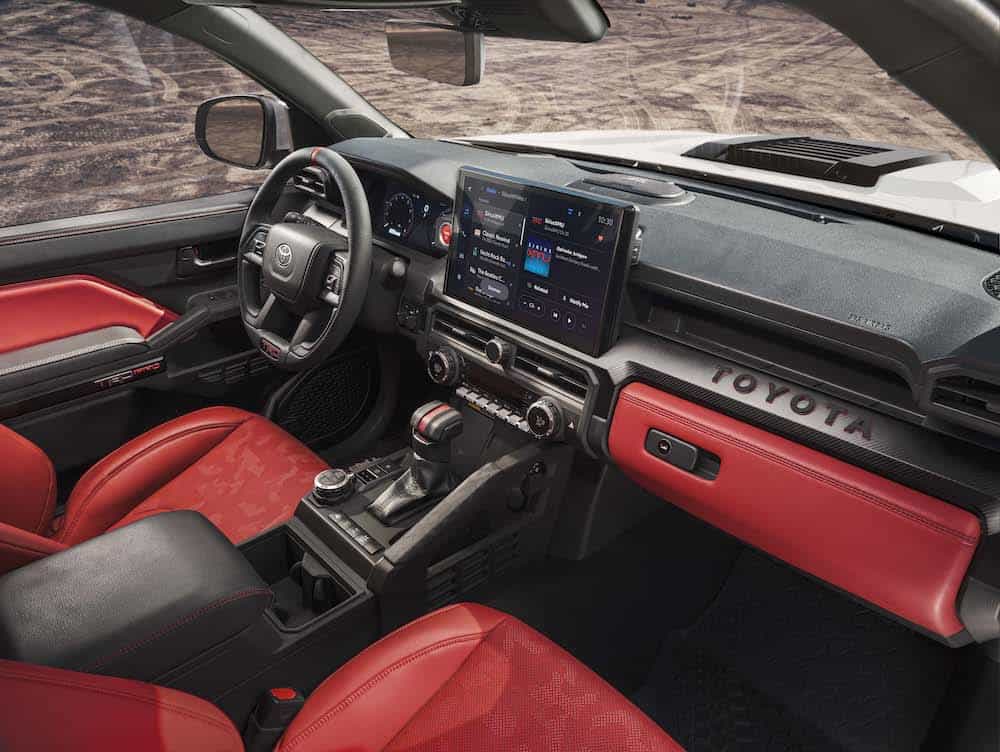 Introducing the Segment-First IsoDynamic Performance Seat, exclusively available on the new TRD Pro. This revolutionary feature brings a new level of comfort and confidence to the driver and front passenger seats. Designed to enhance stability and reduce fatigue on rugged trails, the IsoDynamic Performance Seat is a patent-pending innovation.
It employs an air-over-oil shock absorber system that simultaneously enables vertical and lateral seat movement. This unique technology effectively dampens body movement and stabilizes the head and neck, ensuring alignment with the spine. To further enhance the experience, the dampening effect can be adjusted based on body mass and occupant preference, allowing for a customizable and tailored ride. And for those seeking an unobstructed experience, the seatbacks are equipped with levers that bypass the dampening system if desired.
More photos of the 2024 Toyota Tacoma TRD Pro.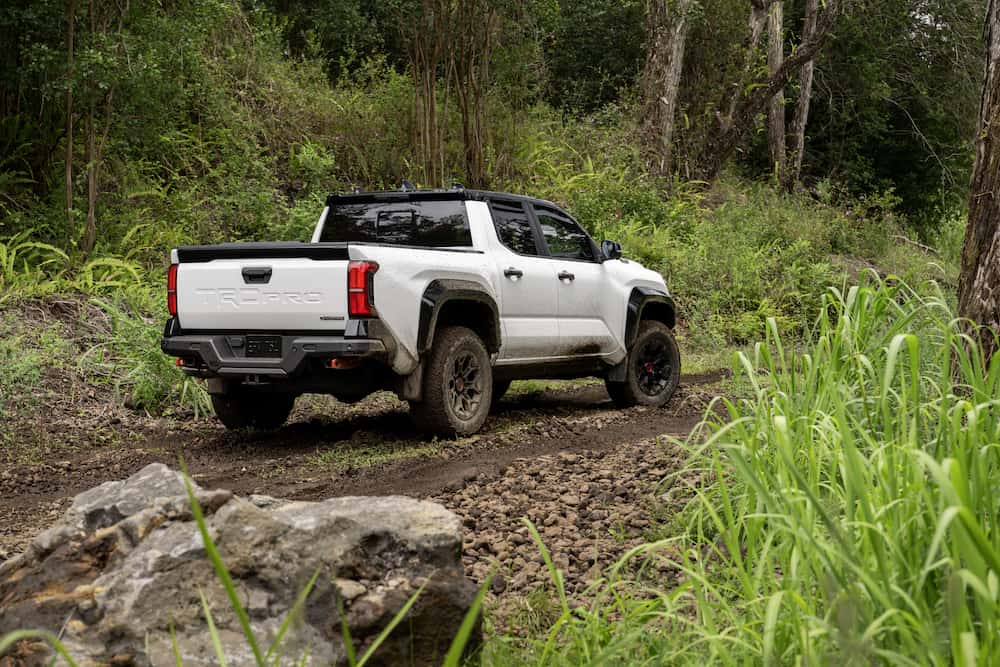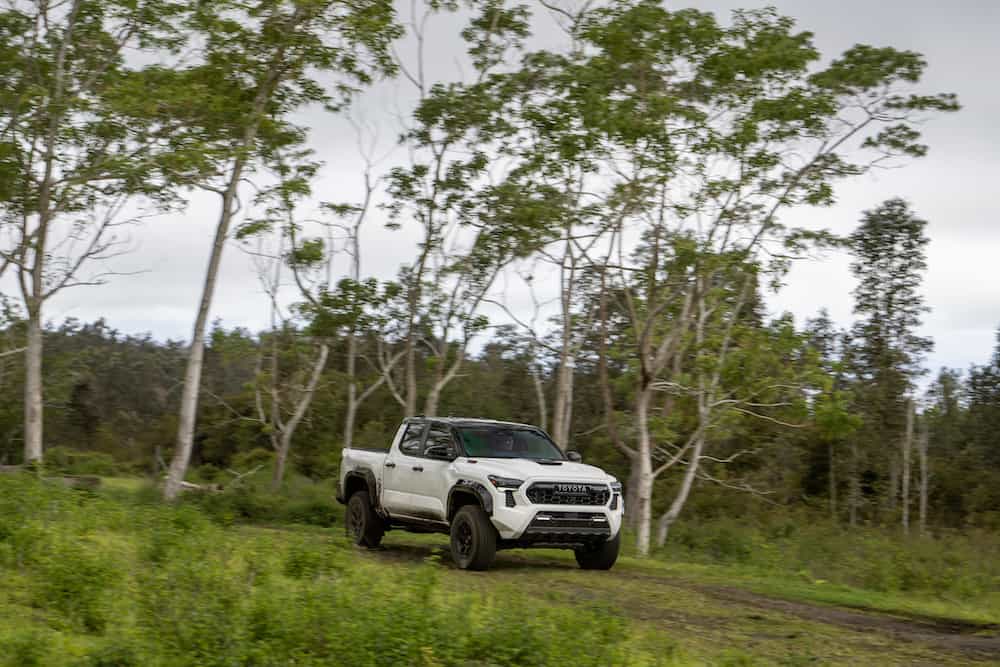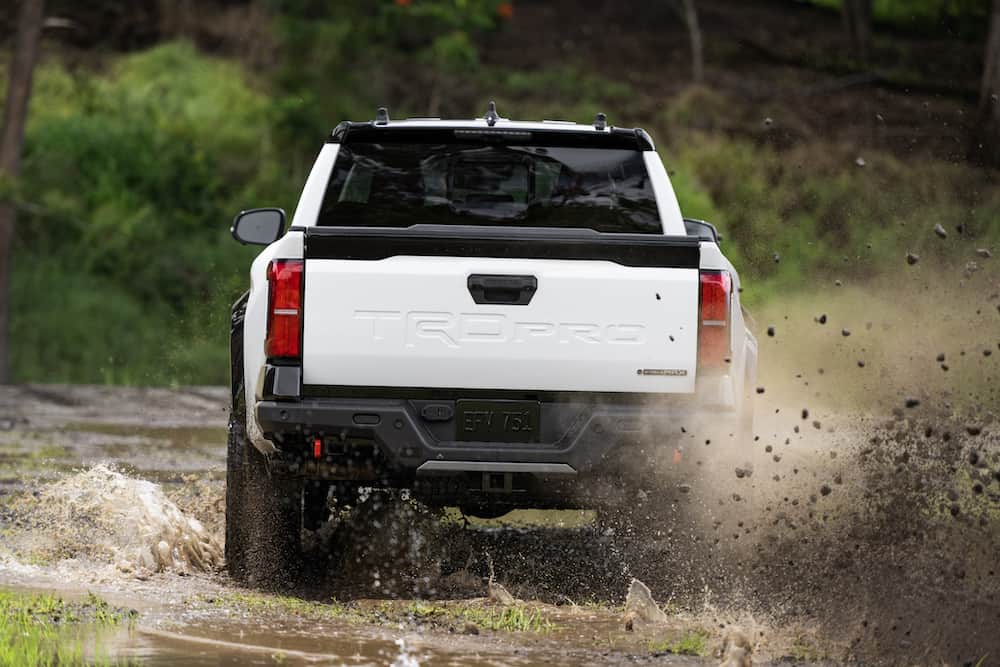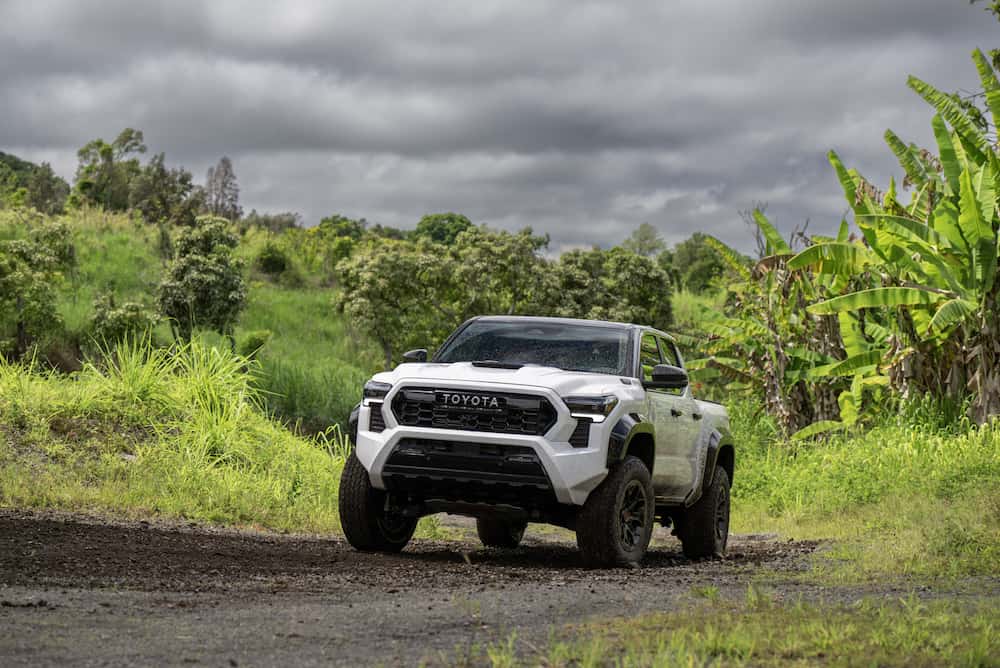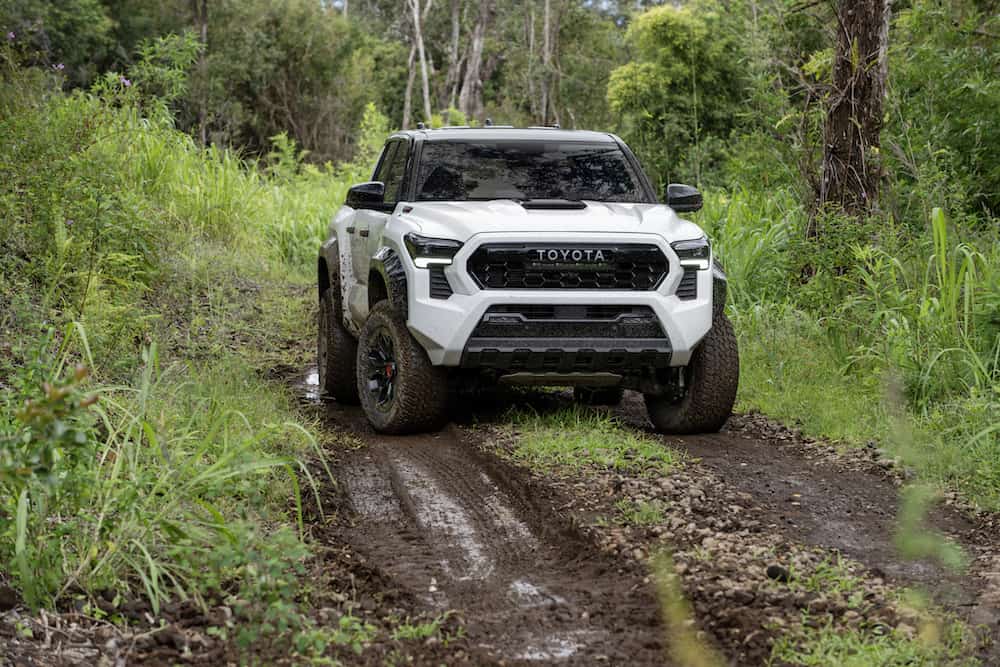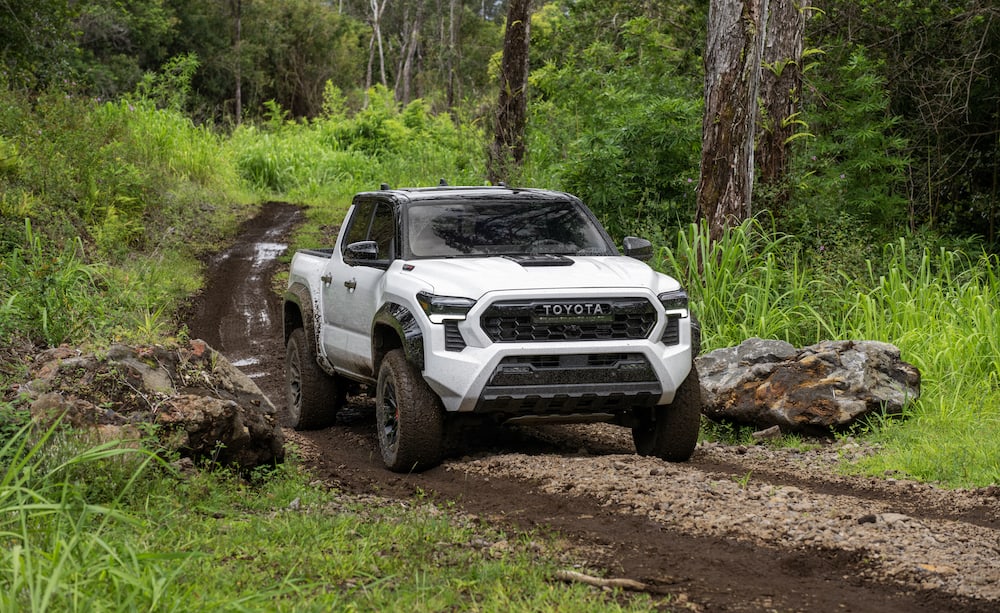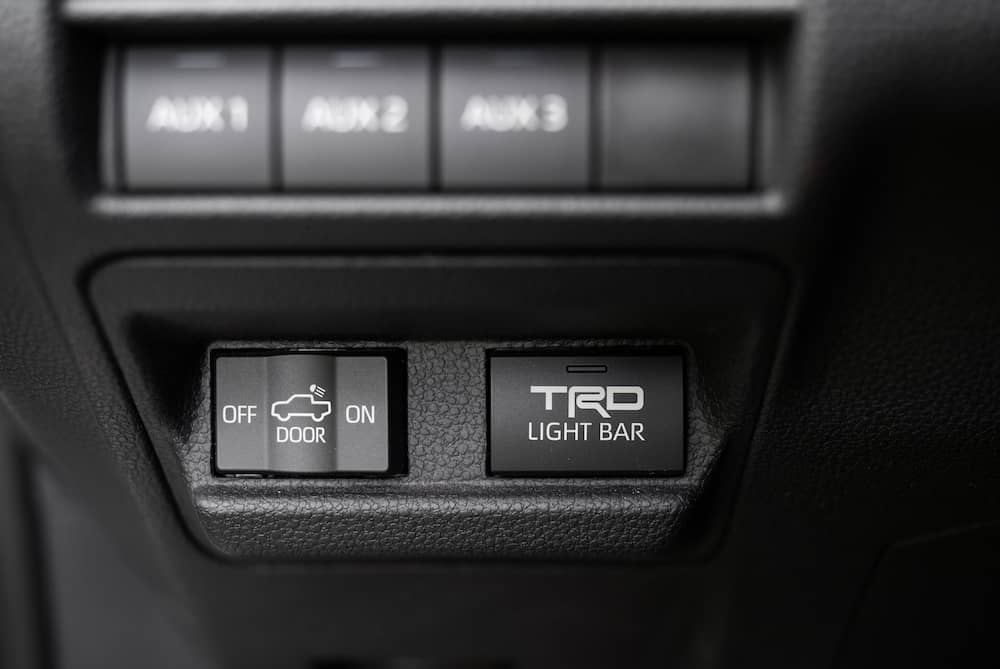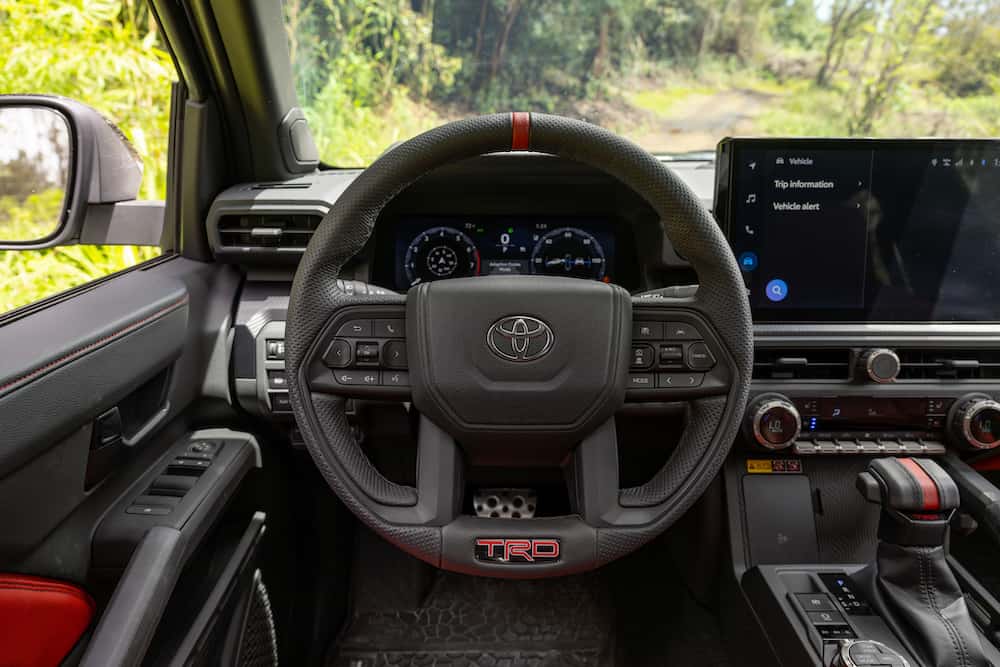 Is the New Tacoma Worth Your Consideration?
With an impressive array of features and enhancements, the 2024 Tacoma addresses the concerns of current Tacoma owners and exceeds expectations in numerous areas.
The competition in the mid-size truck market is fierce, with the updated Chevy Colorado and Ford Ranger vying for the top spot. If you're seeking a truck that combines unrivaled performance, comfort, and cutting-edge technology, the 2024 Tacoma is undoubtedly a worthy contender. We suspect it will also be Tacoma fanboy approved.