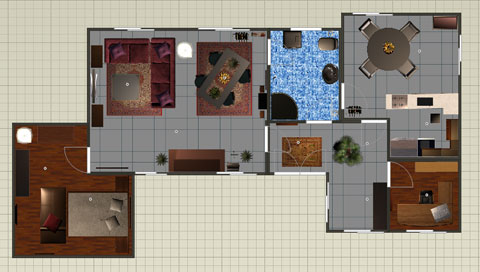 As technology and software keeps advancing the sophistication in 3D virtual room planning tools continues to grow. This list will help you find an online design tool that works best for you. All of these are free with so you can start designing your own room immediately and in 3D!
Homestyler from Autodesk
It's as easy as simply loading up the designer and start building your room by drag and drop. They've got over 15,000 items to use for designs from generic pieces to brand name products. You can save and share your designs on Facebook or email to friends and family. A great feature is the real photos of products as well as 3D imaging which brings your room to life.
Dwell is also part of this project and has labeled the product the Dwell Design Desk. The designs available to peruse in the gallery are fairly minimal at this point but look for many more in the future.
MyDeco 3D Room Planner
Their previous planning tool was sharp and is still available online but their new planner is even better. One of our favorite features is the camera angle so we can view our room from various vantage points. They also have a deep inventory of products to choose from but most are from UK based retailers but their US lineup continues to grow.
SketchUp from Google
To use this application it requires a download from Google and there is quite a steep learning curve but there isn't a better prosumer tool out there when it comes to being able to customize a room/building to your exact specs. The basic version is free but SketchUp Pro ($495) allows you to export your project into CAD or other professional program as well as create full presentations that include visual and text elements.
IKEA Room Planners
IKEA has launched 3 room planners. One of the kitchen, bedroom and office. You must download these apps and unfortunately they are PC only so we couldn't test but we think they could probably do better and go with a web-based app on their next try.
La-Z-Boy Room Planner and Stickley Room Planner
Both of these are from the developer Icovia. It loads quickly and shows the product nicely but the images are not the best quality. If you want plush leather go with La-Z-Boy if you want traditional wood go with Stickley. We suspect there are a bunch of other manufacturers and retailers out there with similar tools.
Try On a Floor by Shaw Floors
We visited Shaw Floors earlier this year and they mentioned a few of the exciting new things they are doing online and one of them being their new flooring application. Upload your photo, choose a floor and see how it looks. An easy way to test before buying.
Design a Room from Armstrong
This design tool is a bit dated but great for visualizing floor options. You can go with contemporary or traditional and almost every Armstrong flooring product is available to see.