I am participating in a sponsored campaign hosted by Advil®. I received compensation for this post. All opinions stated are my own.
Whether you're an avid DIYer or just getting started with tackling your own home projects, it doesn't take long to learn that there will always be that one project that never quite gets completed. Maybe time or money came up short, or life got too busy or took an unexpected turn, or you plain just got bored or discouraged  — whatever the reason, it's the skeleton in the toolshed we carry around while we tend to other tasks.
For me, it's finishing the built-in system in my children's closet.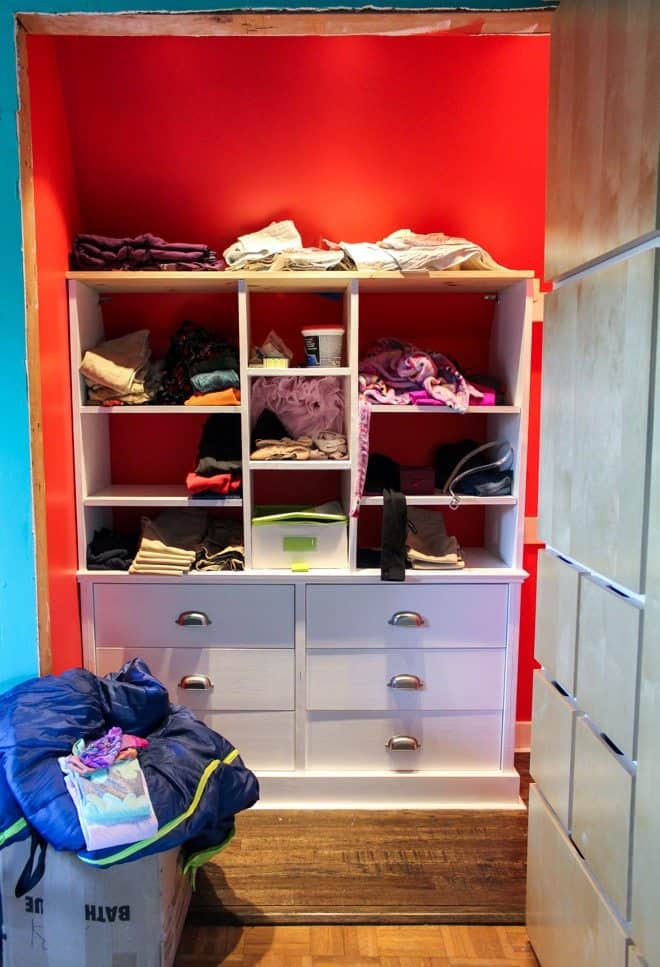 Mostly because I have to climb into this roughly 24"x30" space …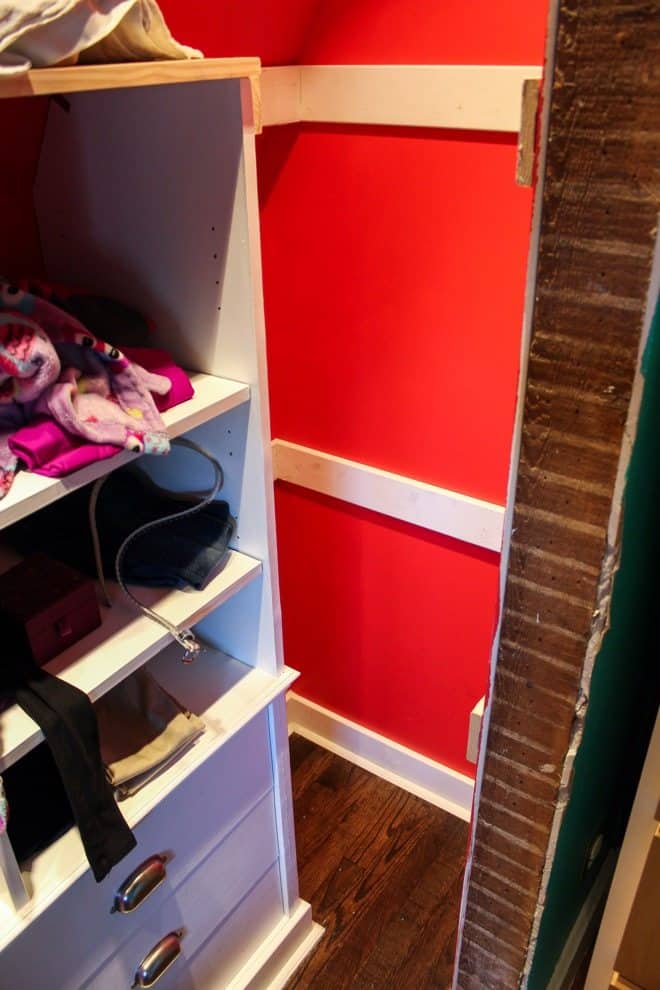 … to sand. And prime. And paint. And hang hardware. And eventually, add shelves.
You can tell, if you look closely enough, that I've obviously been meaning to get to this for some time, as a shelf in the actively-being-used system is occupied by sundry small tools and brushes, just above my daughter's ballet clothes.
I won't mention how long that hodge-podge group of supplies have been there, but maybe it rhymes with "clover a deer." However, now that school has started, I'm finally biting the bullet and committing to giving my kids a fully-functional and complete closet free of painters tape, sandpaper, and drill bit kits. And you can bet after spending a number of hours working hard in the August heat in the back corner of a closet, I'll be adding Fast Acting Advil® to my list of must-haves to complete this project.
If you have a project you've been putting off or struggling with, Advil® and home improvement expert Carter Oosterhouse want to help you tackle your tough DIY projects. Advil® is inviting YOU to share your home, apartment, and outdoor DIY projects on Twitter or Instagram from now until September 7th, using both of the hashtags #DIYrelief and #AdvilSweepstakes for a chance to win daily prizes. Those entries will also be automatically be placed in a drawing for the grand prize: a one-on-one video conference call with Carter, who will help plan and design a custom DIY project for your home, apartment or outside space, as well as a $15,000 CASH prize to use toward the unique DIY project.
There may only have a couple of weeks of summer left, but with kids off to school and cooler temperatures slowly creeping in, now is the perfect time to let Advil® help you end the season with a giant DONE sign on your problem DIY project, minus the aches and pains.