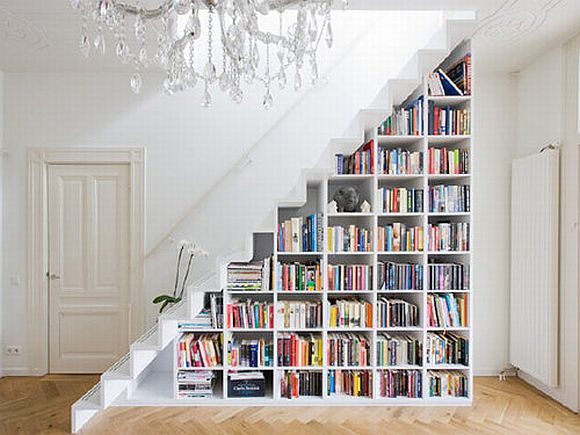 C&H readers, we're getting to be good friends. And if you haven't already noticed, I have a thing for shelves. Especially bookshelves. Maybe it's because I'm still lacking in storage space throughout my loft, or maybe it's because I've been a bookworm since the wee age of 5 — whatever it is, I can't get enough!
If you, like me, are a bookshelf fanatic, I have a new site for you, courtesy of the brilliant minds over at Shelterrific. The hilariously named Bookshelf Porn chronicles the amazing, the fantastic, and the downright brilliant when it comes to shelves, arrangements and configurations.

As I scrolled through a couple months' worth of posts, I also realized this could be a great site for DIY inspiration, especially if you're interested in adding built-ins to your home.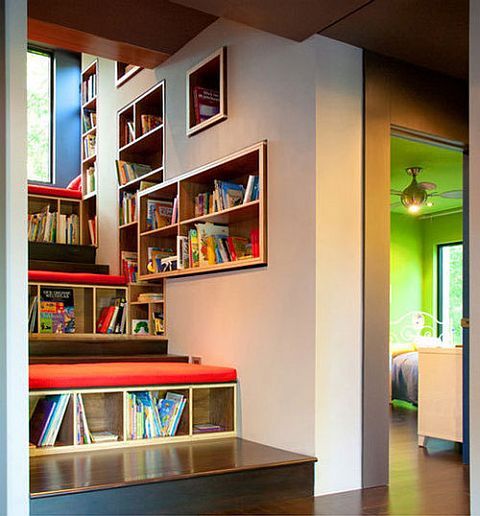 Or if you find yourself in a small living space, an idea like the one pictured above is a fantastic way to maximize every bit of square footage.
So now that you know my secret (I love bookshelves!) it's time to confess: what's your favorite design or functional element in a home?
Photos courtesy of Bookshelf Porn