In 2007 I had an opportunity to work with the team from Hachette Filippachi Media (now Hearst) to build and launch the first home design web portal of it's kind called Point Click Home with a fabulous editor, Anne E. Collins.
This website served as the online home of the design magazines, ELLE DECOR, Metropolitan Home, HOME Magazine and Woman's Day special issues.
Point Click Home no longer exists but I had an opportunity to work with one of the best home and shelter editors in the business who is now traveling the world as the better half of HoneyTrek.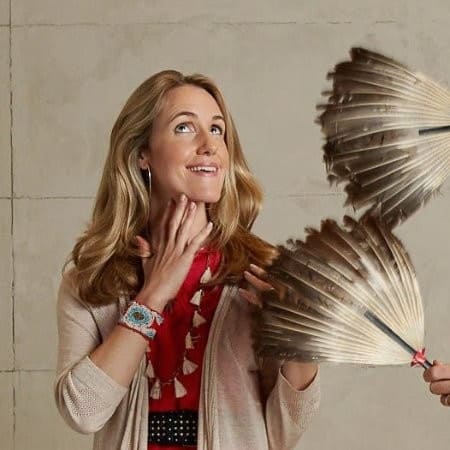 Anne E. Collins was also part of the initial launch team. Her responsibilities as the online curator of two revered design brands is enormous and straddling both print and web properties requires a unique skill set that few editors can adjust to.
We asked Anne a few questions about working in the shelter magazine industry as well as her insights into luxury design.
CH: You've worked in both print and online for stalwarts in the home decor magazines industry. Can you share your background and what it takes to be successful in your role as an online editor?
AC: I always knew I wanted to work in magazines so my sophomore year of at Franklin and Marshall College in Lancaster, PA., I took an internship at the region's lifestyle magazine. From that semester on I always tried to work in print of some kind–a literary journal, an events magazine, and a weekly newspaper when I studied abroad in Spain. Though the sad truth when I got to New York was that no one wanted to hire you unless you had "New York experience," so I was back to the drawing board with another internship, but fortunate enough to get one with In Style magazine.
It is funny how quickly you can get on a track; I worked in In Style's home design department basically packing boxes but that little home mention on my resume started getting me interviews at shelter books. Soon after, I took a job at House Beautiful and have been happily working in home design ever since. I adore this category and while I love writing and editing as a craft I probably wouldn't have thrived or enjoyed myself as much at a lifestyle or fashion magazine; it's the subject that keeps me ticking.
So that is one part of being a so-called successful online editor–passion for the topic.
Part two is adaptability. I had limited online experience when I heard HFMUS was looking for editors for their new website combining ELLE DECOR and Metropolitan Home, but the opportunity was too exciting not to apply. I taught myself basic html, studied up on SEO practices, started spending time on tons of interior design blogs and sites, and leaned on my web mentors (notably my boyfriend/founder of a ten year-old web company.)
Now that I have been here for nearly three years, it's a matter of keeping up with trends–what's new and clever on the blogs, what content the portals like Yahoo and AOL are attracted to, and what technology is available to help the site thrive.
CH: Being originally from print but creating for online, what are the key differences in building/writing/editing content for both platforms?
AC: The two are essentially opposite styles of writing. Writing for print is more of a structured art form whereas writing for the web is more of a creative experiment. The permanency of paper changes everything. Print writing is careful–from meeting word counts to multiple rounds of editor reviews–whereas web writing allows you to take more risks. To get noticed by a person perusing Yahoo Shine, Google spiders, or your own repeat visitors, you have to make your content stand out. There is no time for subtlety or modesty on the web–it's about featuring the best, the wildest, the must-have and the be-all and end-all of everything because that's what it takes for someone to stop from their busy day to read what you've got to say. But you can't just say those things for attention's sake, you have to strive to deliver the essential advice for your readers or at least entertain them for a while.
CH: As the executive editor for PointClickHome.com, how do you bring the vibrant and edited voice of ELLE Decor and Metropolitan Home into a relatively new home decor website?
AC: By encouraging the magazine editors to treat it as an outlet. The web is the place to show their personal side and share their quirky ideas, honest opinions and best advice. Also the web lets them do the things paper can't–live polls, quizzes, interactive shopping, and the ability to react to news as it happens. The interactivity is refreshing for both the readers and the editors and helps to build a stronger connection between the two.
CH: Can you share what design trends you've seen develop at the luxury level which no doubt has been in dire straights recently after years of upward momentum.
AC: Just because it's a bad economy doesn't mean people want to sacrifice quality. With online communities like Etsy, people can find that same level of detail, uniqueness but at better price points than many traditional "luxury" retailers. That said I'm seeing a bigger focus on handmade goods and the work of small independent designers. Also I think higher-end sites and magazines are making sure to include more affordable options and reiterate the message that good design is all about the mix–knowing where to splurge and knowing where to fill in and creating a home with character over labels.
CH: Where do you find inspiration for your blogs or editorial features?
AC: In terms of my blog, I've pretty much been obsessed with my apartment since we bought last year. We arrived with virtually no furniture so it's just been a slow but exciting process of decorating and experimenting. In terms of inspiration for features, it's about thinking beyond home design. It's about taking everything around you and seeing how design applies. With that mentality, the idea pool to draw from becomes infinitely bigger and so does the amount of people interested in your content. We often look to films, news, TV, the street, and Google trends.
CH: You must love home design. What are your favorite magazines (in circulation or not), websites, and home design television shows?
AC: The web is so much about wow-factor and two sites that always impress me are Crib Candy for decor, WebUrbanist for architecture, and Design Sponge for sheer beauty. In terms of print, aside from our own magazines, World of Interiors always inspires me. I watched every episode of Top Design: Season 2 for research purposes (we conducted exit interviews for all the candidates) but I'll admit, I got hooked!
CH: What cities global and nationwide are hot for interior design and leading the way with creative designers and buildings?
AC: Paris and London always, Rotterdam for its edginess, South Africa for its local artistry, and Dubai for its sheer audacity. The fact that Velocity Art and Design is based in Seattle makes me want to go there. And Red Hook and Rhinebeck, New York, always seem to have the most amazing vintage treasures. Also with the way production works these days, India, Indonesia, and China are making their mark on the many designers doing production there. Decorative motifs from these places often sneak into product design in Western ways while designers' street market finds show up in showrooms. So indirectly, these places are trendier than they seem.
CH: We'd love to hear your favorite interior design tip that aspiring weekend decorators would find helpful?
AC: Embrace wallpaper. Cover one wall in an oversized modern wallpaper pattern and 50 percent of your decorating is done. The key is to put it on the least prominent wall, so you don't get hit with it when you walk in a room, but appreciate it as you move around. As opposed to wallpapering all four, it reads like an art installation and without leaving holes in your wall.
More interviews
Kevin O'Connor, Host of This Old House
Shoshana Berger, Founder of ReadyMade Magazine