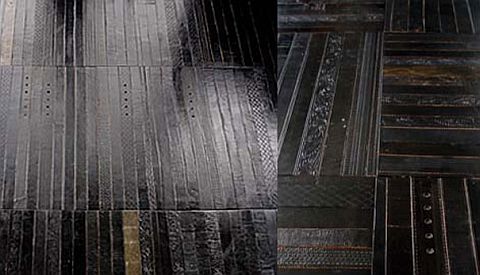 File this one under "What will they think of next?" You've heard about using reclaimed wood for floors, but how about accessories?
Ting London, the brainchild of designer Inghua Ting, has launched a line of floor tiles made from vintage leather belts. A group of in-house artisans selects belts that will later become tiles, a time-consuming process that typically leads to only one of four belts being picked.

Some have questioned the durability and sustainability of leather belts as flooring, but according to an article written by Wendy Cole of the Chicago Tribune (and summarized by 3rings), the belt tiles will absorb wear and tear similar to wood and, in the process, will develop their own patina as the leather continues to age.
You'll be the talk of the town with leather floor tiles, but be prepared. Priced at $75 per square foot, these tiles aren't the most budget-friendly option. Yet with regular waxing or even a quick scrub with a damp mop, the durable leather tiles will withstand moderate to heavy use while maintaining a rich, antiqued appearance.
Photo courtesy of 3rings
Would you opt for leather tiles in your home? And what material would you like to see converted into flooring?