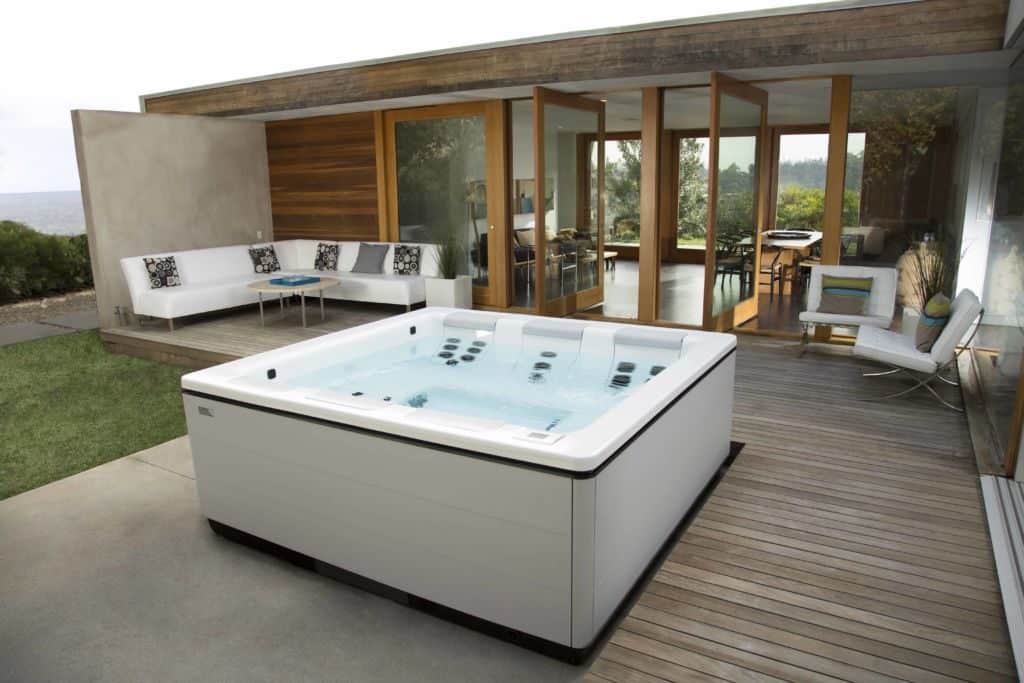 We've been living in Los Angeles for 10 years, and at the top of the bucket list for our home has always been a hot tub. There are a lot of design options when it comes to choosing a hot tub, but after months of searching we finally found a look that we love.
We moved into our 1940's Los Angeles home a year ago, and although it has a great pool, we really wanted a hot tub. A built-in hot tub isn't an option because we'd have to spend a tremendous amount of money to also re-do our pool and deck, and from our research it didn't look like a built-in spa had as many jet options.
So we spent months researching all of the above-ground spas, and we actually found it difficult to identify a spa that we felt worked with our style and what we want for our home. Until we came across the STIL series from Bullfrog Spas.
Our home is built in the traditional style, but our goal is to design and decorate it with modern accents and pieces. Our backyard has been neglected for years, but since moving in we've added vintage Brown Jordan chaise lounges and low-slung modern IKEA chairs. We have yet to complete the landscaping, but we've filled our yard with as many potted succulents as we can.
Modern Hot Tub Design
To complement this look we wanted a hot tub with simple clean lines, both inside and out. We were originally drawn to the simplicity of cedar hot tubs which reminded us of Japanese ofuro soaking tubs, but we're a family of four that likes to entertain, so these types of tubs just aren't practical for us. They also require much more maintenance than we have the time and patience for.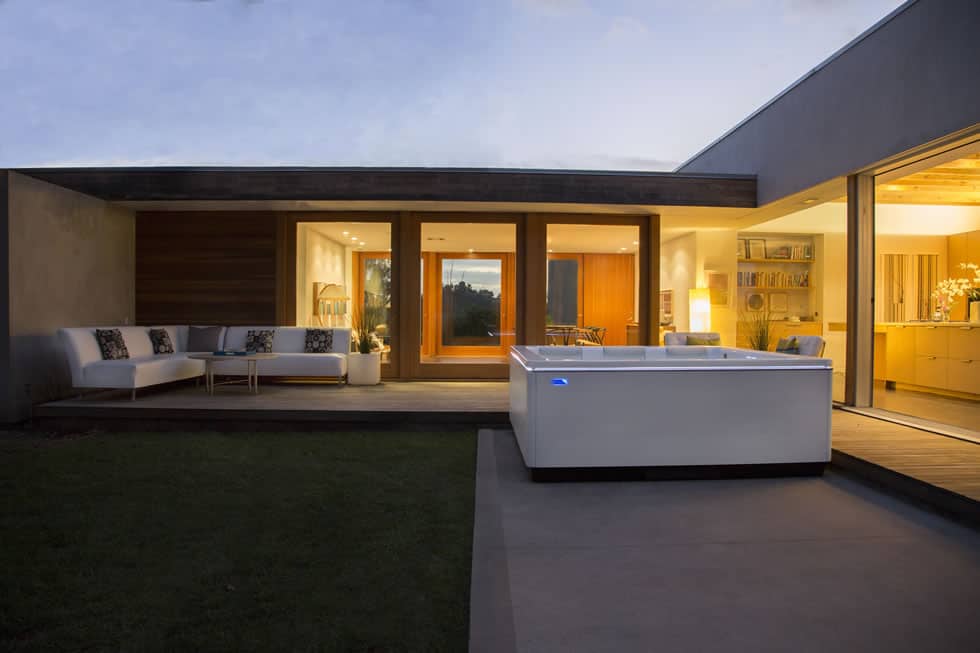 The STIL Bullfrog Spas are quite a leap from the cedar tubs. Their minimalist aesthetics are similar but that's where the comparisons end. Underneath the modern clean lines of the STIL lies a technological marvel in the world of hot tubs. Really, every other hot tub seems stuck in the stone age compared to the STIL.
JetPak Therapy System
We were initially drawn to the STIL7 because of its award-winning modern design, but after learning about the personalized JetPak massagers, we were sold. Laura and I are both active and workout regularly. Hours spent in the spin studio and on the jiu-jitsu mats takes a toll on our bodies, but there is no better way to recover than with a therapeutic jet massage.
When customizing your spa you can select 3 of 6 different JetPaks, that can all be interchanged and placed in different locations along one side of the spa. This is a game-changer for our health and wellness, as well as our savings from the regular massages we used to get.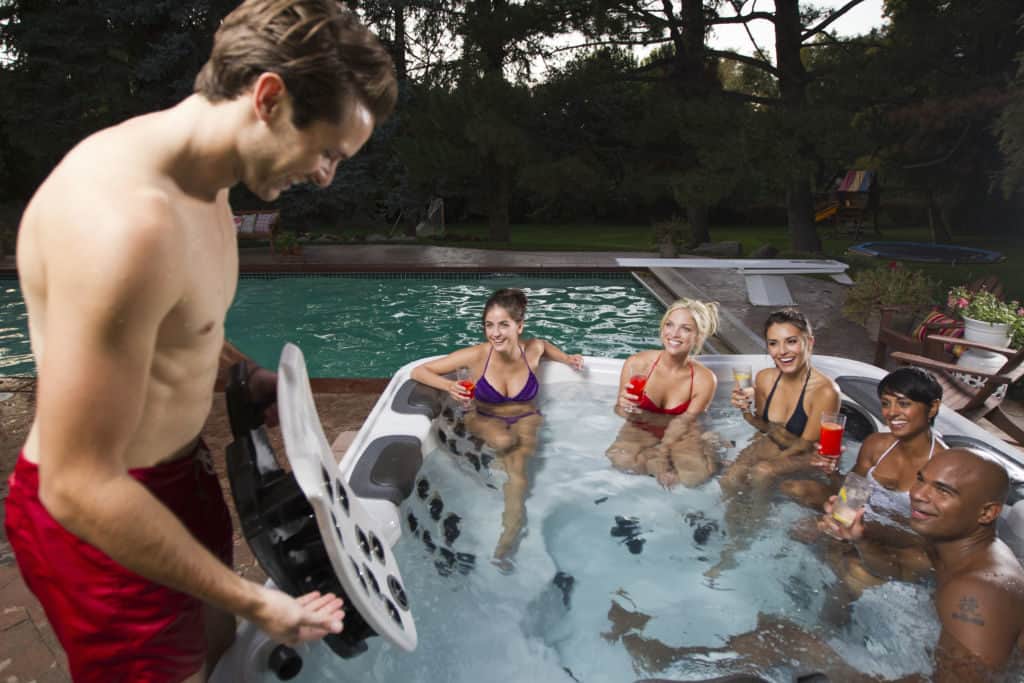 Beyond the JetPaks, the other major design choice is color. The STIL7 interior is only available in a white snow color which was perfect for us, but we could choose between a slate or chestnut brown exterior color. We went with slate which matches everything, but could see the chestnut color working well next to a home with wood siding or on a deck.
The final design aspect of the STIL spa that we loved was the open-concept seating. Instead of molded individual seats, the STIL7 designed like a large square tub with bench seating that face each other. This makes maneuvering between JetPaks much easier, and allows for a sense of movement within the tub without being restricted by the the contours of the spa. The bench seating allows for you to sit upright or reclined and has jets to service whatever areas you need.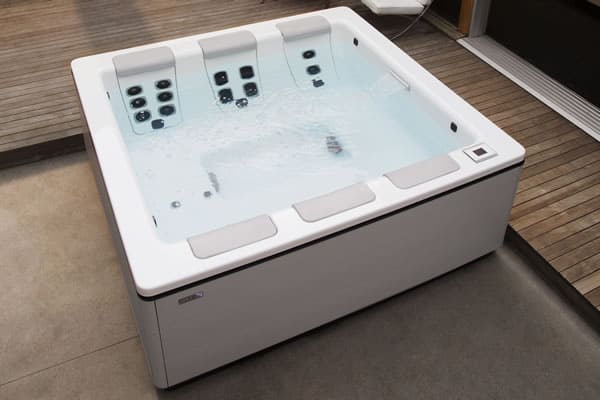 Booming Sound System
We've always got music playing in or around our home. We love our Sonos home audio system indoors, and always have a bluetooth speaker set up outside. But the STIL7 has an integrated sound system that includes four speakers that wrap you in the music of your choice. The speakers are marine-grade and completely waterproof, and the system is compatible with any smartphone.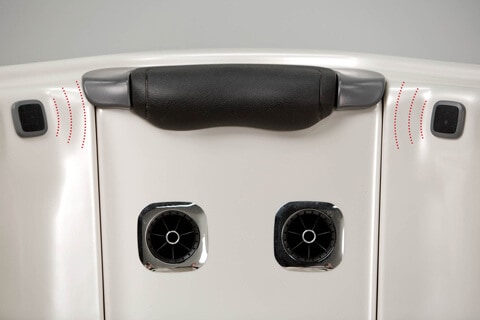 The Bullfrog sound system has plenty of bass and we can crank it up for a full party or enjoy some soothing sounds when we just want to relax.
We've only had the hot tub for a couple of weeks now, so we'll report back soon with more details on how the JetPaks Therapy System functions and details around maintaining the spa using the Simple Water Care System.