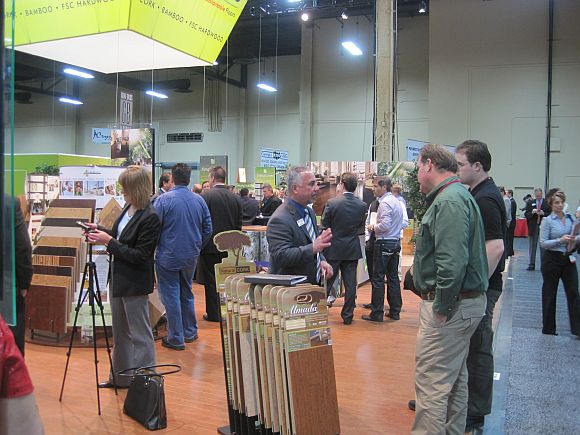 We recently traveled to Las Vegas for SURFACES, and for 2.5 days were immersed in the world of flooring. This was the first year that SURFACES co-located with StonExpo/Marmomacc Americas, creating a show that focused on both flooring and stone products.
Although consumers tend to only purchase flooring every eight to 10 years, it can be the second most expensive purchase made (aside from the cost of a home) and one that requires planning, budgeting and research.
To help narrow the playing field, we've picked some of our favorite products from this year's show.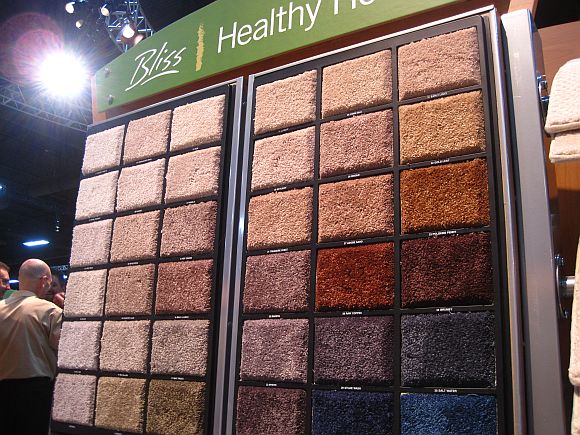 Bliss carpet by Beaulieu
Although hardwood, stone and tile flooring tend to dominate advertising and the media, 60 percent of flooring purchases fall under soft types, or carpet. Billed by Beaulieu as "the nicest carpet in the world," the Bliss line offers a variety of innovative features that can help you find an ideal carpet for your home. New technologies such as Magic Fresh (which reduces common home orders) and Silver Release (an anti-microbial carpet treatment that inhibits mold, mildew and the growth of odor- and stain-causing bacteria) make Bliss a high-performance line of carpet that can keep up with a busy household–and still look fantastic. For more information, visit www.blissflooring.com.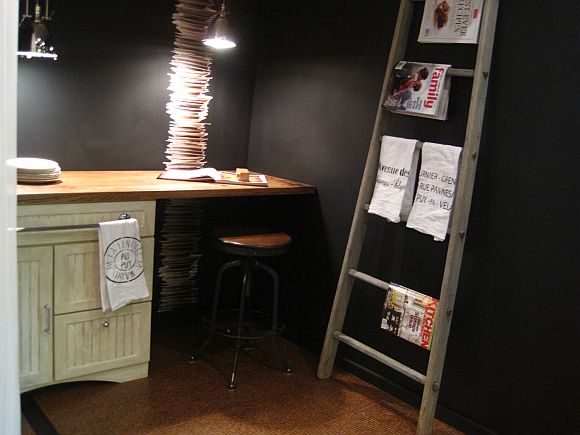 Cork flooring by Real Cork Floors
We mentioned it in a previous post, but it's hard to beat cork flooring if you want a durable, long-lasting floor covering that's sustainable and eco-friendly. The great thing about cork is that by using various heat treatments and other processes, the look of the cork will transform, creating dozens of varieties that fit a range of rooms and color schemes, as seen above in one of HGTV star Candice Olson's vignettes.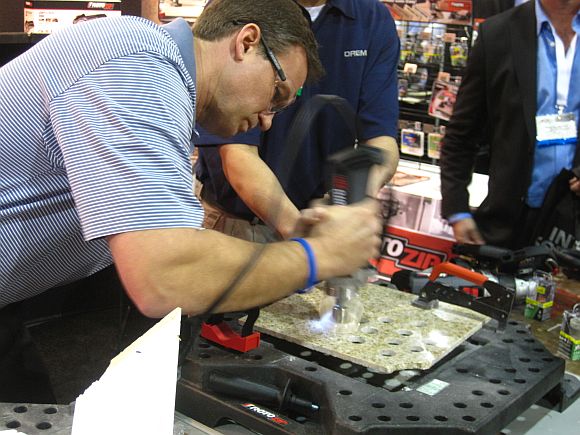 RotoZip XCORES high-speed tile hole saw
Need to drill a hole in a hard material like tile? It's no match for the RotoZip XCORES tile hole saw, which easily penetrates materials like porcelain, granite, marble, slate, ceramic and stone up to 3 cm. thick. You don't need to use water during the process and can drill through materials in about a minute or less. The XCORES operates at speeds ten times faster than traditional tile saws and lasts four times longer, according to the company. Visit www.rotozip.com for more information.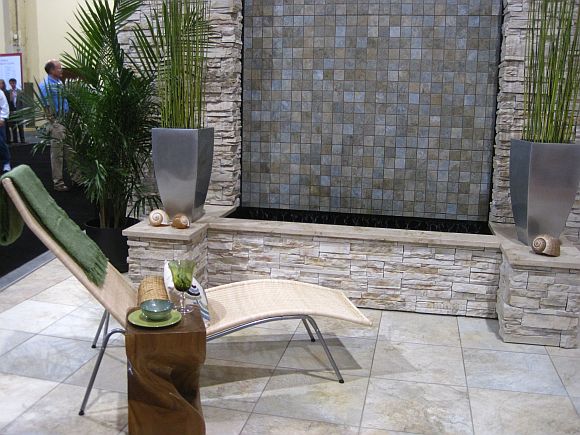 New lines from Daltile
Tile is a versatile material and, as seen in the above vignette, can be applied to floors and walls to transform a room. While at SURFACES, Daltile introduced several new products that are on our radar, including:
* Del Monaco, a glazed porcelain tile inspired by the look of travertine and available in four colors.
* Sandalo, a floor and wall combo that integrates glass, colors and a full trim package.
* Spark, tile that mimics the appearance of linen fabric and exudes a slight shimmer.
* Terrace, porcelain designed to simulate hardwood that is ideal for areas that need the performance of a tile floor, such as the kitchen. Terrace tile even features wood grain and knots, and is designed with a tight grout-joint since wood isn't normally grouted. Additional product information is available at www.daltile.com.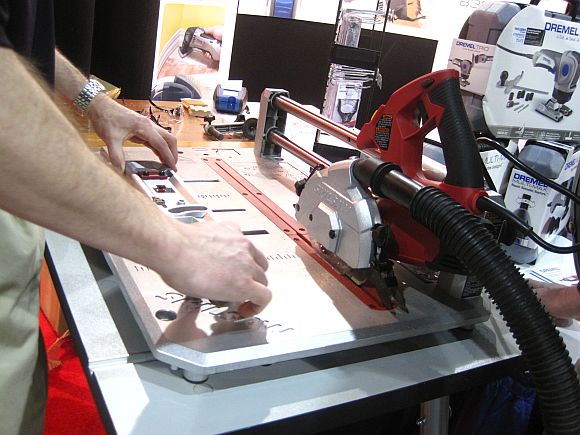 SKIL Flooring Saw
Although hardwood flooring may make up the minority of purchases in the flooring industry, there's no denying the classic appeal and versatility of the material. What was once a time-consuming installation has been cut in half (no pun intended!) by the SKIL flooring saw, the first tool that combines a miter saw and table saw to create a single, powerful workstation that can easily be transported around a job site.
"The SKIL Flooring Saw allows do-it-yourselfers and installation professionals alike to leave their bench top tools in their workshops and upgrade to a multi-functioning saw that makes clean cuts which will impress even the most seasoned flooring installers," according to the company.
The saw can cut through hardwood, laminate and engineered flooring. For more information, visit www.skil.com.