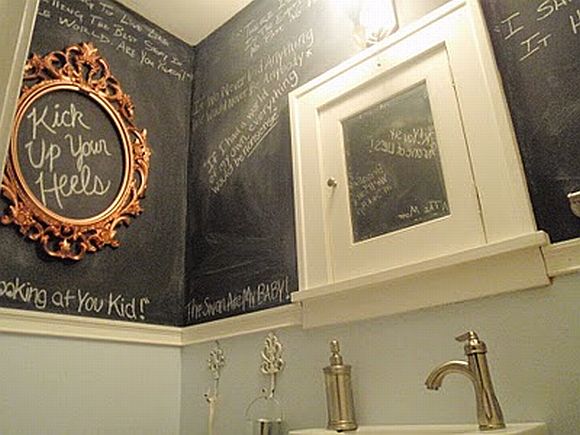 One of the greatest things about DIY projects in your homes is that rooms are a blank canvas. Sure, there are some practical considerations to keep in mind, such as budget, skill, time, etc., but when faced with redoing a room, you can let your imagination run wild–and the results, as seen in Alex and Carla's newly finished mini bath, are fabulously one-of-a-kind.
We stumbled on the adorably named "Hammers and High Heels" blog and immediately added it to our reader. The couple is in the process of renovating a 1924 Dutch Colonial home in Minneapolis.
The mini bathroom was one of many rooms in need of a facelift. The couple had already applied a fresh coat of paint and a new sink, but after Carla was hit with a burst of Internet inspiration, they decided to go in a new direction: chalkboard paint.

The chalkboard paint was applied to the top half of the bathroom, while a clean white trim and light blue paint makes a pleasing contrast for the room's bottom half. Add in some whimsical touches, like an Ikea frame, and you've got a completely custom bathroom that's as much fun as it is practical.
If you've got a project to share, we'd love to see what you've been up to! Send information and photos to [email protected]
And, in the meantime — how do you feel about chalkboard paint in the bathroom?
Photo courtesy of Hammers and High Heels