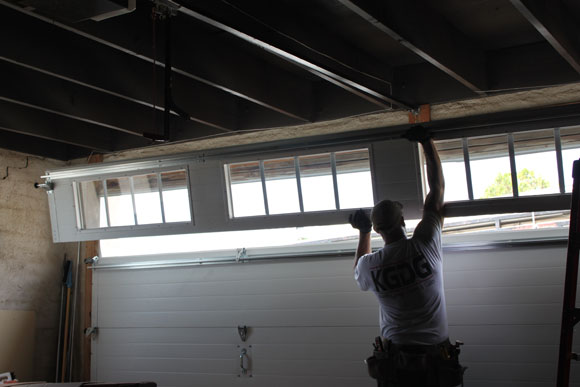 In 1983 we moved to a home on the Northeast side of Tucson that has continued to serve my parents well. They've done a great job taking care of the home and invest wisely when it comes to redoing the roof, laying down tile and paving the driveway. The home hasn't aged a bit, except for the garage door which was on it's last legs.
The home didn't come with a garage door but after a few items were stolen from our garage (our bikes) my parents installed a garage door. To beat the desert heat it was best to go with plain white which also matched the exterior of the home and over the years they've replaced the garage door motor and some of the hardware but kept the same door.
Here are a couple before photos of the interior and exterior of the door. It was a basic steel door with absolutely no character, similar to what you might find on a track home.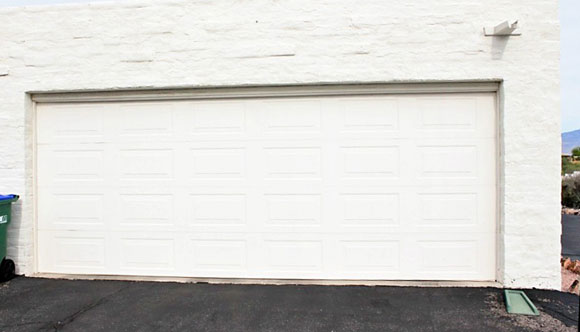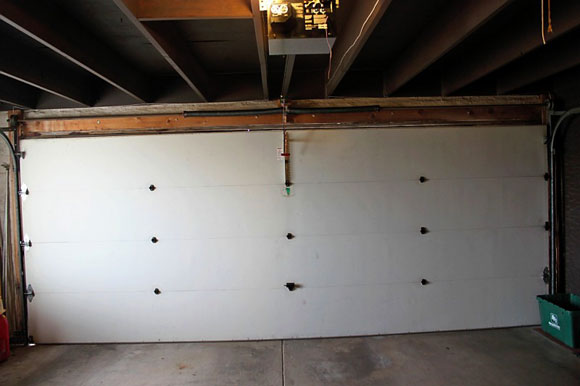 After working with Clopay and seeing some of the energy saving advancements as well as new garage door designs I approached my parents about installing a new door. They fell in love with the Steel Gallery design and had always wanted a garage door window for the extra light. They also wanted to retain energy and so they chose the 2″ polyurethane which has a 18.4 R Value which is important in the 110+ degree Arizona summer heat.
We used the Clopay Garage Door designer on their website and selected the door style, insulation, hardware, color and windows. We used a photo of the house and we were able to see how the new door would look before making the commitment.

Mike from Kaiser Garage Door came to do the install and in under three hours he had removed the old door and installed the new one. He replaced almost all of the old track and installed a new spring and the door hardware on site.
Most garage doors arrive in sections from the factory and are pre-made to the homeowners specifications. This door had four panels with the top panel holding the windows.
The smooth action of the new Clopay door was a huge improvement over the old door and although the new style is conservative it still adds a nice touch to the door and my parents feel they have the best looking garage door in the neighborhood. Curb appeal has definitely been improved!!!
Here are a few photos from the install and you can view the complete set on our Facebook page.