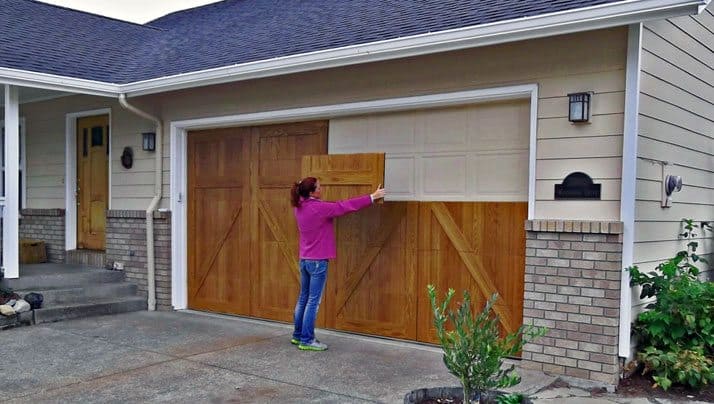 Street facing metal garage doors are a tough design problem to overcome. But Rick Medlen of Creswell, OR who invented GarageSkins has the answer. This product will allow any homeowner with a standard metal overhead garage door to add the look of a real wood carriage house door in under an hour and for less than $1000.00
These patent-pending do-it-yourself panels attach directly to your existing metal garage door via the embedded rare-earth magnets and mesh together to give your basic metal overhead garage door the look and feel of a high-end wooden carriage-house styled garage door, including wrought-iron decorative hardware.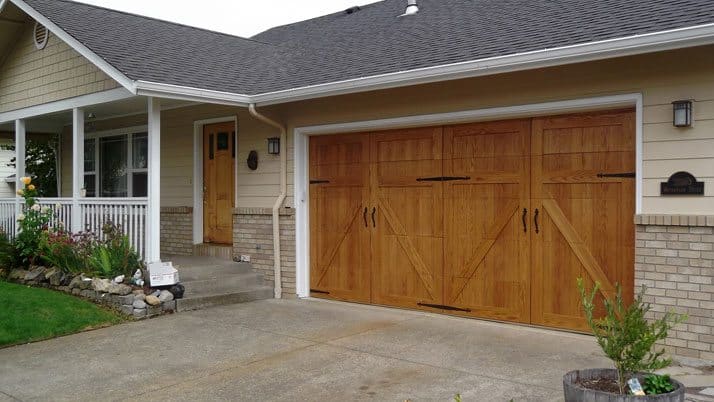 Sold as a kit, the entire system weighs between 30-40 pounds for a standard 2-car garage door, and can be installed by anyone in under an hour. GarageSkins panels are designed to work seamlessly with your existing metal garage door, allowing the door to open and close just as before. There is no alteration necessary to your existing garage door; you simply attach the magnetic panels and enjoy the look of your new door. GarageSkins are manufactured in Eugene, Oregon using the finest wood veneers and materials.
An alternative to GarageSkins is painting your garage door. You can use a product like Giani Wood Look Paint and Giani Decorative Magnetic Garage Door Window Panes to completely transform your plain white garage door in less than 3 hours.
You can simply use the paint which is a water-based acrylic that is safe, low odor and VOCs, but designed for outdoor durability and weather resistance while covering up to 200 sq ft. Or pair it with the decorative panels for an even more transformative look.