You don't have to live with unsightly concrete cracks in your patio or walkway. Sakrete Concrete Crack Filler is a ready-to-use, polymer-based repair material that is designed to fill and seal cracks in concrete. By using this product you'll prevent existing cracks from getting bigger.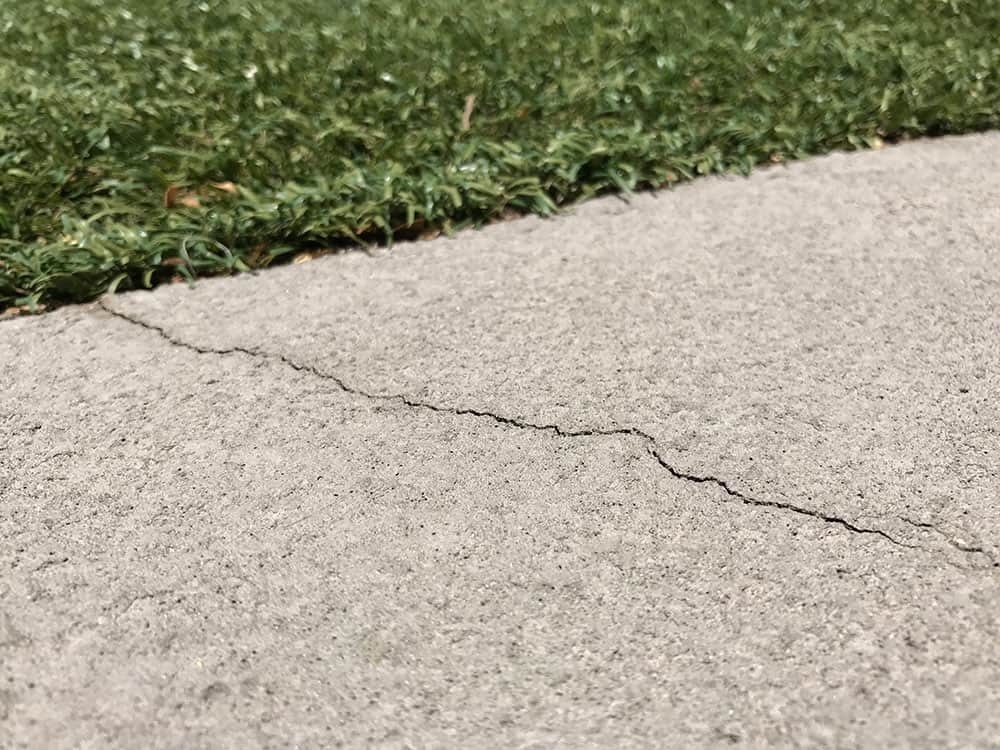 We've been living with concrete cracks in our backyard for years. In some areas, we have them covered with an outdoor rug, but in most spots, we have just resigned to living with them. We've noticed over the years that they have widened and in some places the concrete is starting to chip away, which is a really bad sign. The best way to prevent cracks from getting to this point of deterioration is to fill them, which seals the crack, preventing water from eroding it even further.
Honestly, we have some cracks that need Sakrete concrete filler because they keep getting worse, but most of the others can be repaired using the crack filler. The process can be done by anyone, but it's important to read the label and follow the instructions to achieve the best results.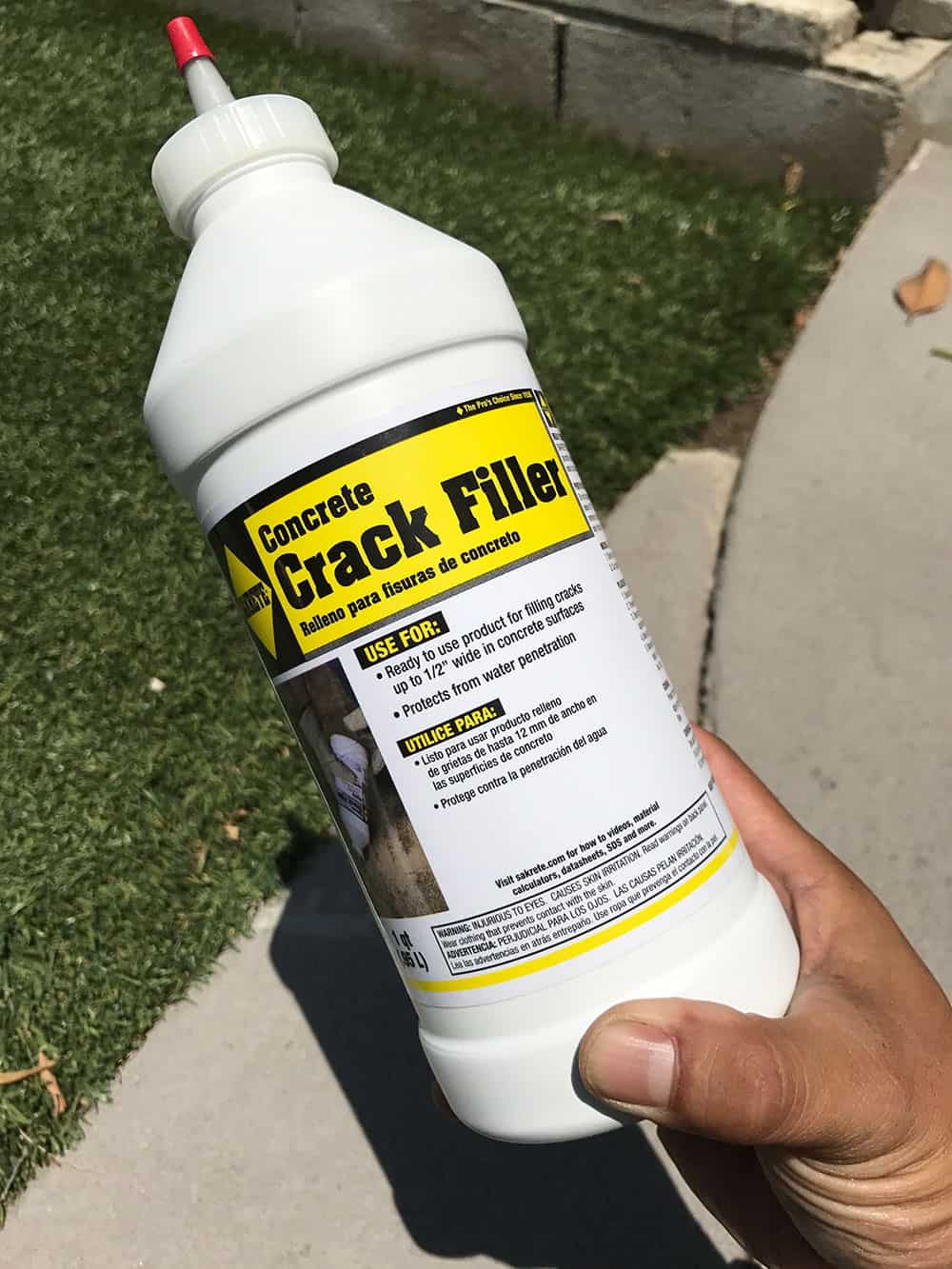 Sakrete crack filler can be used on cracks with a maximum width of ½-inch and a maximum depth of ¼-inch. The width to depth ratio should be 2-to-1. If your concrete crack is larger than that or on a vertical surface, then you should check out the Sakrete Non-Sag Sealant, which can fill a larger sized crack and won't run or pool as it is a strong adhesive. It remains tacky for four hours but you can walk over it after 24 hours, and it fully cures in seven days. It can also be painted with latex paint after it cures.
Not only does Sakrete offer products that fill and repair cracks, they also offer concrete and cement repair products that any DIYer can use. These include Sakrete Mortar Repair, Sakrete Top'n Bond® Concrete Patcher and Sakrete Fast Setting Cement Patcher. All three of these products have been created to solve a myriad of concrete problems.
Sakrete Mortar Repair is a siliconized acrylic latex for repairing mortar joints and cracks in concrete and masonry walls. If you've got mortar in joints that has deteriorated or worn away from a block or brick wall or chimney, then the mortar repair product is what you need. It can also be used to repair cracks in concrete or masonry walls and only requires a standard caulking gun to apply.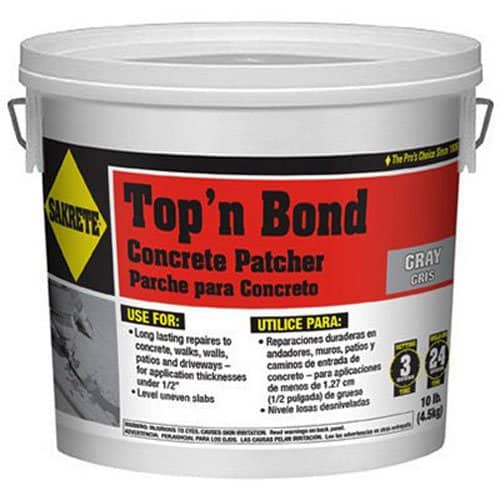 Sakrete Top'n Bond Concrete Patcher is a magical product. It's a polymer modified sand cement repair mortar that only requires clean potable water to mix. It can fill cracks up to ½-inch to a and once cured has an incredible strength of 5,000 psi. It's ideal for repairs to cracks in driveways, sidewalks and concrete slabs, but it can also level uneven concrete surfaces, ramps or stairs from ½" down to a feather edge. Like the Sakrete Concrete Crack Filler, it can be used indoors or outdoors, but do not use it with any bonding agent.
When you're faced with a larger repair, the best option is Sakrete Fast Setting Cement Patcher. It comes as a pre-blended mixture of cementitious materials, additives and sand that sets in 20 minutes. It's designed to quickly repair concrete or masonry substrates of ¼-inch to 2 inches.
It's got the 5,000 psi strength and indoor/outdoor use qualities that Sakrete Top'n Bond Concrete Patcher has, but it can also be used on vertical as well as horizontal surfaces. It's fast drying properties make it ideal for high traffic areas, as it is open to foot traffic in just four hours and vehicular traffic in 24 hours.
These product choices might seem confusing, but fortunately Sakrete has developed a great website that can show you the recommended product to use based on the project you are doing. It's also extremely important to read the label of the product and make sure you that you understand how to apply it and in what type of conditions. The Sakrete product calculator is extremely helpful in determining how much product to buy.
Check back next week to see our concrete repair results, which will hopefully inspire you to make your own repairs instead of living with a shoddy looking patio.
This is a sponsored conversation written by me on behalf of Sakrete. The opinions and text are all mine.